UMBC's Nicole King, American studies, and Kate Drabinski, gender, women's, and sexuality studies, have published Baltimore Revisited. The anthology, edited with the University of Baltimore's Joshua Clark Davis, reflects the complex history of Charm City and efforts currently underway to address the city's pervasive inequalities. These issues continue to resonate with Baltimore residents almost five years after the death of Freddie Gray and the Baltimore Uprising that followed.

"Many issues in our city are the result of long histories, whether it's about the history of policing, environmental justice, vacancy, redlining, or gentrification," shares Davis. "The roots of these issues are much deeper than a lot of us are aware of. History is not about dusty things in the past. It has usefulness today."
Baltimore Revisited is a compilation of perspectives from activists, artists, community members, and academics, including several from UMBC. It is also accompanied by a website, Baltimorerevisited.org, for the community to access more information about the project and related events.
"We hope the book raises questions about how history can inform the present to understand the roots of the city's many inequalities," says Drabinski. "We wish readers to imagine new ways of being in and organizing for Baltimore in the future."
Community focus
King and Drabinski, trained as interdisciplinary scholars, are long-time collaborators. The inspiration for Baltimore Revisited came a few years ago when they taught a Humanities Scholar seminar at UMBC. During a labor history walking tour with the class, they realized the content of the tour did not sufficiently incorporate gender, sexuality, race, ethnicity, and other points of view to give a holistic picture of Baltimore.
King and Drabinski recognized the need for an updated history of Baltimore, written by and for scholars and community members alike, so they took up the task. "We wanted our work to reach beyond the academy because these histories belong to everyone," shares Drabinski. "We hope readers can find pieces that speak to them."

The book reflects a wide range of methodological approaches to keep up with changes in the fields of history and American studies. The five sections cover a wide range of topics from the Jim Crow era to the present. They include: Place and Power: Roots of (In)Justice in the City; Histories of Contestation and Activism in a Legacy City; Voices from Here: Listening to the Past; Surviving in the Neoliberal City: Redevelopment in Baltimore; and Democratizing the Archives.
The book's contributors approached these themes through writing in several different formats, such as interviews, analysis of archival research, poetry, and essays. The breadth and diversity of material in the book makes it accessible and useful for a range of audiences. Baltimore Revisited is already being applied at UMBC in media and communication studies and American studies courses.
UMBC perspectives
The authors and supportive community members recently gathered at Red Emma's restaurant and bookstore in Baltimore City to celebrate the book's launch. Some read excerpts from the book and others shared reflections. Of the many book contributors, several are from UMBC.
Shawntay Stocks Ph.D. '19, language, literacy, and culture, read two poems at the book launch event, including "Placed Love," which appears at the very start of the book. Ashley Minner, American studies, also spoke at the event, about the chapter she contributed on her Lumbee community in Baltimore's Fells Point neighborhood.

Additional UMBC contributors include Denise Meringolo, history, who shared her public archive project to preserve the Baltimore Uprising. Joe Tropea '06, history, and M.A. '08, historical studies, explored censorship by Maryland's Board of Motion Pictures. April Householder, visual and performing arts, and M.A. '00, comparative literature, and Jodi Kelber-Kaye wrote about Baltimore's socialist feminists, with coauthor Elizabeth Morrow Nix. Householder is director of undergraduate research and prestigious scholarships at UMBC and Kelber-Kaye serves as associate director of the Honors College. And Michael Casiano, American studies, wrote about criminalizing Black neighborhoods in Baltimore during the Jim Crow era.
Public humanities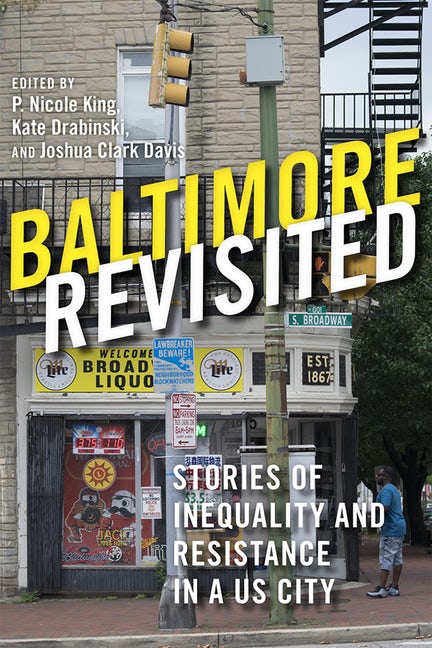 While King and Drabinski worked to include a broad range of voices in a way not often seen in academic volumes, they also note that this is just the beginning. "There are many change agents in Baltimore whose voices need to be heard and many histories that have yet to be documented," says Drabinski, who also co-authored a chapter with Louise Parker Kelley on Baltimore's LGBTQ community.
Supporting the collection and sharing of research by and for the communities Baltimore represents is an essential aspect of King and Drabinski's work and the book. "We can not forget the public in public humanities," shares King, who also wrote a chapter about development in Baltimore.
During the launch event, the editors emphasized the importance of public-serving institutions, particularly public libraries. "Without institutions like the public library, these histories would not have as much of an opportunity to reach the communities they represent," said King. With this in mind, the editors are donating all proceeds of the book to the Enoch Pratt Free Library, which they note remained open for city residents during the Baltimore Uprising.
Ultimately, says Drabinski, "The book comes from our love of Baltimore, a city both of us now call home."
Banner image: Stocks doing a poetry reading at the Baltimore Revisited launch. Photo by Dinah Winnick.
Tags: Alumni, AmericanStudies, CAHSS, GWST, History, HonorsCollege