The end of the semester brings a lot to celebrate—the conclusion of finals, a well-deserved break on the horizon, and the addition of new graduates to the UMBC alumni community. Over the course of two days and three ceremonies, UMBC celebrated the accomplishments of the Class of 2021, as well as 2020 graduates who were unable to celebrate in person before due to COVID.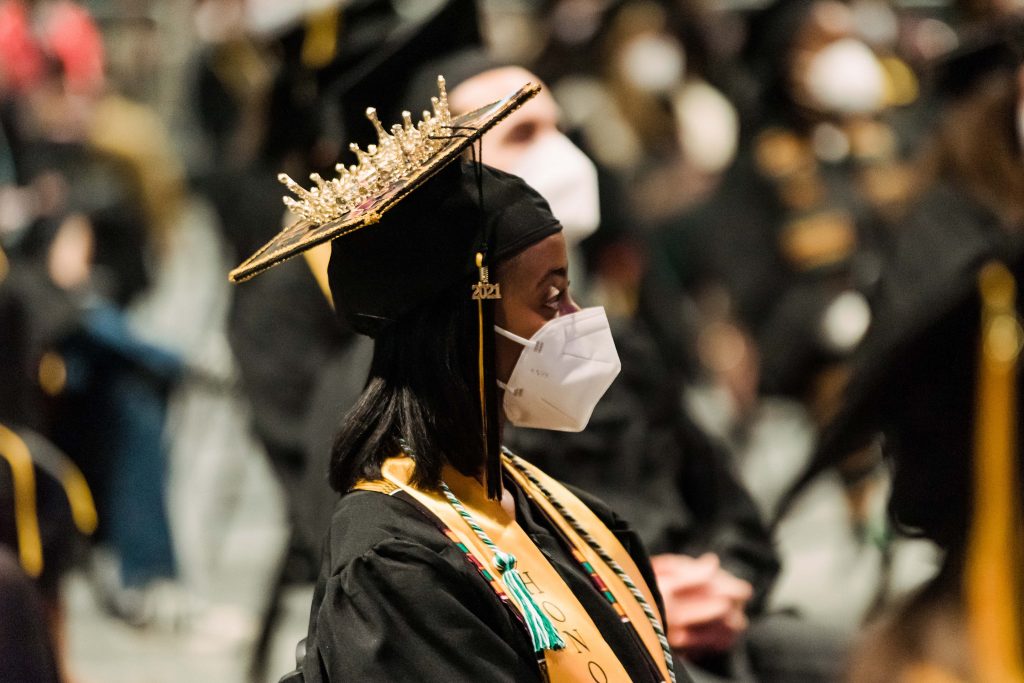 UMBC invited graduates to the Chesapeake Employers Insurance Arena for socially-distanced ceremonies. In keeping with safety guidelines, attendance was limited and COVID protocols were put into place. While previous commencement ceremonies were livestreamed, this marked UMBC's first hybrid Commencement exercise, with graduates being recognized in person, as well as slides and a presentation of names for those participating virtually.
President Freeman Hrabowski joyfully greeted attendees, assuring them that, despite the required KN95 masks, he could still tell they were smiling. During his remarks, he shared a lighthearted, but poignant, life lesson from former UMBC President Michael Hooker.
Pres. Hrabowski noted that Hooker had a deep love of pizza and would find himself already looking forward to the next slice while still eating his first. He realized he wasn't appreciating the moment, and committed himself to living more in the present—to take time to celebrate life's joys. Hrabowski summed the lesson up with a line those watching won't soon forget: "When I say 'savor the moment,' I want you to be thinking about the pizza."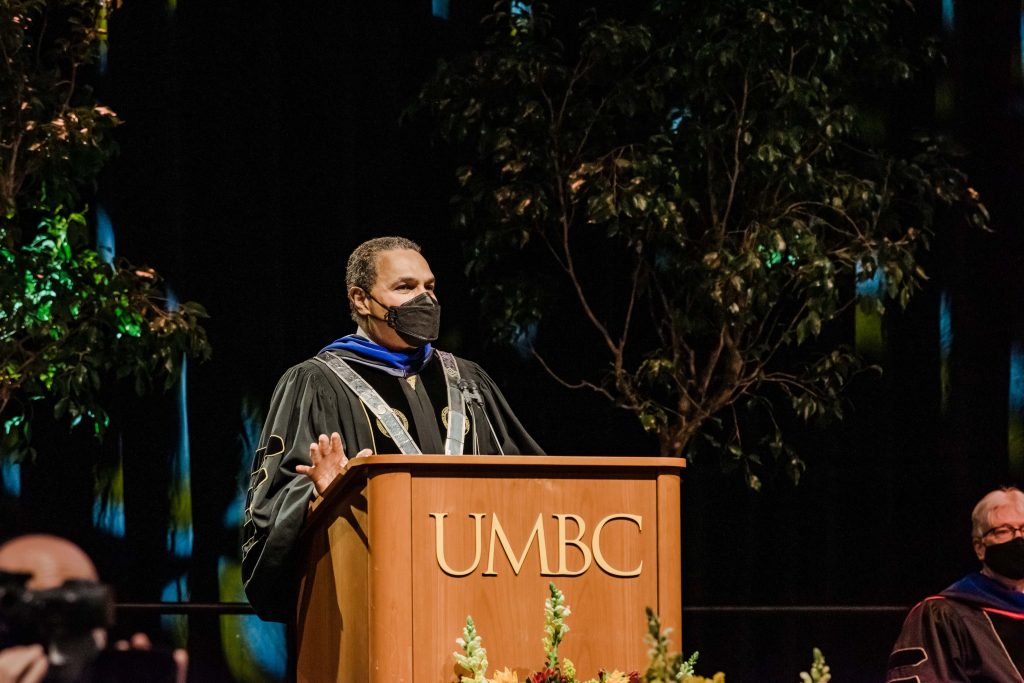 Student leadership
Joel Tyson '18, chemical engineering, president of the Graduate Student Association and a current Ph.D. candidate, charged his classmates to continue to change the world by changing those around them.
"You are the scholars and experts that will make the impact that will lead to a better world and guide others to be more impactful," said Tyson.
UMBC Student Government Association (SGA) President Mehrshad Fahim Devin, biological sciences, has no doubt in the abilities of his classmates. Before crossing the stage himself as a graduate, Devin addressed his peers saying, "Success is about hanging on after others have given up. Seeing you all here today assures me that no matter how the world will look in 20 years, we will all be successful."
Messages of gratitude
All of the messages shared echoed one resounding sentiment: gratitude. As students, faculty, and staff navigated a semester filled with uncertainty and change, support from the UMBC community was more important than ever.
In keeping with the theme, last week faculty and staff enjoyed a RetriEVER Grateful event to mark the end of the semester. While catching up with colleagues and enjoying a visit from Chip, faculty and staff also shared the things they're most grateful for.
Provost Philip Rous shared his own reflections during a livestreamed address. "We often talk about UMBC being a place of stories," he said, noting that "it is a binding together of each of our stories that makes up the story of the UMBC community—not just the past or the present, but also the future."

Recordings of UMBC Commencement ceremonies can be found on YouTube. Continue to share messages of congratulations on social media using the hashtag #UMBCgrad.
All photos by Marlayna Demond '11 for UMBC News.