Daniela Mujica-Martorell
B.A., Asian Studies; B.A., Global Studies; B.F.A., Design
Magna Cum Laude, Certificate: Honors College
Hometown: Arequipa, Peru
Plans: Applying for a Fulbright scholarship to South Korea
My professors and mentors at UMBC have never told me to curb my ambitions or endeavors, and have thus helped me find my best self. I am convinced that UMBC has given me unique opportunities no other university would have, and for that I am incredibly grateful.
A passionate undergraduate researcher, Daniela Mujica-Martorell is interested in how the concept of "design" can shift and change in different cultural contexts. As a U.S. immigrant who frequently transferred between schools growing up, Mujica-Martorell is no stranger to change, and says UMBC has given her a strong sense of belonging and community not felt anywhere else. She is thankful for the campus' inclusive culture, which she says has provided her many opportunities to explore what it means to be a global citizen.
This past year, she worked with Kyung-Eun Yoon, modern languages and linguistics, on an URCAD project that explored the impact of globalization on design processes in South Korea, and in 2015 she studied abroad at Sophia University in Tokyo, Japan. During her time at UMBC, she has also been involved with the campus Korean Dance Club and the Japanese Student Association. Already fluent in Spanish, English, French, and Japanese, she is working on adding Korean to her repertoire. More recently, she has performed translation work on a research project for the psychology department.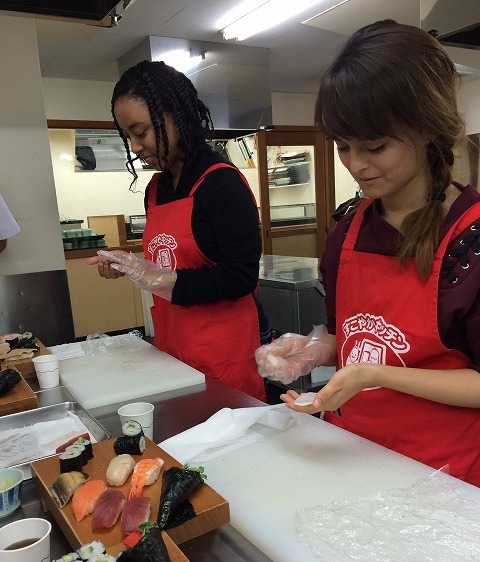 Mujica-Martorell is a member of several honors societies, including Phi Beta Kappa, Omicron Delta Kappa, and Golden Key. She has served as senior managing editor for Bartleby, UMBC's literary arts journal; an architecture and engineering assistant for Facilities Management; a student reviewer for the visual arts department promotion and tenure committee; and as a teaching assistant for an undergraduate course in international law. She has also participated in UMBC's Camerata.
Mujica-Martorell plans to apply for a Fulbright scholarship, where she hopes to travel to South Korea to continue her research on the role of design in shaping national and cultural identities.
Portrait by Alison Kreckmann.
Tags: AsianStudies, CAHSS, GlobalStudies, HonorsCollege, Undergraduate Research, VisualArts