Amy Berbert
B.F.A., Visual Arts (graphic design); B.A., Visual Arts (photography)
Summa Cum Laude
Hometown: Gaithersburg, Maryland
Plans: Media coordinator, Zinnia Films
UMBC has encouraged me to meet professionals who are already working in my fields of interest, to build relationships and gain insight and experience early in my career.
A freshman year spring break service trip through the InterVarsity Christian Fellowship planted a seed in Amy Berbert's mind. She volunteered with non-profit organizations working in the Baltimore's Mt. Clare neighborhood, and, though limited in time and scope, the experience gave her a clearer sense of how poverty and racism can impact communities. She reflects, "That trip is what inspired me to create the social justice work I am doing now, three years later."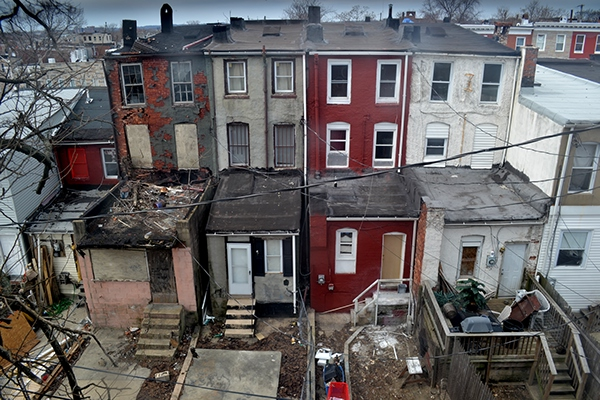 Berbert is referring to Remembering the Stains on the Sidewalk, an evocative photography project that  memorializes each of the 318 victims of homicide in Baltimore in 2016. The project's Instagram feed @stainsonthesidewalk describes it as, "An Exploration of Homicide in Baltimore City. Same Day. Same Time. Same Place. One Year Later." Each victim is remembered through a picture taken precisely one year later at the location of the homicide, with the goal of bringing visibility to the value of lives cut short by violence and structural inequalities.
The project immediately captured the media's attention for its powerful impact on audiences and has been featured by SPIN, The Baltimore Sun, and ABC2 News. As Berbert's undergraduate thesis project, Remembering the Stains on the Sidewalk will also be displayed in the 2017 Visual Arts Senior Exhibition at the Center for Art, Design and Visual Culture from May 23 through June 9. Berbert is dedicated to continuing the rigorous project after graduation, through the end of the year, planning her life in 2017 around the lives that were lost in Baltimore in 2016.
In addition to this major project, Berber has worked as student design manager at CommonVision. She has exhibited her work at VisArts Gallery in Rockville and Single Carrot Theater in Baltimore, and was the winner of the University System of Maryland 2013 Foundation Art Contest. Following graduation, she will work full time at the local media company Zinnia Films.
Portrait by Malayan Demond '11 for UMBC.
Tags: CADVC, CAHSS, Undergraduate Research, VisualArts