Mentors help UMBC's graduating students access unique career opportunities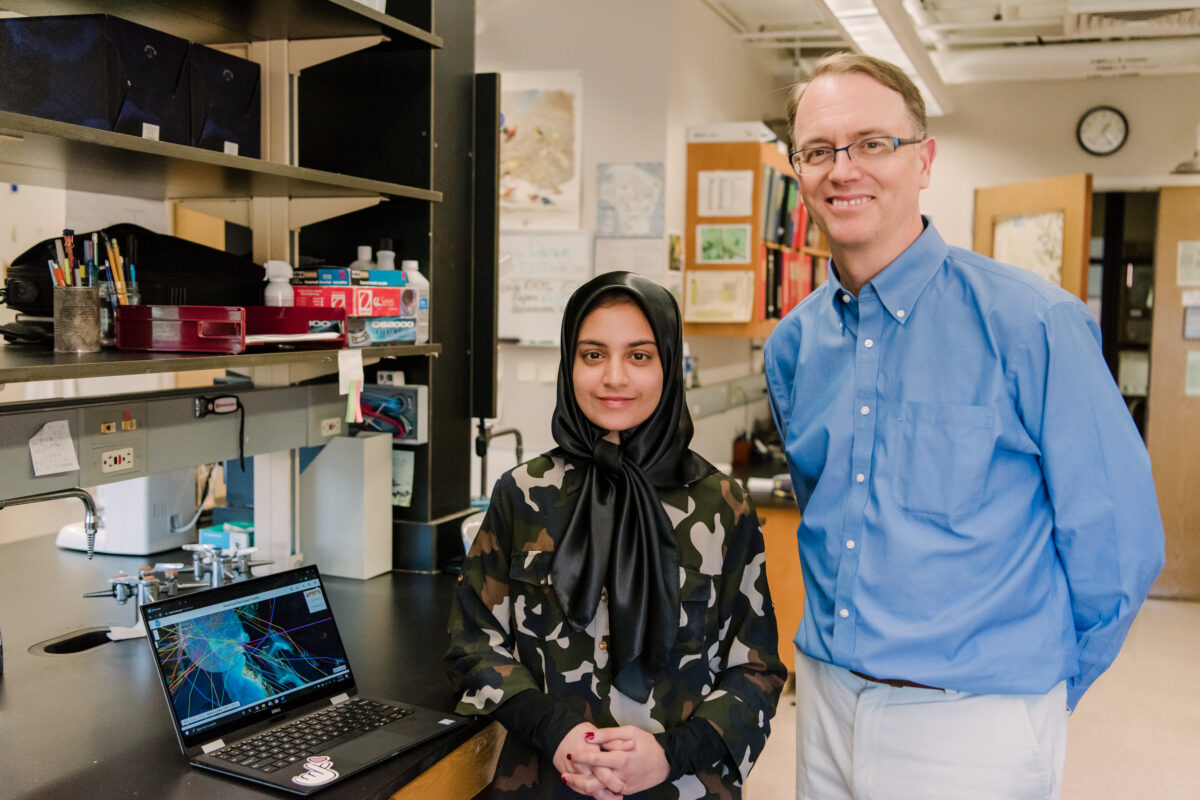 Each year, UMBC students access a broad range of internships and research opportunities, and work alongside mentors who guide and support them in their interests. Students in UMBC's Class of 2022 have used these opportunities to explore their passions and to take important first steps in their careers.
Hands-on leadership experience
When she was exploring her college options, Logan Hawker '22, mechanical engineering, had a clear sense of what she was looking for. "I wanted to have a career as an engineer, and I wanted to play softball," she says. "UMBC was one of the only places where I knew I could pursue both at a high level."
Hawker came to UMBC in the fall of 2019 and by summer 2020 she was interning as an F-18 flight test engineer for the Navy at the Naval Air Station Patuxent River, MD. She developed flight test plans and briefed pilots, then monitored test flight data from a control room.
As an intern, Hawker says that she had several mentors who "took me under their wing," and their support paid off. Hawker was able to write and implement her own test plan as a final project. The project culminated when her primary mentor was out of town, but by then Hawker felt confident briefing the test pilots and delivering the final test report to more than 50 people on her own.
After graduation, Hawker will begin working full-time as a flight test engineer at the Naval Air Station at Patuxent River.

Making the most of each opportunity
When Audrey Houck '22, financial economics, transferred to UMBC from Drexel University, she knew she wanted to take advantage of all of the resources and opportunities that UMBC has to offer. An opportunity came knocking when one of her financial economics professors offered the top three students in the class the chance to interview with T. Rowe Price for a possible summer internship.
To prepare for the interview, Houck connected with Christine Routzahn, director of UMBC's Career Center. The interview prep paid off, as did knowing "I had a network of people behind me," she says.
She was hired as an associate analyst intern at T. Rowe Price in summer 2021. There, a mentor at the company helped guide her every step of the way, offering context to better understand the company and her role, and make the most of her internship experience, her first position in the industry. "The opportunity allowed me to apply knowledge from my undergraduate courses to the corporate world," Houck says.
After completing the internship, Houck decided to apply for the highly competitive T. Rowe Price Investment Fellowship program. She knew Routzahn would be there to help her prepare for the interview and put her best foot forward. "The constant communication, and knowing that someone is there to meet me halfway and make sure I am successful, was meaningful," she shares.
Houck will participate in the T. Rowe Price Investment Fellowship program after graduation, completing four six-month rotations with various teams within the company.
Bridging arts and tech
Bryan Castillo '22, business technology administration, transferred to UMBC from Howard Community College in fall 2020, in the midst of the COVID-19 pandemic. He knew that he had to be intentional about connecting with classmates and professors in a virtual environment.
In spring 2021, he began searching for internship opportunities, and he connected with the UMBC Career Center and attended several career fairs. The Career Center worked to understand his interests and goals, and supported him as he navigated the interview and application processes as a first-generation college student. Castillo was hired for an internship at the information technology help desk at the University of Maryland Medical System (UMMS), where he focused on database management.
That experience was an important stepping stone to his next opportunity, which more closely aligned with his interest in the arts: a highly competitive internship at the Whitney Museum of American Art in New York City. As an intern at the Whitney Museum, he has worked remotely four days a week managing museum databases, while completing his degree.
During UMBC's spring break, Castillo decided to spend the week in New York City so he could meet his mentors and connect with fellow interns in person. The internship also gave him an opportunity to connect regularly with senior leadership at the Whitney Museum, giving him the confidence to pursue a technical position in a museum after graduation.
Seeking fresh perspectives
Arjun Trivedi '22, M30, mechanical engineering, is passionate about research and about connecting with people outside of his major. His experience as a Meyerhoff Scholar, he shares, has taught him the value of being part of a diverse, supportive community and exploring issues from a range of perspectives.
"Interdisciplinary connections are important," he explains. "Finding those connections and being able to take advice from everyone around you helps you grow."
He found research alongside Deepa Madan, assistant professor of mechanical engineering, in the summer after his freshman year to be incredibly valuable, particularly his conversations with Madan and graduate students in the lab. But he was also interested in machine learning and computing and wasn't quite sure how to bring it all together. His peer mentor in the Meyerhoff Scholars Program suggested he consider a computer science minor and see what doors that would open.
In summer 2021, Trivedi learned about a summer research opportunity that combined mechanical engineering and machine learning. He remembers immediately thinking "this is me" and reaching out to Ankit Goel, assistant professor of mechanical engineering, to apply. That led to an exciting research experience with Goel and Meilin Yu, associate professor of mechanical engineering.
Preparing for his career after graduation, Trivedi reached out to the UMBC Career Center for interview and skill test support. Now, he has accepted a job offer at the Johns Hopkins University Applied Physics Lab, focused on maritime robotics – automating underwater vehicles.
Mentors in the lab and the field
When Aiman Raza '22, biological sciences, met Kevin Omland, professor of biological sciences, to discuss the possibility of doing research in his lab, she thought she might feel nervous. But, she says, "I didn't feel intimidated joining the lab. I felt very supported in the work I was doing."
"My first year in Dr. Omland's lab, he would give me great feedback on the work I was doing," Raza says. "He encouraged me to get things done and get in the habit of doing a little bit of work each day. That mentoring style has been very helpful to me."
In addition to working on the Omland Lab's Bahama Oriole Project, she received a UMBC undergraduate research award (URA) to study and track mockingbirds on campus–her first independent field research.
Raza also grew her skills through internships, found via the UMBC Career Center. She focused on DNA sequencing at the Institute of Marine and Environmental Technology in Baltimore's Inner Harbor during summer 2019. In summer 2020, she completed a virtual internship with the Smithsonian Environmental Research Center, focused on oyster restoration.
After graduation, Raza will pursue her master's in biological sciences at UMBC as part of the Interdisciplinary Consortium for Applied Research in the Environment (ICARE) program. She will work with Tamra Mendelson, professor of biological sciences, to study brook trout populations in the Chesapeake Bay using environmental DNA.