A team of researchers from UMBC's Center for Advanced Sensor Technology (CAST) and department of chemical, biochemical, and environmental engineering is working to develop a new, low-cost anti-malarial drug to help tackle a disease that causes over 200 million infections and 400,000 deaths annually, according to the World Health Organization (WHO).
Peng Xu, assistant professor; Xudong Ge, research associate professor; and Govind Rao, professor, received $422,623 from the Bill & Melinda Gates Foundation to support the research. Xu and Ge are the co-PIs on the grant, and Rao is the project director.
Therapies that contain artemisinin have shown to be an effective first-line treatment for malaria. Artemisinin is derived from extracts of the wormwood plant. This makes it relatively affordable to produce, but also means the medication supply depends on having an abundant and steady source of the plant.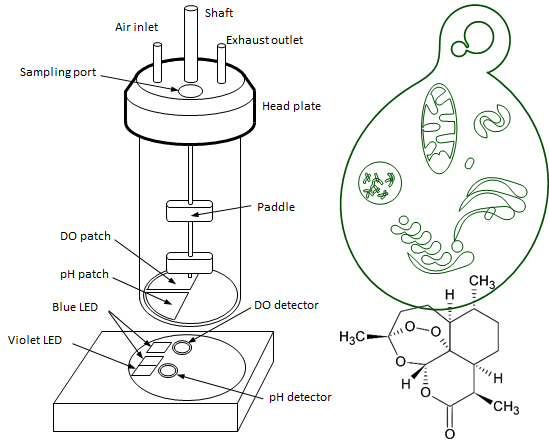 With the support of the grant, the UMBC research group will develop a scalable and cost-effective production process. Through genetic and process engineering, they will develop an alternative yeast that can be used to more affordably produce artemisinic acid.
"This work builds on CAST's unique strength in sensor technology and couples it with innovative yeast metabolic engineering," Rao says. "We are excited to work with the Bill & Melinda Gates Foundation to develop a cost-efficient manufacturing process, and, ultimately, to help eradicate malaria around the world."
Banner image: Peng Xu, left, and Xudong Ge, right, work with a student to develop an anti-malarial drug. Photo by Marlayna Demond '11 for UMBC.