UMBC Mock Trial took first in late January at Georgetown University's 8th annual Hilltop Invitational Tournament, with UMBC's A team finishing undefeated at 8-0. On the path to tournament victory, UMBC bested teams from George Washington University, Fordham University, and Hamilton College. The team scored over 100 points above competitors, including former national champions Yale and UVA, who scored second and fourth place respectively.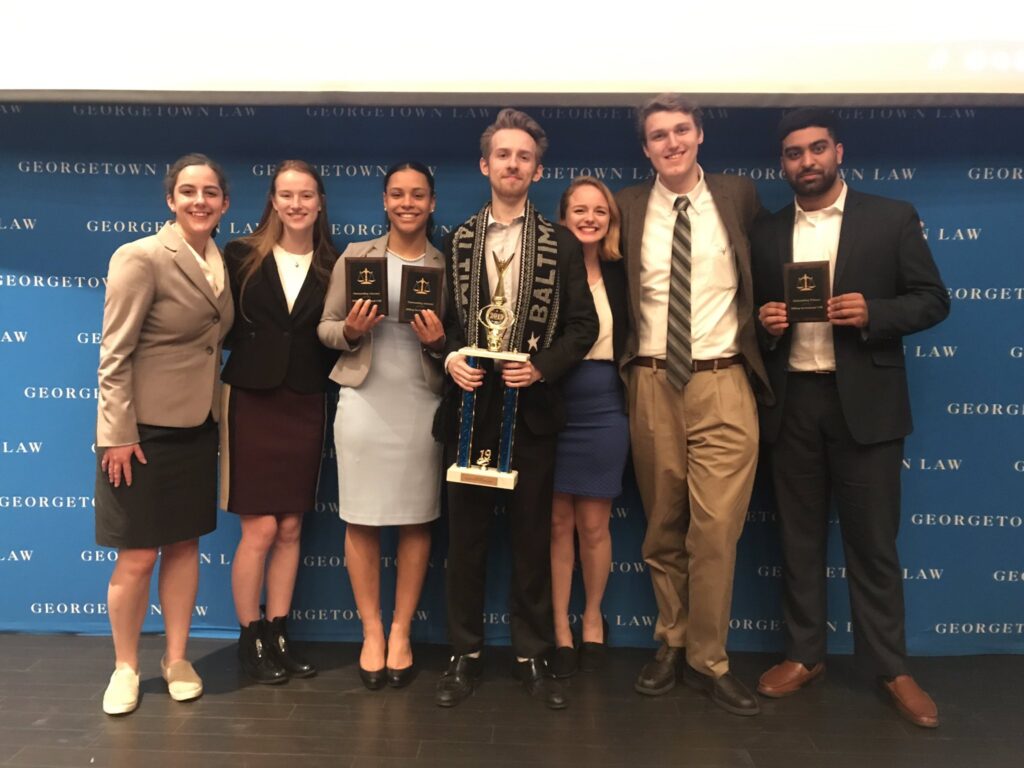 The winning team is made up of students from a broad range of majors and levels of competitive experience. They include Linnea Collins '21, global studies; Kaitlyn Kauffman '20, political science, Sydney Gaskins '21, political science; Thomas Kiley '19, chemistry; Ethan Hudson '21, English; Natalie Murray '21, biological sciences; and Nihir Nanavaty '19, political science.
In addition to taking the number one spot, UMBC Mock Trial's A-Team received two high-level individual awards. Sydney Gaskins earned Outstanding Attorney awards for both sides of the case, representing both plaintiff and defendant. Gaskins is still in her sophomore year, but has already earned several Mock Trial awards, and she is a finalist for Trial by Combat, an elite one-on-one Mock Trial national championship competition co-hosted by UCLA and Drexel University. Nihir Nanavaty received an Outstanding Witness award. (Above: first on the right.)
"The Georgetown University Tournament became the first time that UMBC Mock Trial ever maintained an undefeated record at a tournament. It was also the first time that an attorney from this program received two Outstanding Attorney Awards in one tournament," explains Gaskins. "I am honored and grateful to have the opportunity to be a part of history in the making for UMBC Mock Trial. I hope it inspires my team to continue to dream big and believe in ourselves. Anything is possible if you work hard."
While UMBC Team A was in Washington, D.C., UMBC Teams B and C competed at the Blue Jay Invitational at Johns Hopkins University. These teams are composed primarily of students in their first year of college mock trial, and they performed well against tough competitors. Thomas Azari '22, individualized study, won Outstanding Attorney. Zachary Linkins '20, computer science, competing in his first tournament, won Outstanding Witness (pictured below).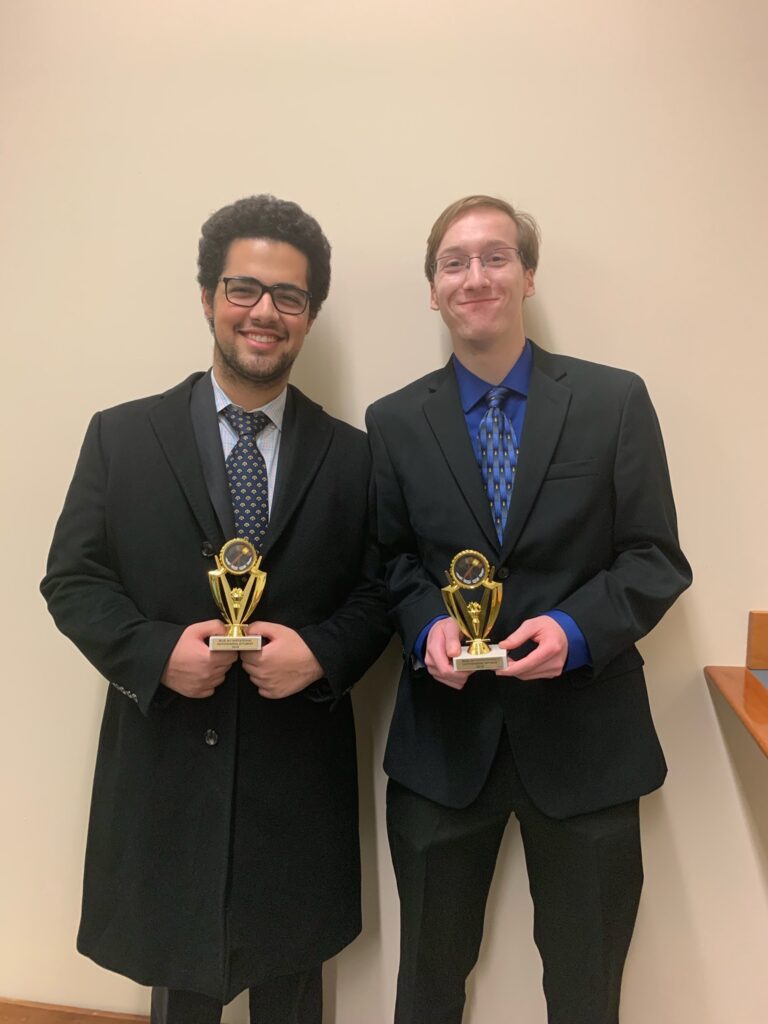 In addition to Azari and Linkins, UMBC Team B also includes Lauren Wotring '22, political science; Fernando Silva '21, political science; Wendy Zhang '22, economics and psychology; Amrita Sarma '22, psychology; and Hannah Thomas '22, computer science. UMBC Team C includes Amanda Hampton '22, biological sciences; Alexis Stevenson '21, history and political science; Tyler Pollock '21, English; Flora Jeon '21, biological sciences; Tumee Agogbuo '22, media and communication studies; Brandon Henry '20, computer science and interdisciplinary studies; Matthew Brown; Rocio Marquez '22, mechanical engineering and social work; and Joselle Royer '21, sociology.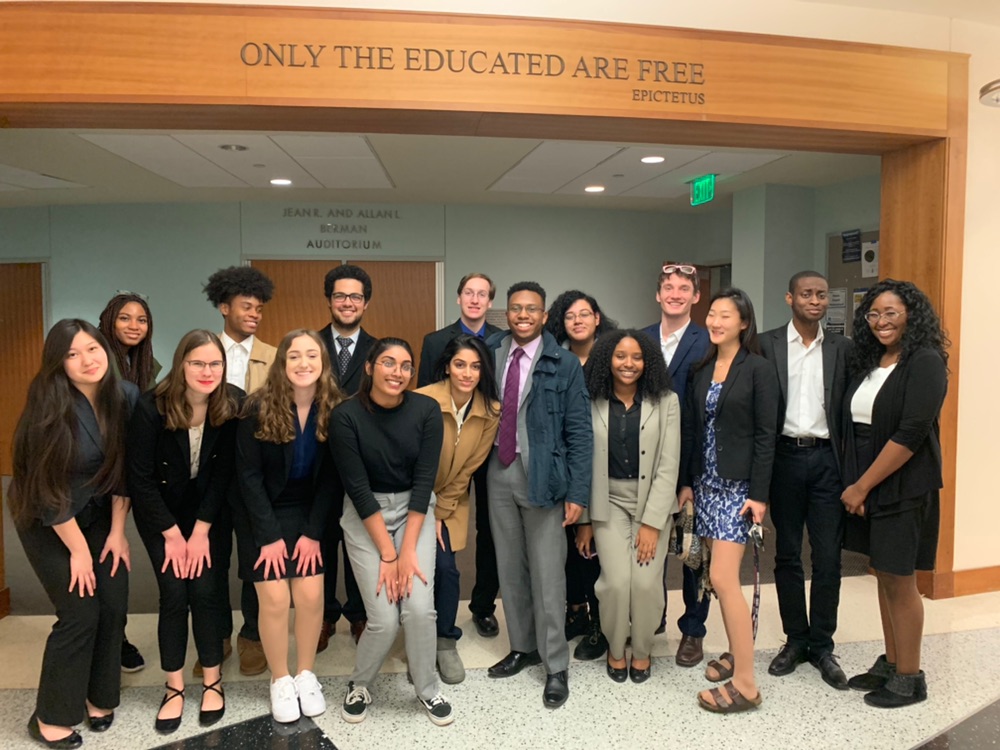 Head coach Ben Garmoe '13, political science, a litigation attorney in Baltimore, is extremely proud of UMBC's three mock trial teams. For him, UMBC's first-place finish at the Hilltop Invitational has special meaning. "I came as a transfer student to UMBC and co-founded the mock trial team with Travis Bell in 2011," remembers Garmoe. "We competed at the tournament in 2013 and also won an award, so now we have come full circle." Bell '14, psychology and political science, is now a public defender in Alabama. Garmoe credits the success of UMBC Mock Trial to UMBC's leadership in creating a rigorous and diverse academic environment where students from all backgrounds and all fields value critical thinking, rigor, and teamwork.
Along with a strong student commitment, UMBC Mock Trial's success is also a result of dedicated coaches from the legal field, including several alumni. They include Summer Akhtar '18, financial economics and political science; Travis Bell; Dylan Elliott '17, history; Zachary Garmoe '17, environmental studies; Cheyenne Smith '16, biological sciences and psychology; and Kayla Smith '17, interdisciplinary studies.
Finally, it wasn't just our students out there winning ballots and awards; assistant coach and former Vice-President Kayla Smith competed at the @H_T_A_A Medical-Legal Trial Competition. Kayla's @brooklynlaw team took second place, and Kayla won Best Closing Argument! pic.twitter.com/ao1S57kkIo

— UMBC Mock Trial (@UMBCMockTrial) December 15, 2018
"Our culture is outstanding. We even draw coaches not directly connected to UMBC," says Garmoe. "Whitney Wilder, a former competitor at the College of Charleston and now an attorney at Bodie, Dolina, Hobbs, Friddell & Grenzer, P.C., brings important expertise and guidance to the team."
"As someone who was a four-year competitor for the program and was the program's president as a senior, I find weekends like this past one to be both rewarding and exciting," says Dylan Rogers Elliott '17, history. "I came through the program and have been able to come back and coach while in law school, and nothing makes me happier than seeing both the success and potential of the UMBC Mock Trial Program continue to grow."
Elliott shares, "We have so much young talent now, throughout the program, and it really feels like we're getting the foundation set for a really terrific run over the next few years. This past weekend really shows us the potential of our program and underscores just how bright the future is."
Up next for the focused team is the Owings Mills Regional Tournament, which UMBC is co-hosting with Stevenson University. This will help the teams refine their approach and prepare for the Opening Round Championship Series (ORCS), a national semifinal event hosted by the American Mock Trial Association where the nations 700 teams will compete. From there, they hope to advance to the national championship tournament in Philadelphia.
Fans can follow the team on their path to nationals through @UMBCmocktrial on Twitter, Instagram, and Facebook.
Banner Image: UMBC Mock Trial trophies by Marlayna Demond '11 for UMBC.  All other images are courtesy of UMBC Mock Trial.
Tags: CAHSS, CNMS, COEIT, INDS, SocialWork