UMBC's work in strengthening students' preparedness in cybersecurity defense is proving effective not only on campus, but well beyond. This summer, three UMBC students competed in an international "capture the flag"-style cybersecurity competition in Japan, with one Retriever taking home a victory—and all three bringing back a greater range of expertise. This opportunity helped UMBC students build global relationships and attain more practical experience in cyber defense.
In August, Kevin Chen '23, computer science, Zachary Amoss '24, computer science, and Leela SaiNadh Gade, M.P.S. '24, cybersecurity, competed in the 2023 Country-to-Country Capture the Flag (C2C-CTF) event at the Hiyoshi Campus of Keio University in Yokohama, Japan. The competition—which convened in person for the first time this summer since it began in 2020—brought together 80 students from around the world to team up and complete 25 cybersecurity challenges within 10 hours. Teams were tasked with solving challenges such as identifying hackers in various cyber scenarios or using open-source investigative methods to pinpoint geographic locations of different photographs.
Among the awardees were Chen and his team, which included students from the U.K, China, Japan, and Israel. The team placed fourth overall in C2C-CTF's main challenge and received the Hitachi award, named after one of the event's sponsors. Claiming a victory wasn't the only thing Chen wanted to accomplish at the competition.
"My [goal] was to learn extensively, tackle novel technical obstacles, and engage in international collaboration. I embarked on this journey with the determination for achieving victory, fully aware of the formidable nature of that challenge," he says.
Code cracking in real time
Chen is a member of UMBC's CyberDawgs team and has been participating in cyber competitions throughout the year in preparation for C2C-CTF. His prep paid off as he helped his team solve the final problem of the competition, a cryptography challenge in which competitors had to correctly guess an image's location without being provided any identifying information.
"Inside the images were a set of true images and false images [which] were meant to lead you down a rabbit hole," Chen explains. "When selecting the true images, we had to piece them together in a certain order to get the code for that challenge."
The team used open-source intelligence methods to solve the problem, such as paying attention to the direction of the sun in an image to narrow down the range of countries, identifying specific landmark clues, and analyzing the images' metadata. Minutes before the competition's conclusion, Chen's team cracked the code, earning them 300 points to secure the win.
"My entry into the world of cybersecurity began just a year ago. Despite my relative newness to the cyber realm and my position as one of the younger members on the team, I played a pivotal role in addressing key challenges that propelled us into the top four [ranking]," said Chen. "My involvement in the [C2C-CTF] event marked a significant milestone. This allowed me to achieve success on an international stage and served as a gratifying culmination of my trip."
An international partnership
The annual C2C-CTF competition is organized by the International Cyber Security Center of Excellence (INCS-CoE), a global university network dedicated to securing critical systems against cyber threats through research, policy, education, and training. UMBC is one of the founding charter members of the INCS-CoE, which currently includes 12 academic institutions across six countries and recently expanded into Australia, France, and Israel.
Karl V. Steiner, UMBC's vice president for research and creative achievement, has worked with the group since its creation in 2019, and serves as the INCS-CoE's 2023 board chair. Steiner joined the UMBC team at Keio University during this year's C2C-CTF event and shared his pride in seeing UMBC students competing at such a high level on an international stage.
"I was extremely proud to see our students compete at the international level. Competing in this competition provided them with a valuable set of new experiences and a set of new friends from across the globe. Each one of our students was fully dedicated to the spirit of competition," shares Steiner.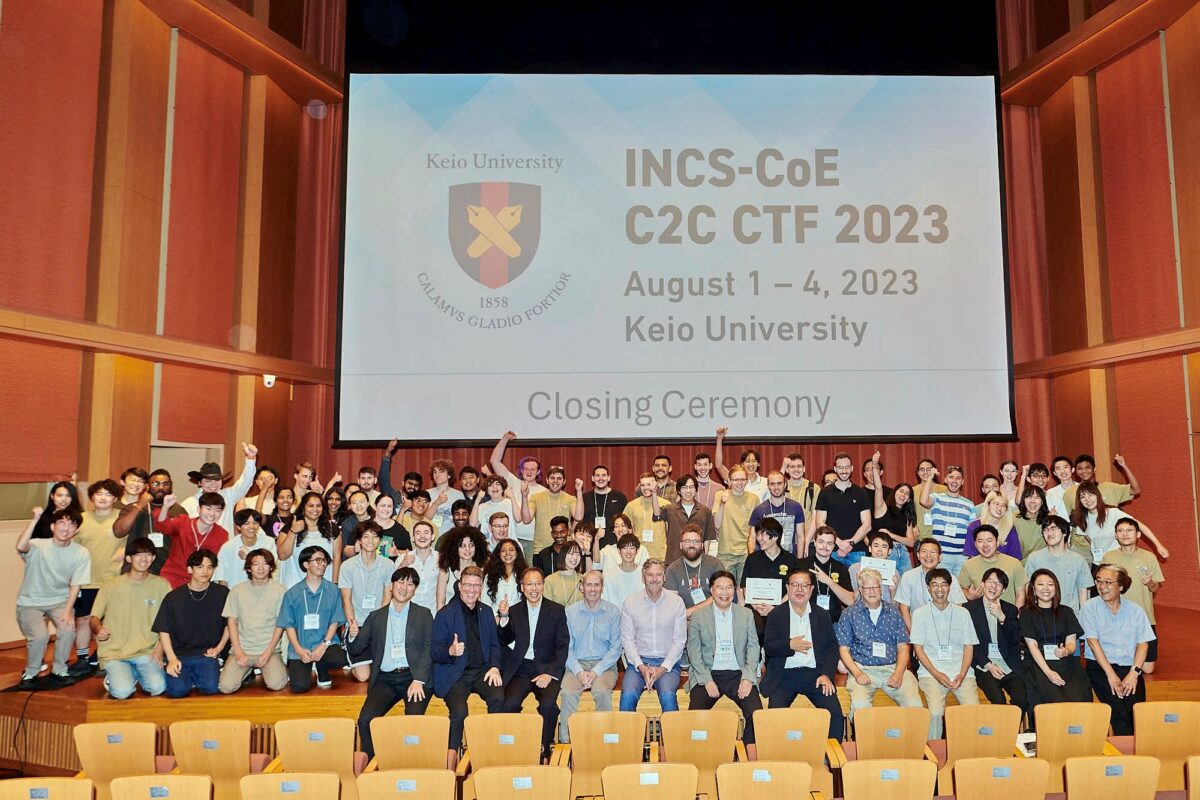 Chen made note of the significance of collaborating with students from around the world, sharing that the experience helped him to "absorb valuable insights into the cyber capabilities and experiences of students globally. The contrasting nature of our experiences…was both enlightening and enriching."
Kazuo Noguchi, executive director of the INCS-CoE added: " The vision for this event is to provide inclusive and international education and training which can enhance not only new skills, but also, and more importantly, promote international friendship, collaboration, ethics, and teamwork."
A "real world" approach to cybersecurity
Rick Forno, principal lecturer in computer science and electrical engineering and assistant director of UMBC's Center for Cybersecurity, explains that competitions like the C2C-CTF provide students with a look into the "real world" of cyber defense.
"The competition provides the next generation of cyber defenders an opportunity to tackle technical cybersecurity challenges and gain insight into the global nature of cybersecurity, [along with] the need for effective intercultural collaboration in working toward a common goal," says Forno.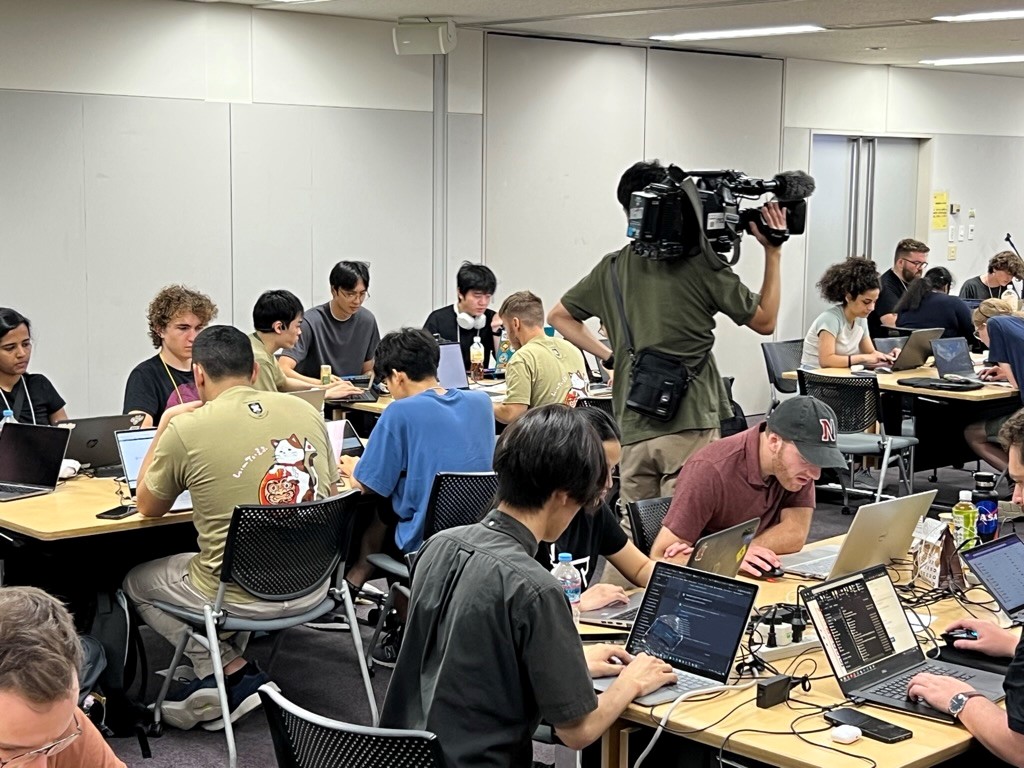 Forno also serves as a coach for the UMBC CyberDawgs and adds that "structuring the C2C-CTF event with teams composed of members from different countries is an innovative idea that adds additional real-world 'flavor' to what participants will encounter later as cybersecurity professionals around the world."
CyberDawgs member Zachary Amoss shared that while he has gotten the opportunity to compete with the team at national events, "the opportunity to represent UMBC on the global stage [at C2C-CTF] was a once-in-a-lifetime opportunity. I highly recommend all current UMBC students, especially those who are already in cybersecurity spaces such as the CyberDawgs, to compete in next year's event."
Leela SaiNadh Gade added that the competition has been "an enriching experience that expanded my understanding immensely. The learning I acquired from this event will serve as an invaluable asset in my future endeavors."
Tags: COEIT, Computer science, CSEE, Cybersecurity, rca-2