Just days ahead of UMBC's 50th anniversary celebration, U.S. News & World Report has again affirmed the university's continued standing as one of the most innovative colleges in the nation, among the best in teaching and setting new standards for student success.
The 2017 U.S. News & World Report Best Colleges guide ranks UMBC in the top five on its closely-watched Most Innovative Schools list, joining Stanford, MIT, ASU-Tempe, and Georgia State. College presidents, provosts, and admissions deans nationwide nominate universities for this list, based on cutting-edge developments in curriculum, campus life, technology, and other areas.
"These rankings reflect the careful thought of university leaders across the nation, and they speak volumes about the respect they have for UMBC," says President Freeman Hrabowski, III.
This is the second year U.S. News has published a Most Innovative Schools list, and second year UMBC has appeared in the top five. Prior to the launch of this new ranking, U.S. News published an Up-and-Coming list, highlighting institutions experiencing tremendous growth. UMBC topped that list for six consecutive years.
UMBC is also featured this year on the U.S. News list of top 20 national universities with a particularly strong commitment to undergraduate teaching, alongside Princeton, Yale, Dartmouth, and UC Berkeley, among others. The university's appearance on this list for several consecutive years reflects both longstanding excellence and a commitment to continuous improvement.
Describing what makes a UMBC education distinctive, Student Government Association President Bentley Corbett-Wilson '16, music education, shares, "My experiences here, through both academics and student life, have definitely shaped who I am as an individual, as a leader in my community, and as a learner. There's such an empowering community here. Having the power to create your own story and help others do the same is something that I think is really unique to this campus."
This sense of leadership and empowerment to create change resonates with Dean Scott Casper, of UMBC's College of Arts, Humanities, and Social Sciences. "Today's recognition testifies to our commitment to a complete undergraduate education, rooted in students' academic learning and their development as thoughtful citizens and leaders in their communities and their world," says Casper.
Faculty Senate President Kimberly R. Moffitt, associate professor of American studies, reflects, "UMBC continues to excel at what it does best: teach innovative classes that stimulate young minds to engage and participate in substantive ways. My colleagues are working diligently with their undergrads to cultivate a rich learning environment that mimics the experience of many of us in our grad school settings."
For Interim Dean and Vice Provost of Undergraduate Education Simon Stacey, "UMBC is doing exactly what a university should do—it's putting committed, thoughtful teachers in classrooms filled with students from every walk of life, and charging everyone in those classrooms to figure out between them how to learn and teach." Stacey says, "This approach is what generates the creativity, energy and intensity that makes UMBC such a great place to be work, teach, or be a student."
Numerous college guides and top national rankings have featured UMBC over the past year as one of the best institutions of higher education in the country. These include Princeton Review, Chronicle of Higher Education, MONEY magazine, Forbes, the Fiske Guide, and Times Higher Education, which named UMBC one of the world's top young universities for the 5th year.
Princeton Review in particular highlighted UMBC's welcoming environment and reputation for valuing the perspectives that diverse, creative minds can bring the classroom, research lab, and art studio. On hearing the news of UMBC's latest national rankings, several campus leaders reflected on the interconnections of teaching and learning, research, diversity, and community impact at UMBC.
"We are very proud of our commitment to inclusive excellence at UMBC," said Karl Steiner, vice president for research. "An integral part of the student experience at UMBC is the opportunity to participate in and contribute to state-of-the-art research conducted across the campus, addressing some of our society's major challenges."
"If our students are to solve societal problems, it is our responsibility and moral duty to continuously improve the way we teach," said Dean Bill LaCourse, of the College of Natural and Mathematical Sciences. "Only through innovation in teaching, applied learning experiences, and a liberal arts education can we prepare students to deal with complexity, diversity, and change. This recognition underscores our commitment to train ethical and responsible leaders."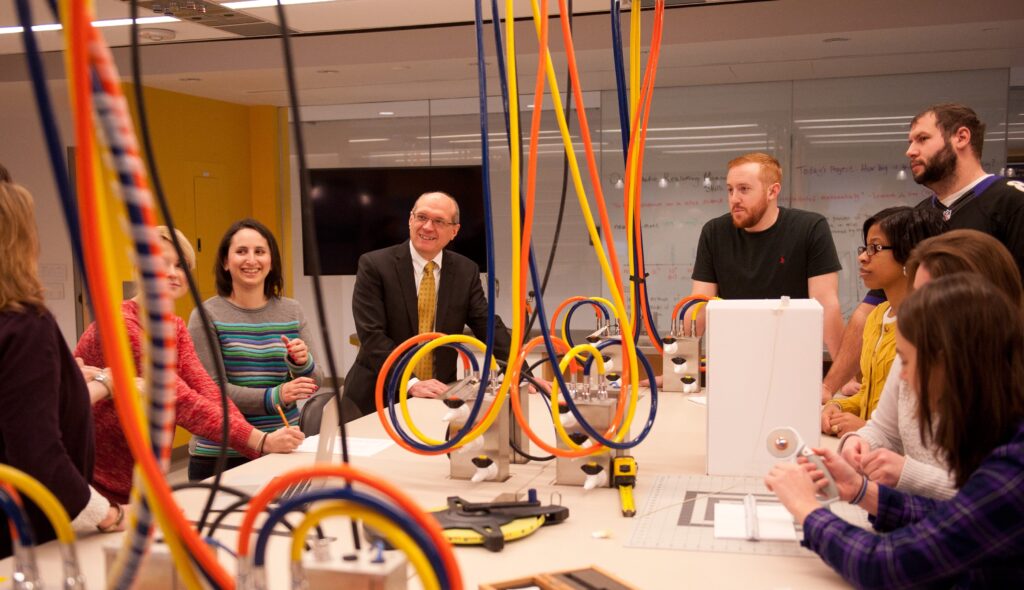 Dean Julia Ross, of the College of Engineering and Information Technology, noted, "The rankings support what we know to be true about UMBC: it's an entrepreneurial place where a focus on undergraduate learning is synergistic with the research enterprise."
Graduate Student Association President Deanna Cerquetti, a Ph.D. student in language, literacy and culture, says that this national recognition reflects her sense of the UMBC community and UMBC student experience as well. She shares, "The faculty and staff are committed to moving the campus forward by listening to student voices and striving to provide them the resources they need to succeed. UMBC has made its mark as an innovative institution and should be seen as an exemplary model not only for research but also for collaboration and leadership."
Image: Header image is UMBC Convocation 2016. All photos by Marlayna Demond '11 for UMBC.
Tags: Innovation, Rankings, UMBC50