UMBC began with 750 students walking to class on paths of wooden planks connecting three buildings. There were no dorms. Most of the professors were fresh out of graduate school, and, like their students, brimming with enthusiasm and potential. The Commons, the telescope, green roofs, and the Performing Arts & Humanities Building hadn't yet been envisioned.
A new article by The Daily Record's Dan Leaderman traces the history of UMBC, from its roots as a university community defying definition to a "research powerhouse" known as a national leader in teaching and innovation.
"In the life of universities, 50 years is not that long, but UMBC has done a remarkable job emerging as a first-class research university," USM Chancellor Robert Caret told the The Daily Record, noting that today UMBC is also a major player in the region's economic development.
Drawing comparisons with a young MIT, the article dives into success of the bwtech@UMBC Research and Technology park and of UMBC alumni becoming academic and research leaders worldwide, including as faculty at Harvard and director of the Johns Hopkins University Applied Physics Lab.

A companion interview with UMBC President Freeman Hrabowski also highlights UMBC as a hub for teaching and research in emerging fields, like cybersecurity; a dedicated partner to institutions like the University of Maryland, Baltimore; and a community committed to student success. This includes asking tough questions and testing novel approaches to see what will yield the best results for students.
"At UMBC," Hrabowski said, "we have been rethinking the teaching and learning process across disciplines, from science and engineering to the arts and humanities and social sciences."

Michael Summers, Robert E. Meyerhoff Chair for Excellence in Research and Mentoring and University Distinguished Professor of chemistry and biochemistry, and member of the National Academy of Sciences, told The Daily Record that it goes back to the passion and dedication of UMBC students.
"I've come back [after] the university was shut down for snow storms and gotten in to work and the undergraduates had their sleeping bags here because they didn't want to get trapped away from their experiments," he shared.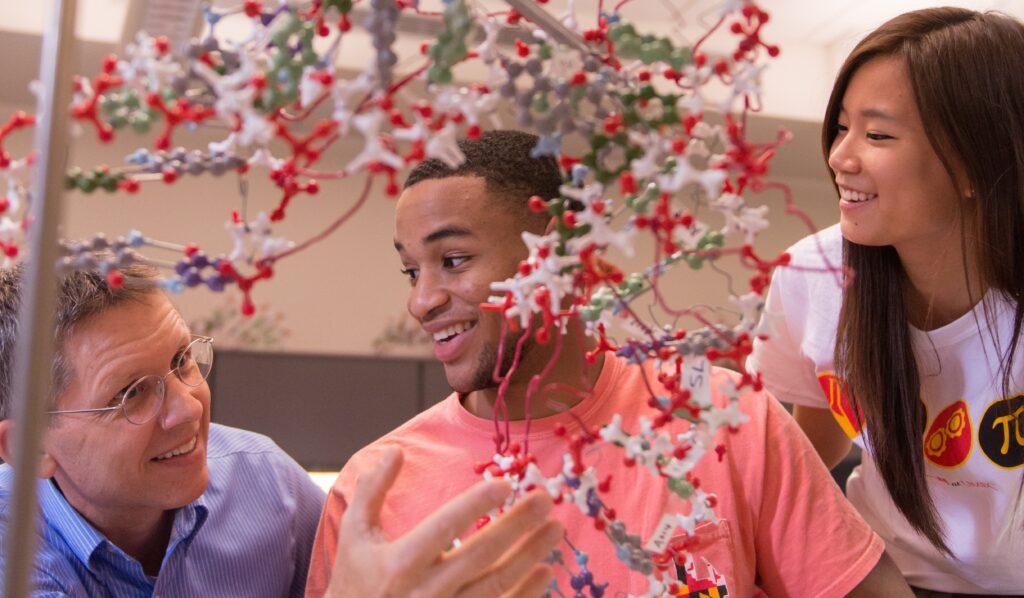 As those students move on to promising careers, UMBC is preparing to welcome in a new class of Retrievers who have only known the university as the "powerhouse" of today.
Read "At age 50, UMBC just getting started" and the "Newsmakers" interview with President Hrabowski in The Daily Record [subscription required].
Images (top-bottom): (1) UMBC campus; (2) UMBC student during an Engineer's Week event in the Commons; (3) UMBC Sherman Scholars working with students at Lakeland Elementary/Middle School; (4) Prof. Michael Summers (at left) with his students. Photos by Marlayna Demond '11 for UMBC.
Tags: bwtech, Hrabowski, Innovation, UMBC50