UMBC has placed ninth nationwide in the 2020 ALL IN Campus Democracy Challenge voting pledge competition. More than 600 colleges and universities participate in the ALL IN Campus Democracy Challenge, which encourages college students to pledge to vote based on evidence that when people make public pledges, they are more likely to follow through. 
"These rankings speak to what people already know: UMBC is a national model for community engagement," says President Freeman A. Hrabowski. "We're proud of the work being done through our Center for Democracy and Civic Life, and we are grateful to all of our community members who took the pledge to vote in the 2020 election."
Cast Your Whole Vote campaign
Launched in November 2018, UMBC's Center for Democracy and Civic Life (CDCL) helps students develop the knowledge, skills, and approaches for deep and effective civic engagement and community work. The Center is led by Director David Hoffman, Ph.D. '13, language, literacy, and culture (LLC), and Assistant Director Romy Hübler '09, modern languages and linguistics, M.A. '11, intercultural communication, Ph.D. '15, LLC. 
During the fall 2020 semester, Hoffman, Hübler, and the Center's interns, along with University partners, organized a campus-wide Cast Your Whole Vote campaign, featuring voting and election events and resources. The events drew nearly 800 members of the UMBC community. As part of that programming, UMBC students, faculty, and staff members trained as facilitators to organize more than 20 additional post-election community discussions. Under the theme Together Beyond November, these conversations helped participants renew their connections and support each other in this challenging time. 
"It's important to vote, but also to recognize voting as just one way to make a difference in our communities and nation," share Hoffman and Hübler. "UMBC's Cast Your Whole Vote campaign encouraged members of the UMBC community to learn about issues, engage in civil conversations, and contribute their time and talent to building a better world on Election Day and every day. We are grateful to the many departments, student organizations, and campus leaders who worked with us."
The UMBC community will learn how many students actually voted in the 2020 national election in a 2021 report by the National Survey of Learning, Voting, and Engagement. 
---
Interview with student leaders
To learn more about student experiences in UMBC's Cast Your Whole Vote campaign and election programming, UMBC News spoke with three student leaders: Tirzah Khan '21, information systems, is the connection corps intern with the Center for Democracy and Civic Life; Logan Lineburg '22, M30, biochemistry and molecular biology, is director of the Department of Executive Initiatives for the Student Government Association; and Meghan Lynch '18, political science, and M.P.P. '21, is the chair of legislative concerns for the Graduate Student Association.
UMBC News: Why is the ALL-IN pledge so important?
Khan: It's important to be intentional about voting and hold each other accountable for participating in the voting process, especially on college campuses, where ideas about civic engagement are integral to the personal and professional development that students leave with. The knowledge that there is power in community is something that UMBC students learn pretty quickly because of the unique environment here, and I think it's necessary to extend that knowledge to voting and social change.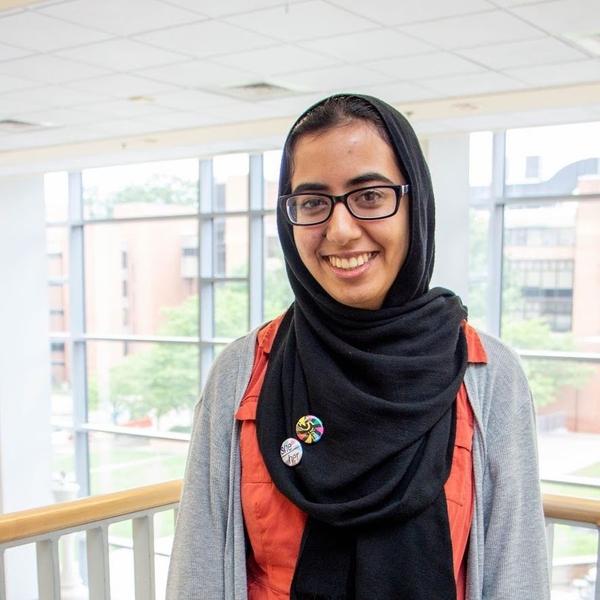 Lineburg: The ALL-IN pledge to me means that my involvement doesn't end once I've cast my ballot. There are many important ways that one can engage with their community and politics, whether it is protesting, writing letters to legislators, or even simply having conversations with family and friends about the way we feel our nation is evolving, all of which are important for progress and growth.
Lynch: The ALL-IN pledge is a powerful reminder of how important it is to be an engaged and informed voter. The pledge reminds all of us of the importance of making a plan to vote. For Maryland residents, there were quite a few ways to cast your ballot this election, so this tool prompted voters to think about what would work best for them. 
UMBC News: What does UMBC's top 10 ALL IN ranking say to you about our community?
Khan: It says a lot to me about our campus' values and needs—that our campus community is more important to us than ever, that we are dedicated to impacting the world outside our bubble, that we aim to ensure our voices are heard. I was still in high school during the last presidential election season so I'm not sure what that was like at UMBC, but the weeks leading up to this election illustrated just how much our community is willing to do for one another. 
Lineburg: Knowing that our university has placed within the top two percent of colleges and universities really speaks to our campus's commitment to excellence. We are passionate, educated, and empowered, and together, we all push for what is right.
Lynch: UMBC also shows up and gives that grit and greatness! I believe we have a thoughtful, intentional, and dedicated community who leads through action. In many spaces at UMBC, we talk about equity and justice, so it was reassuring to know that we put those principles into action such as through voting.
UMBC News: Why was participating in the Cast Your Whole Vote campaign or election-related events important to you?
Khan: One of the central ideas in the Cast Your Whole Vote campaign is that, while voting is incredibly valuable, there are so many other ways to affect social change besides voting. As someone who is not eligible to vote, that messaging felt really relevant to my experiences and passions. 
I often feel excluded from election-related events and conversations because of my ineligibility. This is terrible because non-citizens, incarcerated people, and formerly incarcerated people are some of the most vulnerable members of our communities, especially during election years.
In turn, it felt amazing to be seen and included in this campus-wide campaign. The realization that my voice matters, my actions matter, and my story matters—especially during an election year—is what drove me to get involved in planning Election Night Extravaganza, and to participate in the Together Beyond November: (Re)building Community after Election 2020 facilitator training.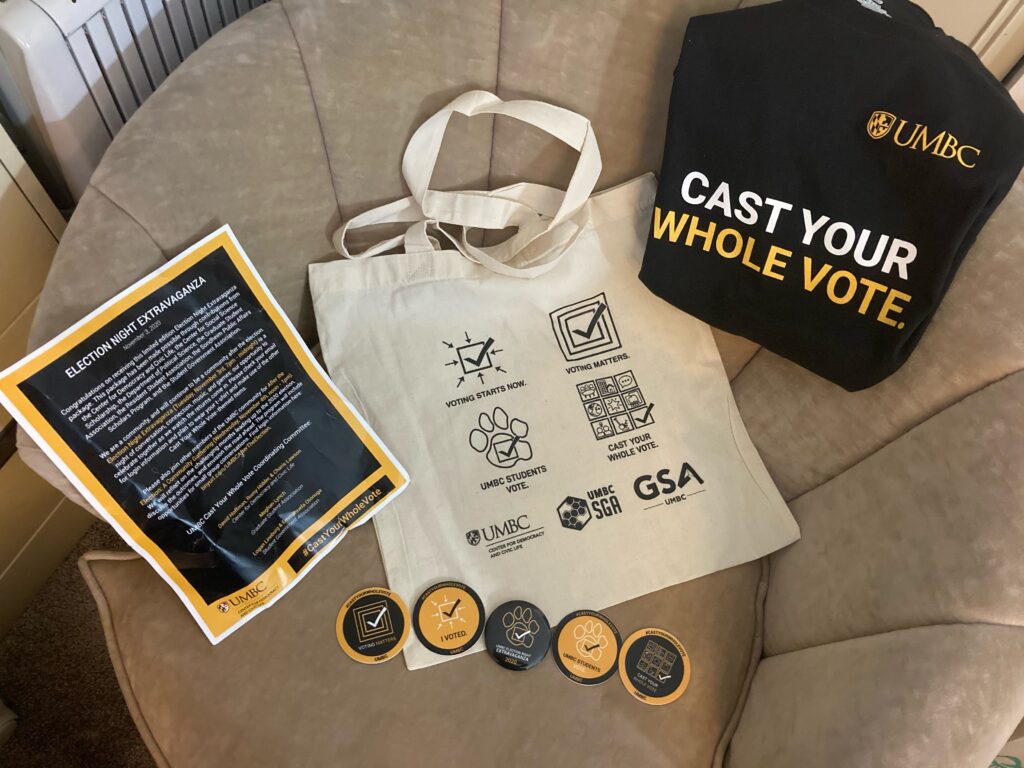 Lineburg: Being a part of the planning committee and speaking with other student leaders from different organizations and scholars programs was fantastic. Knowing that despite our vastly different backgrounds and future goals we are all able to unite to educate and inform our campus community about voting is thrilling.
As a third-year student, I can attest that UMBC's efforts to educate and empower its students is supreme. At UMBC, every person has the capacity to make great change, and with incredibly supportive faculty, staff, and fellow students, I feel it would be nearly impossible to find a goal or dream that is unachievable here.
UMBC News: What were your favorite moments from the campaign and why? 
Lynch: As someone who studies politics and policy, being involved with a community that encourages political participation is paramount. In these virtual times, I've been finding myself seeking out spaces to connect with others. The campaign has had a lot of wonderful events, like the Change Makers Dinners and debate watch parties that made these stressful, isolating times more manageable. 
On Election Night in particular, we began our evening on Discord (a group-chatting platform) and then moved over to WebEx to hear from President Hrabowski and Vice President for Student Affairs Nancy Young. I could feel the energy and excitement from seeing everyone's faces in the WebEx room. It was important to me to participate because we had to be creative about being in community, and the experience on WebEx on Election Night hopefully made the night more enjoyable for many. 
UMBC News: How was the student response to the events? 
Khan: This Election Day was more of an Election Week, I think students appreciated having non-judgmental, non-partisan spaces to process their feelings. Also, the idea that civic life and civic engagement extends far beyond voting and elections was something that I believe resonated with a lot of people and allowed them to feel comfortable in expressing their fears about the election.
Lynch: I could tell that students wanted to find spaces to talk and share their thoughts on the election. They were actively engaging with each other and seemed to be enjoying it. We had stressful and overwhelming moments to work through, but the students had such grace in taking time to understand and work through it all.
UMBC News: What was it like to try to engage students virtually instead of in-person?
Khan: It was both more difficult and more rewarding than normal for me. Students have never been more in need of connection and community, but they've also never been more difficult to reach. There are so many layers of exhaustion and trauma that our community is facing right now, and it's really hard to get through to people. Nobody wants to be in meetings and on camera more than they absolutely have to.
At the same time, though, we are all so incredibly lonely and scared right now. So despite how difficult it got as the election neared, I knew it was important to keep pushing and keep hosting spaces for students to build community around our shared election fears. 
There's something that the Center for Democracy and Civic Life says—"physical distance, civic proximity." I've thought about this idea a lot since March, and it's sort of become central to my work right now. We've never been further away from one another as a community, but the need for us to be closer has never been more important. I find that when we're able to come together and help each other through sharing our fears and experiences and stories, we're able to have an impact that is far beyond anything I experienced pre-pandemic.
Lineburg: Although engaging in the virtual world is challenging for many reasons, I believe that still having a space to connect with others is essential. The limitations of online engagement are not pleasurable, but from what I've heard from those I've spoken with, continuing to allow for interactions and conversations, especially during such stressful times, is and was greatly appreciated.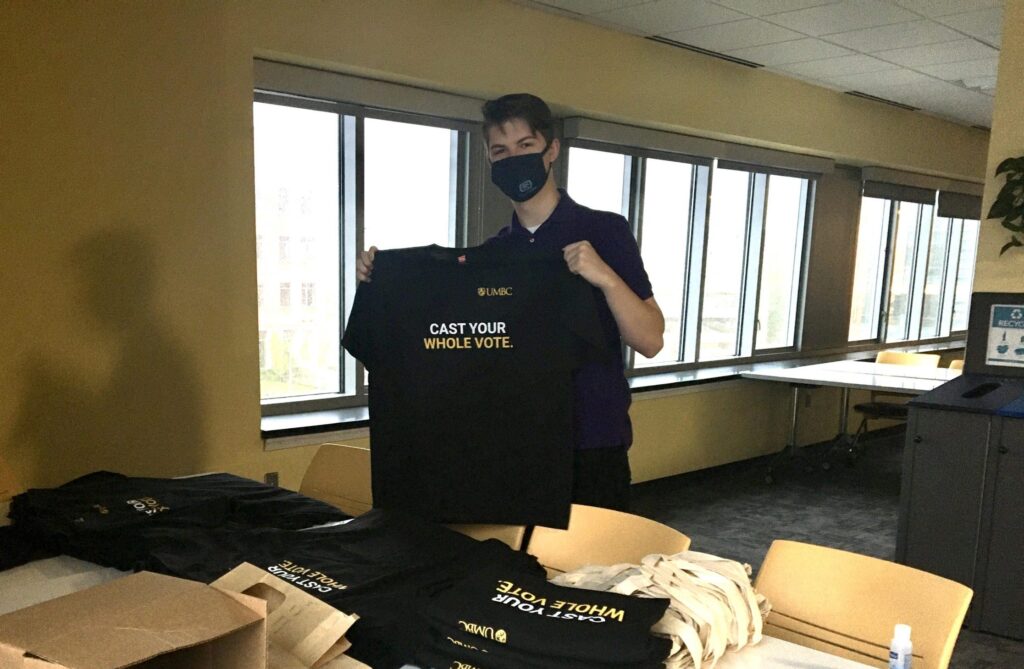 UMBC News: What was your experience as a facilitator for a post-election conversation group? 
Lynch: I led a post-election conversation with graduate students which was incredibly fulfilling. Some of the general trends were being intentional about healing and renewing relationships, longing for being in physical space with others, the necessity of having "uncomfortable" conversations, and this being the only opportunity they've had to process the election results with their peers. Needless to say, the consensus afterwards was that we wanted more events.
Khan: I'm pretty new to facilitation—especially in such stressful circumstances—so I was incredibly anxious going into both of the conversations that I facilitated. Through the Center for Democracy and Civic Life, I led one group of UMBC faculty and staff…and I led one group with some of my incredible peers at the Student Events Board. Both conversations were incredibly impactful and surprising, but in entirely different ways.
I was floored by the depth of thought that each participant brought. Some of the people were complete strangers to me, but almost immediately, they were willing to be so incredibly open, authentic and vulnerable about their election-related fears and hopes. It was a truly moving experience for me to be holding all of their emotions along with my own, and to know that I had given them my emotions to hold in return.
See the Center for Democracy and Civic Life on myUMBC for future events and additional reflections and resources.
Article written by Eleanor Lewis, communication specialist in the Division of Student Affairs.
Featured image: Cast Your Whole Vote gift bag. Photo courtesy of the CDCL.