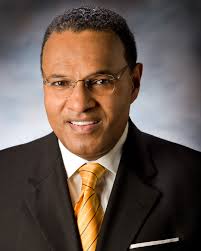 In a commentary on CNBC, President Hrabowski praises the success of Team HueBotics, a video-game development team from UMBC heading to the 2015 Microsoft Imagine World Cup, and discusses how they exemplify the future of learning and technology. Team HueBotics is made up of Jasmine Martin '15, visual arts and business administration, Erika Schumacher '17, visual arts, Tad Cordle '16, computer engineering, and Michael Leung '16, computer science.
Dr. Hrabowski examines the utility of video games as a way to improve education and engage students from a variety of backgrounds. "American education, from pre-K to college, must find ways to inspire similar dedication and to bring content to life," he said. "Playing well-designed games, as well as creating them, can pack an educational punch."
Dr. Hrabowski also mentions how Team HueBotics mentor Marc Olano, computer science, has worked with Anne Rubin, history, to redesign courses to include game design. He concludes, "The right use of technology in redesigned courses can improve teaching and learning…That's why at UMBC we have said, 'Let the games begin.'"
Click here to read "Video games in the classroom? Welcome to the future of learning" on CNBC.