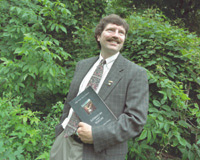 "Green Writing"
 
It seems only natural that Jim McKusick would find a way to bring together his passion for nature with his love of literature. His achievement can be found in two new books exploring the emerging field of "ecological literary criticism."

"I've been fascinated by the outdoors and the environment since I was a kid," explains McKusick, chair of UMBC's English department. "It's deep in my blood." As a teenager, he hiked 1,000 miles of the northeast section of the Appalachian Trail, and in subsequent summers, he trekked hundreds of miles of the Sierra Nevada and Pacific Crest trails, as well as led wilderness canoe trips. ("I have a special fondness for swamps," he admits.) While a student at Dartmouth College, he began mountain climbing, conquering peaks in the Himalayas and Peru.

At the same time, he found his professional voice in literature, most specifically English poetry of the Romantic period, in which he discovered echoes of his own fascination with the natural world and sources that deeply influenced American writers such as Emerson, Thoreau, and John Muir, laying the foundation for the modern environmental movement.

In his newly published anthology Literature and Nature: Four Centuries of Nature Writing, co-edited with Bridget Keegan, McKusick presents a banquet of literary selections–in all genres (poetry, plays, novels, and essays), written by men and women of all races, social classes, and nationalities. His second publication, Green Writing: Romanticism and Ecology, a deeper, more focused treatise on the influence of the English Romantics, took McKusick out into the field, to his great delight. "If you're going to understand a writer, I think you have to be deeply attuned to their geographical place," he says.