The 2021 U.S. News and World Report Best Colleges rankings affirm that UMBC remains one of the top universities in the nation, with a uniquely distinguished profile. 
UMBC has advanced to #11 for undergraduate teaching and holds the #9 position on the list of most innovative schools in the nation, among other prominent rankings. UMBC is the only Maryland school represented in the top ten in innovation, standing alongside such universities as Stanford, Carnegie Mellon, MIT, and Caltech. 
"We are delighted to again receive external recognition for creating a purposeful curriculum," says Katharine H. Cole, vice provost and dean of Undergraduate Academic Affairs. "We are inclusive and innovative, and this drives our continuing ability to offer a distinctive educational experience to UMBC students."
Student Government Association (SGA) President Mehrshad Devin '22, biology and physics, echoes Cole's focus on inclusion and purpose. "The students of UMBC form a tightly-knit community," he says. "We support each other and provide one another with the scaffolding needed to build something for the greater good, something greater than each of us individually."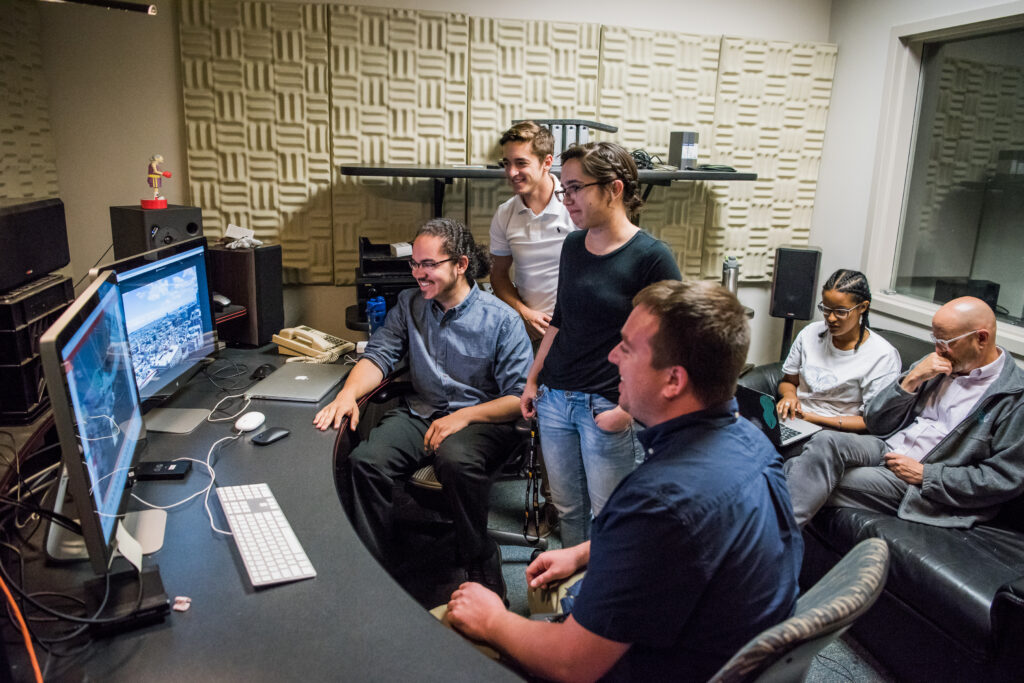 UMBC also placed within the top 80 public universities and ranked #160 on the overall list of top national universities.
A foundation of success
Karl Steiner, vice president for research, sees these rankings as reflecting UMBC's commitment to inclusive excellence and collaboration. At some institutions, teaching and research are more separate endeavors. But at UMBC a foundational commitment to quality teaching drives collaborative research success, and research is a learning experience.
"We are proud of our successful history of including undergraduate and graduate students in our diverse portfolio of research and creative achievement," says Steiner. These students have unique opportunities to make a real impact through their UMBC research. Many alumni then advance to high-impact research careers serving the public good.
UMBC research across all disciplines has historically focused on addressing inequalities, and this continues during the time of COVID-19. "We are actively working on federally-funded projects to help in the fight against the COVID-19 pandemic and its broader impact on members of our communities," says Steiner.
Charissa Cheah, professor of psychology, is leading an NSF-funded research project addressing how Chinese-American communities are experiencing discrimination related to COVID-19, and how they are coping. Fei Han, of The Hilltop Institute at UMBC, received a COVID-19 Accelerated Translational Incubator Pilot (ATIP) award for research to help predict and reduce patients' risk of being hospitalized due to COVID-19.
Foad Hamidi, information systems, received an NSF Rapid Response Research (RAPID) grant to increase high-speed wireless internet access to communities in Baltimore during the pandemic. Dipanjan Pan, professor of chemical, biochemical, and environmental engineering, received National Institutes of Health grants for research on a rapid, affordable COVID-19 test. 
Katherine Seley-Radtke, professor of chemistry and biochemistry, received a Fast Grant to test antiviral compounds developed in her lab for effectiveness against COVID-19, with collaborator Chuck Bieberich, professor of biological sciences. 
Students play an essential role in completing much of this research, from working in Seley-Radtke's lab to interviewing families through Cheah's study.
University growth
UMBC's engineering programs performed strongly in the 2021 U.S. News rankings, tied with Villanova, Tulane, Howard, and University of Alabama. U.S. News just launched a new computer science program ranking this year as well, including UMBC in the nation's top 100.
Keith J Bowman, dean of the College of Engineering and Information Technology (COEIT), attributes this recognition to a trend of healthy program growth across the college, such as the expansion of data science to UMBC at the Universities at Shady Grove. "UMBC's unique set of engineering, computing, and business-related bachelor's degree programs have undergone extraordinary student growth in recent years. That growth has enabled us to hire an outstanding cadre of new faculty," says Bowman. 
A place for all students
UMBC jumped up seven places on the list of Best Colleges for Veterans, and is again one of the top schools in the nation for ethnic diversity. Yvette Mozie-Ross '88, health science and policy, vice provost for enrollment management and planning, shares, "We take great pride in being a historically diverse institution that has welcomed and continues to welcome students of all backgrounds. And it is our unwavering commitment to inclusive excellence that makes UMBC such a unique and special place."
Speaking to the work COEIT has done, Bowman shares, "Our student growth has been especially strong among African Americans and women," both historically underrepresented groups in engineering and computing on a national level. 
"The inclusive nature of UMBC is what makes the institution so exceptional," says Devin. "From the moment a student commits to UMBC, the path towards success is laid out for them, with bold neon signs that push them to do more, even if they don't yet know how."
Banner image: Students gather at The Forum, a public artwork near UMBC's Performing Arts and Humanities Building, 2016. All photos by Marlayna Demond '11 unless otherwise noted.
Kait McCaffrey and Dinah Winnick contributed to this story.