Arlene Cuanias 
B.S., Psychology
Summa Cum Laude
Hometown: Rockville, Maryland
Plans: M.S.W., University of Maryland School of Social Work
UMBC gave me the confidence to go after what I want. I have been given the tools to be successful both in school and in my personal life. The faculty and staff are amazing and it has been a privilege to have worked with them.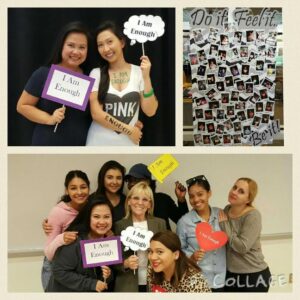 Arlene Cuanias has maintained a highly distinguished undergraduate academic career while also serving as a leader in the UMBC community at the Universities at Shady Grove (USG), fostering a culture of caring. She was the first student member of the USG Culture of Care Network, an organization designed to look out for the well-being of all students, faculty, and staff, and she was instrumental in creating the "I Am Enough" campaign.
Cuanias served as vice president of the Tau Sigma Honors Society, was a member of the UMBC Peer Advisory Team, and earned a USG Academic Achievement Award and Distinguished Achievement Award in Psychology at UMBC. Arlene is also a Montgomery County Business Hall of Fame Scholar. She will pursue a master of social work degree at the University of Maryland, Baltimore beginning in the fall.
Images: Arlene Cuanias launches the USG Culture of Care Network, fall 2015, with the theme "I Am Enough"; photo courtesy Arlene Cuanias. Portrait by Marlayna Demond '11 for UMBC.