Community-engaged work has been integral to the UMBC experience for Joseph Mayhew, M.A. '20, TESOL; Kiplyn Jones, M.A. '20, public policy; Malgorzata Bondyra '20, management of aging services; and Thao "Rosemary" Do '20, biological sciences. Despite coming from such different academic programs, they have all been able to connect in meaningful ways with local and international communities. And after graduating this week, they'll each apply their talents, skills, and sense of commitment to community-engaged careers.
Using Peace Corps skills at home
Joseph Mayhew, a Catonsville local, left Baltimore over ten years ago for the University of South Carolina. After studying political science, he worked for the Federal Emergency Management Agency (FEMA) as an AmeriCorps volunteer. Mayhew helped set up shelters for refugees and immigrant youth and helped manage FEMA's news desk hotline. He decided to follow his AmeriCorps service with the Peace Corps in San Bernardino, Paraguay. 
Mayhew was excited to improve his Spanish skills and immerse himself in Paraguay's culture. He taught English, leadership, and entrepreneurial skills to San Bernardino's youth. 
"We were sharing strategies for the community to do their own development work based on their needs and identity as a community," he shares. "It wasn't about us staying and directing what needed to happen. It was about us stepping back so communities could move forward in the direction they wanted with new tools."
After the Peace Corps, Mayhew searched for a graduate program that would build on the skills he gained there. He didn't know it would take him back home to Baltimore. The more he learned about UMBC's Shriver Peaceworker Fellows Program, the more he knew it fit his career goals, integrating graduate study, community service, social change leadership, and ethical reflection. 
Seeing Baltimore through fresh eyes
The Peaceworker program reintroduced Mayhew to Baltimore, including the history of local communities and the disparities they experience, which he had not learned growing up. Mayhew began to dedicate his time working with Baltimore's refugee and immigrant communities.
"After his Peace Corps service in Paraguay, Joe was eager to return and connect his grad studies to work that supported our region's newcomer communities," explains Joby Taylor Ph.D. '05, language, literacy, and culture, director of UMBC's Shriver Peaceworker Program.
Mayhew worked at a refugee and immigrant shelter. He also used the Spanish skills he learned in Paraguay to support the English Speakers of Other Languages (ESOL) program and to develop high school and college readiness programs for the Latino youth at Commodore John Rodgers Elementary/Middle School (CJR).
"Chances are that if you saw young kids and families touring UMBC in the past two years, you saw Joe with his CJR students," shares Taylor. "He's led literally hundreds of families on their first ever college visit—that all-important first step to college access and a sense of belonging for newcomers and first-generation students."
Bridging the language gap
Mayhew's work with Baltimore's Southeast community helped him to define a new career path. There, he witnessed first-hand how bridging the language gap helps English language learners access educational opportunities. He decided that the best way for him to help create positive social change was to become an ESOL teacher.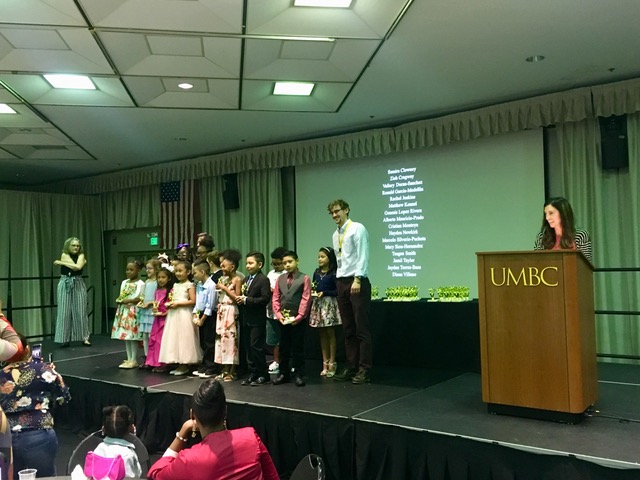 "I'm a language learner also," says Mayhew. "Being able to move through multiple worlds and using all of your linguistic repertoire to express yourself is powerful. There are certain things that I can say in Spanish that I can't express in English." 
"I want students who live anywhere in Baltimore to be able to speak English while preserving their culture and language," Mayhew shares. "They should be able to hang on to their identity and not have to live with this hierarchy that English is a language above other languages." 
Mayhew will teach ESOL full-time in Baltimore City's John Ruhrah Elementary/Middle School, working with another Peaceworker alum, Newcomer Center Lead Kevin Okun, M.A. '09, TESOL. 
Building relationships in Java
Kiplyn Jones grew up in Florida surrounded by a diverse international community that inspired her to broaden her linguistic and cultural knowledge. During high school she worked at a restaurant and began to learn Turkish and about Islam from the family that owned the business. This led her to learn Arabic and earn a B.A. in linguistics from the University of Florida. 
The next step on Jones's journey was the Peace Corps, which placed her with a linguistically diverse (Javanese, Sundanese, and Indonesian ) speaking Muslim community in Java, Indonesia where she taught English, leadership, and teamwork skills to teens. "Anything I do, I try to do it meaningfully," explains Jones. She was committed to having a positive impact and to learning as much as she could.
"In Indonesia personal relationships are very important for developing professional relationships," Jones says. Both her host mother and co-teachers at a local high school helped her connect with the community. 
"I was the first Peace Corps volunteer in this part of Java. The closest volunteer was six hours away," remembers Jones. "Being the first one meant I had the unique responsibility of learning how to be a part of the community and collaborate on creating programs for future Peace Corps volunteers to build upon."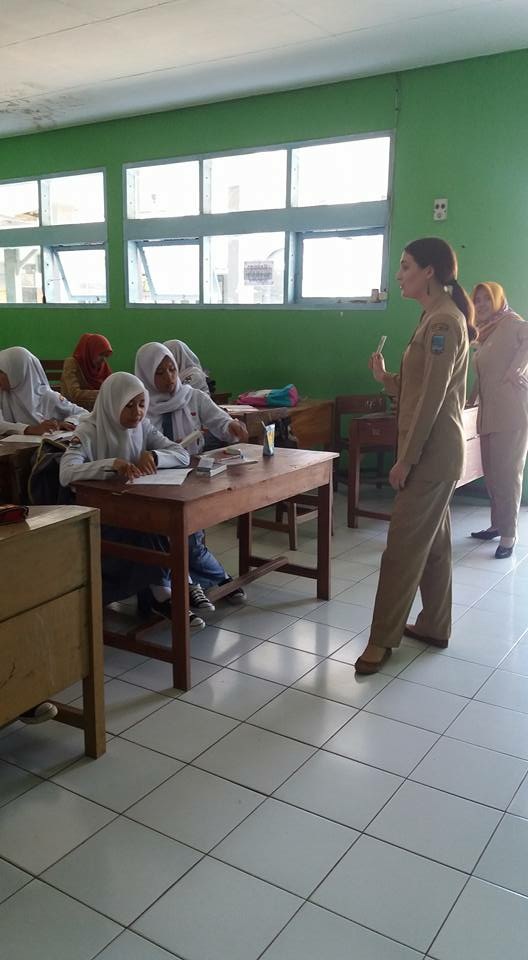 Envisioning positive change in the world
Jones's Peace Corps experience strengthened her desire to pursue a career in international development. She knew the Peaceworker Program would help her meet these goals. 
"We have seen Kiplyn grow as a researcher as she dived into the public policy master's program," shares Charlotte Keniston, M.F.A '14, intermedia and digital art, associate director of the Peaceworker Program. "Kiplyn discovered a love for program evaluation and data analysis as she completed each step of the program."
Building on the skills she learned in Indonesia, Jones also learned to support the students in UMBC's Grand Challenge Scholars Program (GCSP). The program is designed for undergraduate students interested in developing solutions to global challenges in areas such as sustainability, security, and health. 
"Initially, Kiplyn was apprehensive about working with students from STEM fields, as that was very different from her own background in linguistics," remembers Keniston. "She was able to find a common ground of working together to envision positive change in the world. She's really helped to grow and shape that program and has been a fantastic mentor to those students."
Jones's dedication to international development work earned her a Fulbright U.S. Student Program award to Jordan. Fulbright programs are now on pause due to the COVID-19 pandemic, but she looks forward to having the chance to travel again, and to supporting communities wherever she finds herself. 
Touring Polish violinist finds home at UMBC
Malgorzata Bondyra came to the United States as a violinist in a Polish folk band. Before she returned to Poland to finish her degree in economics, a friend asked her to replace her in a nanny position in Maryland. Bondyra accepted. She worked and enrolled as an international student in Dundalk Community College, where she earned her associate's degree.
Bondyra next pursued a degree in music performance at UMBC, but during her sophomore year decided to take time off to raise her daughter.
Eighteen years later, she returned to complete her undergraduate degree in the management of aging services. And this time she had company. Bondyra's daughter, Dominika Bondyra '21, computer science, was already a student at UMBC.
Finding a career within the Polish community
Just as Bondyra's Polish culture inspired her pursuit of a career in the performing arts when she was younger, the local Polish community in Baltimore inspired her more recent interest in working with older adults. 
While raising her daughter, Bondyra had various jobs and volunteered to translate medical forms for older community members. She then began accompanying them to doctor's visits and helping them ask questions about their healthcare. She enjoyed the experience so much she became a certified Polish language medical translator. 
"I really enjoyed working with the Polish seniors," shared Malgorzata. "When I learned about UMBC's Erickson School of Aging Studies I was excited to finally complete my degree in this new career path to better serve the elderly in my community."
An internship with a twist
This spring Bondyra was to begin her final internship at Seven Oaks Senior Center in Baltimore County, home to a large Polish community. There she would help with recreation activities to help members bond with each other and support continued learning and mobility. 
After the facility temporarily closed due to COVID-19, the center continued to support its members by providing some services online. And they had a special idea for their intern. "The center asked me to finish my internship by having an online cooking class," says Bondyra. "I really had to think about it because I am very shy." In the end, she agreed.
"Cooking with Gosia" (short for Malgorzata) quickly became a hit with the members of the senior center. Bondyra drew on her knowledge of traditional Polish recipes she had grown up eating and cooking. She began with the more familiar recipes, like stuffed cabbage and pierogi, then moved on to lesser known dishes. The online classes drew not only the local Polish community, but also other viewers from around the world interested in Polish cooking.
While the internship offered an entirely new way for Bondyra to support others, her success in the position also reflects two decades of connection to Baltimore's Polish community. Bondyra plays the violin for a Polish church, serves as vice president of the Baltimore chapter of the Polish National Alliance, and is the artistic director and choreographer for a local Polish folk dancing group.
This spring, in addition to her bachelor's degree from UMBC, she'll earn a bachelor's degree in Polish folk dancing from University of Rzeszow in Poland. 
"I work very hard in everything I am passionate about," says Bondrya. Next, she'll pursue a master's degree through the Erickson School. "I look forward to graduate school at UMBC," she shares. "Who knows where this next adventure will take me."
Holistic medicine from Vietnam to UMBC
Rosemary Do chose to attend UMBC at the recommendation of her brother, Duy Do '07, biochemistry. UMBC gave him the strong STEM foundation he needed to then attend the Harvard School of Dental Medicine and later Columbia University College of Dental Medicine to specialize as an endodontist. Rosemary heeded his advice and moved from Vietnam to the United States to also pursue a career in dentistry.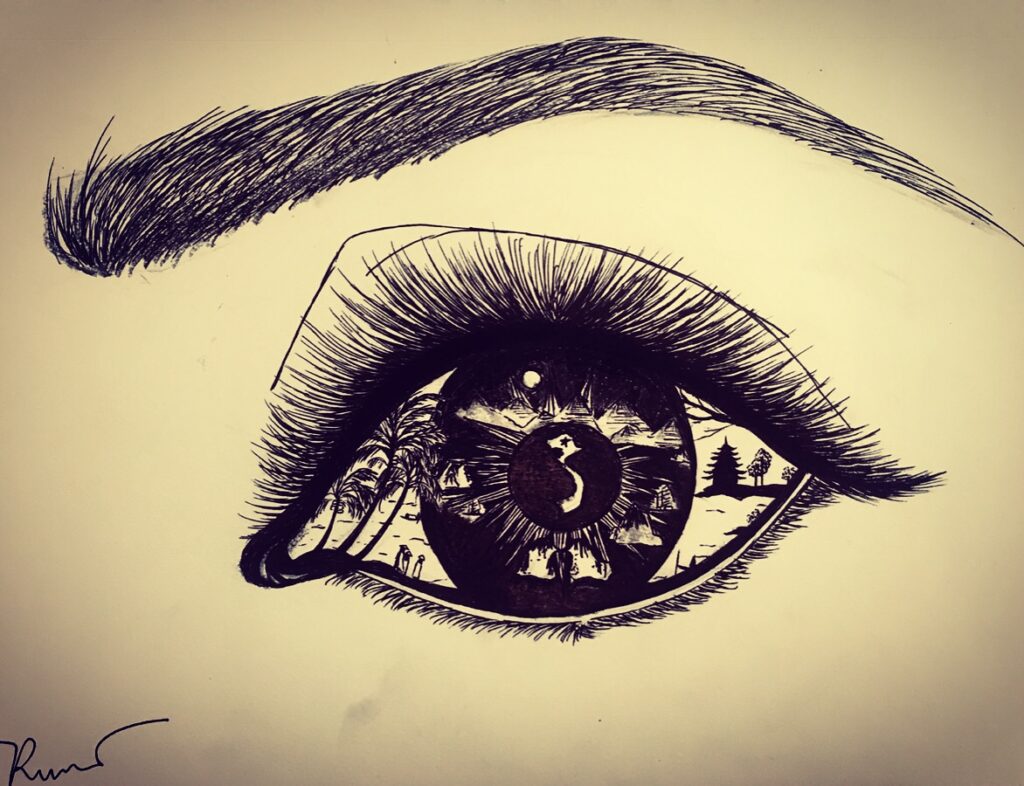 Rosemary Do's interest in dentistry comes from a very personal experience. "My father had periodontal disease and diabetes," she shares. "Dentists in Vietnam did not take into consideration his diabetes limiting the effectiveness of his periodontal surgeries. I want to be able to practice dentistry from a holistic point of view to help the most people."
Finding a lab and a band
Do's first trip from Vietnam to Virginia was quite a journey, but she had family in Virginia, so it went smoothly. More daunting was traveling from Virginia to UMBC, Do explains. UMBC meant the beginning of an independent journey with no quick access to family. She made a conscious decision to get out of her comfort zone and find community. 
Do knew that she wanted to enrich her academic experience through lab research. She reached out to Jeff Leips, biological sciences, who invited her to support his lab's developmental biology research with fruit flies. During her three years with the lab, she learned the importance of being meticulous as well as the value of learning from mistakes. 
"My attention to detail grew, which is very important in dentistry," explains Do. "Dr. Leips created a safe environment to learn and be innovative by encouraging us to explore, lead experiments, and make mistakes."
Leips's lab also gave Do meaningful social connections. This past December, Leips and the students created a band, The Leips and the Flies, with Do on guitar. Their first performance was at the department's end of the year party. 
"Rosemary is one of the most impressive students I've had the pleasure of working with," shares Leips. "She is an amazing student, an impressive young scientist, and an awesome rhythm guitar player in the lab band. We are really going to miss her but wish her well in the next step of her career."
A better version of myself
Always focused on new opportunities to grow, Do also joined UMBC's Aikido Club. Before joining she had never played a sport or studied a martial art, but she wanted to try. Eventually, she became the vice president of the club and helped run Women's Self Defense Seminars. 
With a fulfilling and balanced campus experience, Do sought ways in which to engage with UMBC's surrounding community. She began volunteering in the oncology department at Saint Agnes Hospital in Southwest Baltimore, delivering food to patients. Later she worked with UMBC's Shriver Center to volunteer in the Multiple Sclerosis Aquatics Program at the Catonsville YMCA. 
"I have been a very privileged person all of my life. My mother is a doctor and my father is an engineer. I've never had to worry about anything," shares Do. "My experience with the Shriver Center helped me learn a sense of responsibility to be a better version of myself for the betterment of others."
Every weekend for six semesters Do assisted patients with stretches in the pool to alleviate their pain and increase their range of motion. Two years ago, she became the student coordinator.
As she transitions to the University of Pennsylvania School of Dental Medicine, Rosemary Do knows she made the right decision following her brother's advice. "Looking back from when I left Vietnam to now, it has been a great journey," she shares. "Everyone here at UMBC has shaped who I am today and I am grateful for that."
Banner image: Malgorzata Bondyra (center of first row) at a folk dance festival in Poland. Photo courtesy of Bondyra.
Tags: Biology, ClassOf2020, Education, EricksonSchool, PoliticalScience, ShriverCenter