Whistling Hens: Reacting to the Landscape: Music by Women Composers
Date:
September 29, 2022, 7:30 pm

-

9:30 pm
Location: Earl and Darielle Linehan Concert Hall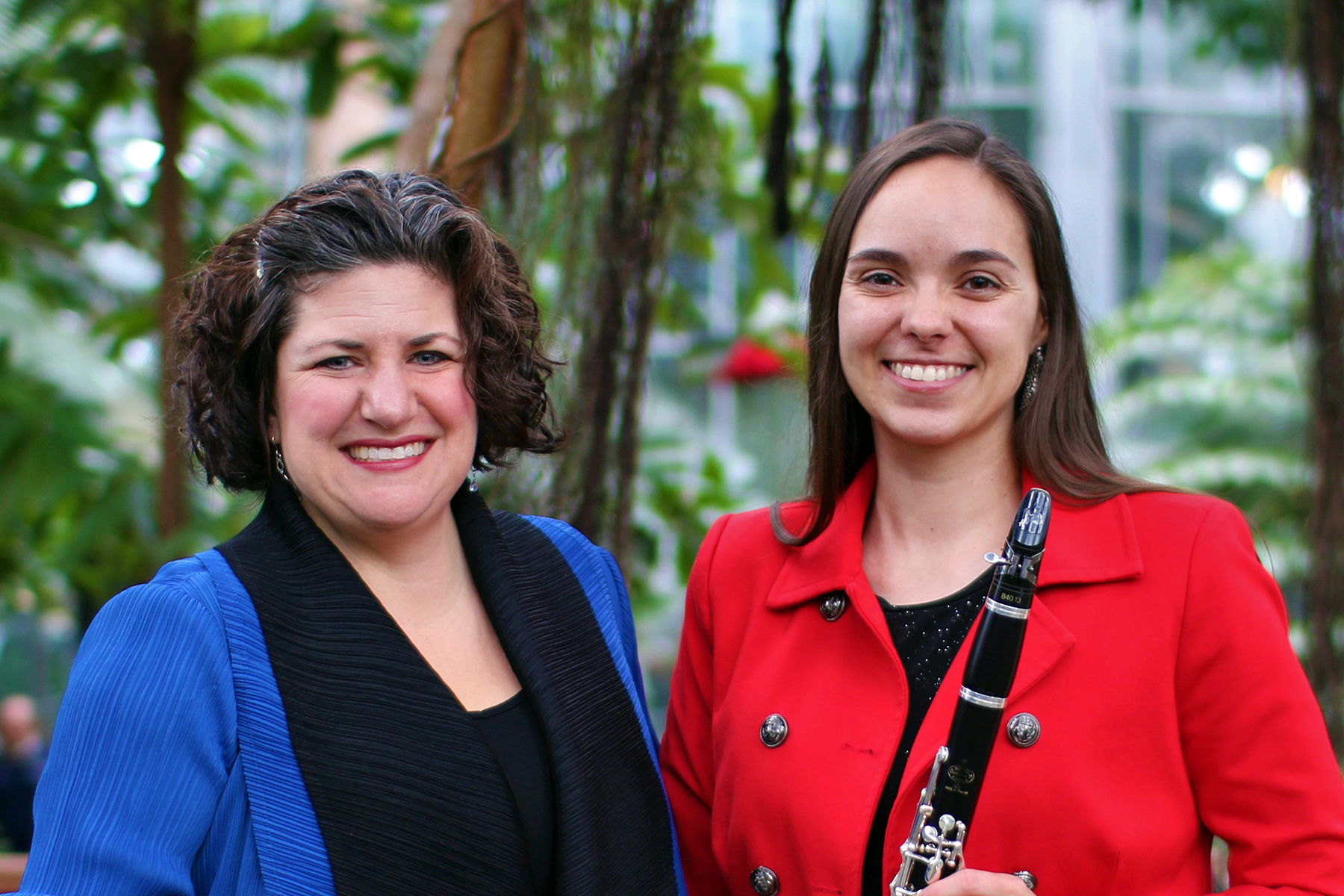 Whistling Hens was founded by soprano Jennifer Piazza-Pick and clarinetist Natalie Groom to perform and commission music by women composers and create a financially and artistically equitable future for women in music. The duo hatched at the centennial of a quote by a male music critic who said of Lili Boulanger in 1918, "women composers are at best whistling hens." From 2018 to 2022, Whistling Hens has commissioned twelve works, seven transcriptions, and a women composer coloring book, as well as given fifteen premieres.
Their performance at UMBC, entitled "Reacting to the Landscape: Music by Women Composers," will feature works by Cherise Leiter, Iris Szeghy, Jennifer Stevenson (including a premiere), Ashi Day, Melika Fitzhugh, and Victoria Bond.
Whistling Hens's work is essential, relevant, and timely because women have been historically excluded from composing, performing, publishing, and educational opportunities. Even into the 20th century, bigots have said women were intellectually incapable of composing good music and should focus on home life; women were discouraged or even banned from composing, and they weren't afforded the same educational privileges as men. A complex and multi-faceted history, these discriminatory social norms forced some women to write under pseudonyms or not write at all. To course correct against this exclusionary history, everyone must radically shift their thinking and methods of support to give women in the arts a chance at equal footing.
Praised for singing with "passion and emotional depth" (Richmond Times-Dispatch), soprano Jennifer Piazza-Pick has performed with the Nationaltheater Mannheim, Germany as well as with U.S. military bands in Belarus, Latvia, and Lithuania. In the U.S., she has performed with Opera Piccola of San Antonio, the Princeton Festival, Ithaca Opera, Long Beach Opera, Cincinnati Opera, the Princeton Festival, the Charlottesville Symphony, and at Carnegie Hall. She has also performed with the Oregon Bach Festival, Virginia Chorale, San Antonio Chamber Choir, Bach in Baltimore, AGO Mid-Atlantic Convention, and in concert series throughout the country.
Natalie Groom is a clarinetist, educator, composer, and arts manager. In 2021 she joined the faculty at UMBC as Affiliate Artist of Clarinet and became a voting member of the GRAMMY Recording Academy. Prior to that, she was music director of the Davies Concert Series, ushering in their 50th anniversary season; an artist in residence at Collington Retirement Community where she responded to the pandemic with a virtual concert series that brought essential programming to isolated seniors; and an audio engineer, producer, and manager for virtual and live programs at Arts Laureate, a classical music recording company. She has also worked at Washington Performing Arts, a leading arts presenting nonprofit in D.C., as the manager of advancement operations and analytics.
This event is presented by the Department of Music.
---
$15 general admission, $10 seniors, $5 students. Please visit here to reserve tickets.
---
Whistling Hens will perform in Earl and Darielle Linehan Concert Hall, an easy destination to visit with plenty of convenient free parking. Please visit here for directions and parking information.
---
Photos by Patrick Lill/Patrick Lill Photography.
Related Events