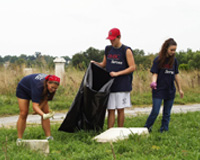 Nearly 100 UMBC students pitched in to help clean up Baltimore's oldest African American cemetery as a part of the UMBC Serves program, which kicked off on the first Saturday of the fall 2001 semester. Organized by UMBC's Shriver Center, Office of Student Life and Residential Life, the Mt. Auburn Service Trip pulled together new and returning students from Catonsville, Md. to Aurora, Colorado. UMBC students worked alongside members of the community to pull weeds, remove trash, and provide easier access to the sites at the cemetery.
Founded in 1872, Mt. Auburn is the oldest African American cemetery in Baltimore. It serves as resting place for former slaves who found freedom through the Underground Railroad and many prominent African Americans.
UMBC Serves is a new initiative designed to coordinate and strengthen service to the community at UMBC. Students, faculty and staff will have the opportunity to discover the many exciting service-learning, community service, and volunteerism opportunities at UMBC. 
UMBC's service connections with Baltimore City are numerous. From the Mt. Auburn Service Trip, to programs targeting at-risk youth, lead-paint education and removal programs, mentoring and tutoring programs, and much more.