On a recent Friday, representatives of UMBC, the U.S. Geological Survey and the U.S. Environmental Protection Agency gathered in UMBC's Albin O. Kuhn Library Gallery and pledged to work together to diversify and advance environmental science.
UMBC President Valerie Sheares Ashby, USGS Northeast Region Director Michael Tupper, and then-director of the EPA's Chesapeake Bay Program Kandis Boyd, now senior advisor to regional administrator for EPA Region 3, ceremonially signed a memorandum of understanding that outlines areas where the three partners plan to collaborate. One of their main objectives is to create a seamless career pipeline for students in environmental science, engineering, and related fields.
Deepening strong ties
The agreement aims to further deepen an already strong relationship between the three organizations. It comes on the heels of other successful collaborations, including the 2001 opening of the UMBC Center for Urban Environmental Research and Education, initially funded in part by the EPA, and the 2007 relocation of the USGS Maryland-Delaware-DC Water Science Center to a new facility at the bwtech@UMBC Research and Technology Park.
UMBC faculty and students have worked with USGS and EPA scientists to develop new methods to analyze environmental data, clean up polluted ecosystems, and understand the economic benefits of healthy air and water.
The trio aim to build off these successes, and in particular will focus on recruiting and training diverse students to further environmental research and stewardship.
Kick-starting environmental science careers
"I'm a living, breathing example of what a partnership like this can do," says Kandis Boyd, who was the first person of color to direct the EPA's Chesapeake Bay Program. She notes that her career in the federal government was kickstarted with an internship while she was a college student.
President Sheares Ashby echoed the enthusiasm. "I am thrilled to be here, having heard the values embodied by our partners," she says. "Our students can change the world."
One of those students is Christopher Blume, a participant in UMBC's Interdisciplinary Consortium for Applied Research in the Environment (ICARE) master's program. He is studying how bats might be used to track heavy metal pollution in the Baltimore area.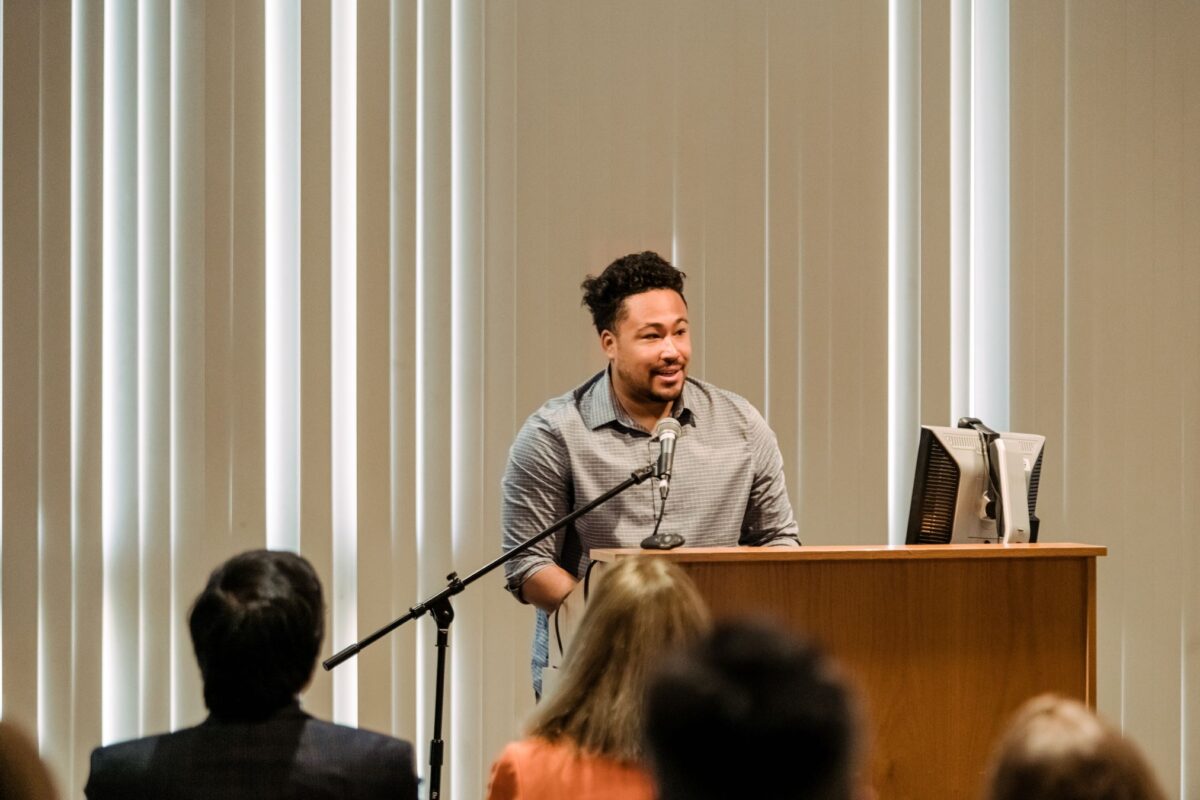 In remarks he gave during the signing ceremony, Blume thanked his mentors and fellow students for the invaluable support he has received while pursuing a career in environmental science. He also expressed how grateful he was for the chance to work and connect with the communities throughout Baltimore who are impacted by and invested in the work he does.
"If there is one thing I've learned from my time in this program, it's that diversity and representation of that diversity truly matter," he says.