As UMBC welcomes the largest incoming class in its history, the 2022 U.S. News and World Report Best Colleges rankings affirm UMBC's position as one of the top universities in the nation. UMBC is among the best of the best in both undergraduate teaching and innovation, and distinguished in several other key areas.
U.S. News ranks UMBC #6 among all U.S. universities for undergraduate teaching this year. This recognition honors the unwavering commitment of UMBC's faculty and staff in helping students navigate a largely virtual and hybrid curriculum during the COVID pandemic. UMBC is the only Maryland public university to appear on the list.
UMBC has advanced to number #6 on the Most Innovative Universities list, just ahead of Stanford. Joining UMBC in the top 10 are institutions like MIT and Carnegie Mellon. UMBC is the only Maryland university on the list this year.
"What has always set UMBC apart is the people," says President Freeman Hrabowski. "Year after year, these rankings illustrate the many ways in which our faculty and staff work to support the success and well-being of our students."
These honors reflect UMBC's emphasis on constantly evolving to more effectively support student success. The University Innovation Alliance (UIA) announced UMBC as its newest member earlier this year. The pioneering consortium of 13 select public research universities boosts student success through sharing and scaling approaches that work.
"It's our responsibility to understand the challenges students face at the most granular level possible, and to provide resources to help them reach their goals," says Katharine H. Cole, UMBC's vice provost and dean of Undergraduate Academic Affairs.
Top honors
In addition to these rankings and recognition as a top national university, UMBC is also a top-100 Best Public University and Best Value University. And U.S. News spotlights UMBC on its lists of top universities for ethnic diversity and for veterans.
"UMBC's continued leadership in the rankings is a testament to our unwavering commitment to excellence," says Yvette Mozie-Ross '88, UMBC's vice provost for Enrollment Management and Planning. "We provide opportunities and support for all students to succeed."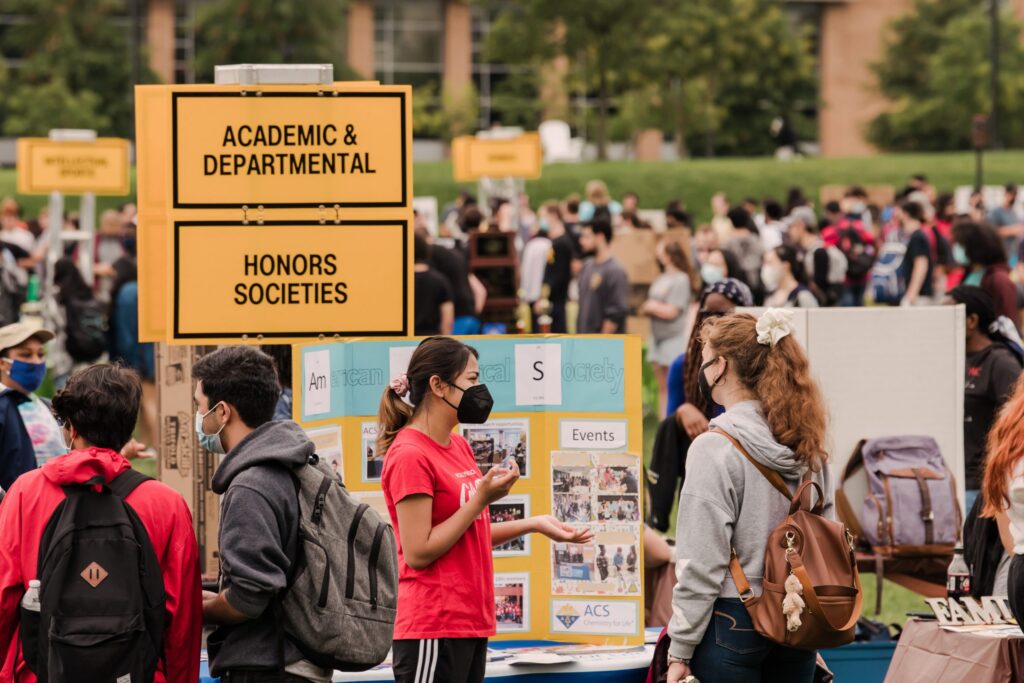 The Best Value designation is especially meaningful for many in the UMBC community, which is known for welcoming talented first-generation college students, transfer students, and others with financial considerations in mind. Recently quoted in The Washington Post, President Hrabowski has said, "The significance of our success is that we are saying to the country and to young people that you don't have to be rich to be the very best. Middle class institutions can produce some of the best thinkers in the world."
Excellence in engineering and computer science
U.S. News also recognizes UMBC as a top-100 institution for both undergraduate engineering and computer science programs. This comes as no surprise to campus leaders, given the success of graduates in these areas.
In addition to UMBC producing alumni like Clemson University President James P. Clements '85, computer science, M.S. '91, Ph.D. '93, operations analysis, and Rhodes Scholar Naomi Mburu M26, '18, chemical engineering, new National Science Foundation (NSF) data on UMBC graduates reveal exciting findings.
"According to NSF data, UMBC is the number one baccalaureate institution for African American undergraduates who go on to earn Ph.D.s in the natural sciences and engineering, as well as doctorates in the life sciences, mathematics, and computer science," report Hrabowski and Peter Henderson, senior advisor to the president.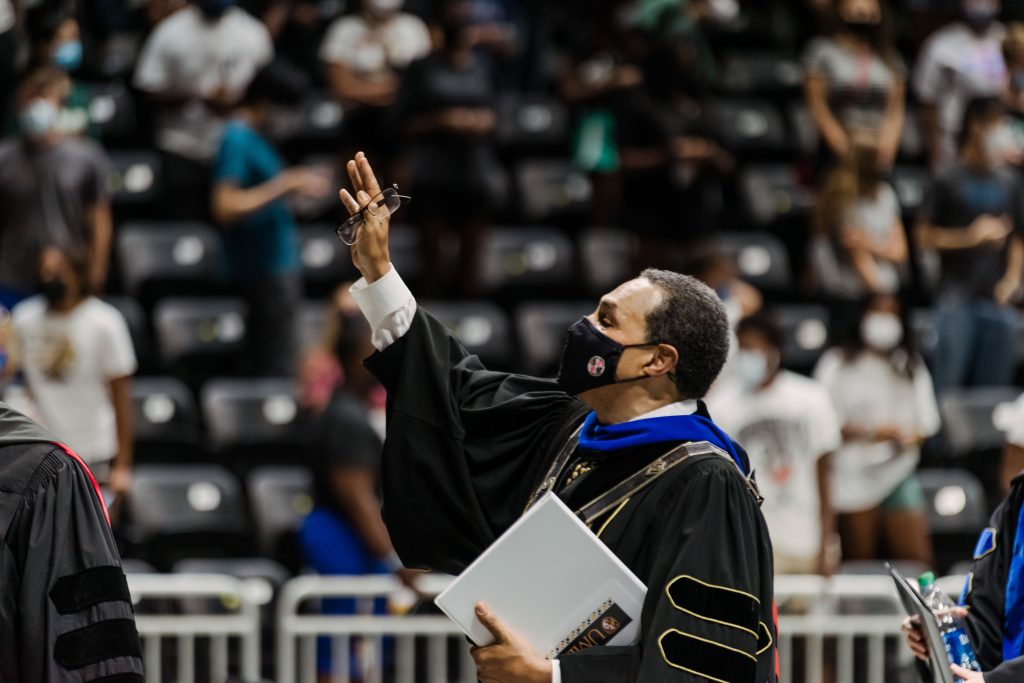 Also exemplifying this excellence are UMBC's Goldwater Scholars. The Barry Goldwater Scholarship and Excellence in Education Program supports talented undergraduates in strategic STEM areas. UMBC set a university record by producing four Goldwater Scholars in 2021-22—in computer engineering, physics, mathematics, and bioinformatics. Today, UMBC is one of the highest-producing universities for Goldwater Scholars in the nation.
UMBC has also become synonymous for excellence in cybersecurity. Governor Larry Hogan announced the launch of the Maryland Institute for Innovative Computing (MIIC) at UMBC during a cybersecurity summit in Annapolis over the summer. And the UMBC Cyber Dawgs again took home first place in the Mid-Atlantic Collegiate Cyber Defense Competition (MACCDC) in May. The virtual competition held this past spring marks the fourth time in seven years that the Cyber Dawgs have won the MACCDC.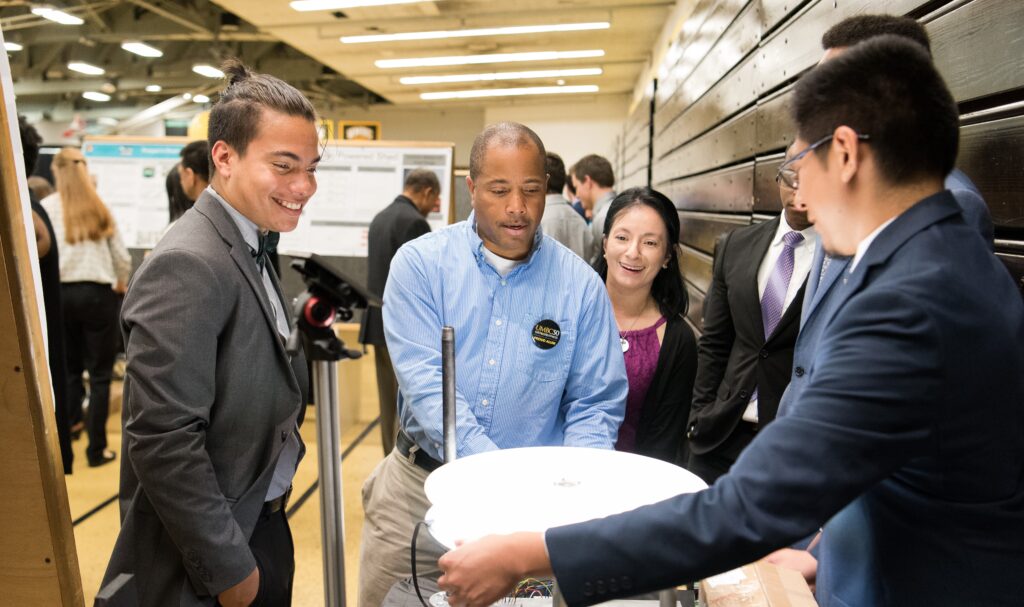 "The faculty, staff, and graduate assistants in our college have given their all to supporting our undergraduate students through the pandemic," says Keith Bowman, dean of the College of Engineering and Information Technology (COEIT). "That the success of our programs and students is so highly considered by colleagues is truly gratifying."
High-impact research
UMBC's strength across a range of rankings reflects how the university emphasizes both teaching and research as complementary priorities. Faculty bring their research into the classroom and also engage students at all levels in moving research forward. At UMBC, one of the top 100 public universities in federal research funding, this particularly includes public impact research that connects with communities and has a tangible effect on people's lives.
For example, faculty have closely involved students in recent research to improve accessible COVID-19 testing technologies, help low-income Baltimore families access the internet during COVID, strengthen teacher preparation programs, and develop algorithms for drones surveying sites of natural disasters. And they are creating new research opportunities for students every day, like fieldwork studying arachnids.
Faculty and staff also help students build on their UMBC research experiences by pursuing hands-on opportunities to apply what they are learning beyond UMBC.
Speaking to Inside Higher Ed recently, Pres. Hrabowski echoed the importance of faculty who are deeply invested in the experiences and success of students. He shared, "Educators must focus on creating an environment in which it is great to be loving learning."
Through this approach, the publication notes, Pres. Hrabowski and UMBC have "built a legacy challenging the assumption that only prestigious, wealthy colleges foster educational excellence."
Header image: Amanda Knapp, associate vice provost of UAA, meets with a student in the Academic Success Center in 2019. All images by Marlayna Demond '11 unless otherwise noted.