UMBC's Tagide deCarvalho has won the 2019 Olympus Image of the Year Global Life Science Light Microscopy Award, Americas division. The award recognizes the "very best in life science imaging worldwide," according to Olympus.
deCarvalho's winning image features a tardigrade, a microscopic animal that can withstand conditions that would kill almost any other living thing. Extreme pressures and temperatures, lack of air and water, exposure to radiation—none can destroy the resilient little tardigrade, also known as a "water bear."
Bringing tiny creatures to life 
Tardigrades are mostly colorless, so deCarvalho, director of UMBC's Keith Porter Imaging Facility (KPIF), uses fluorescent stains to bring them to life. 
"I'm able to produce so much color in my images by using multiple fluorescent stains and capitalizing on the natural fluorescence of the samples," she says. "I'm excited about this image because the fluorescent dyes I used allow you to see the tardigrade digestive tract, including the mouthparts and stomach filled with food."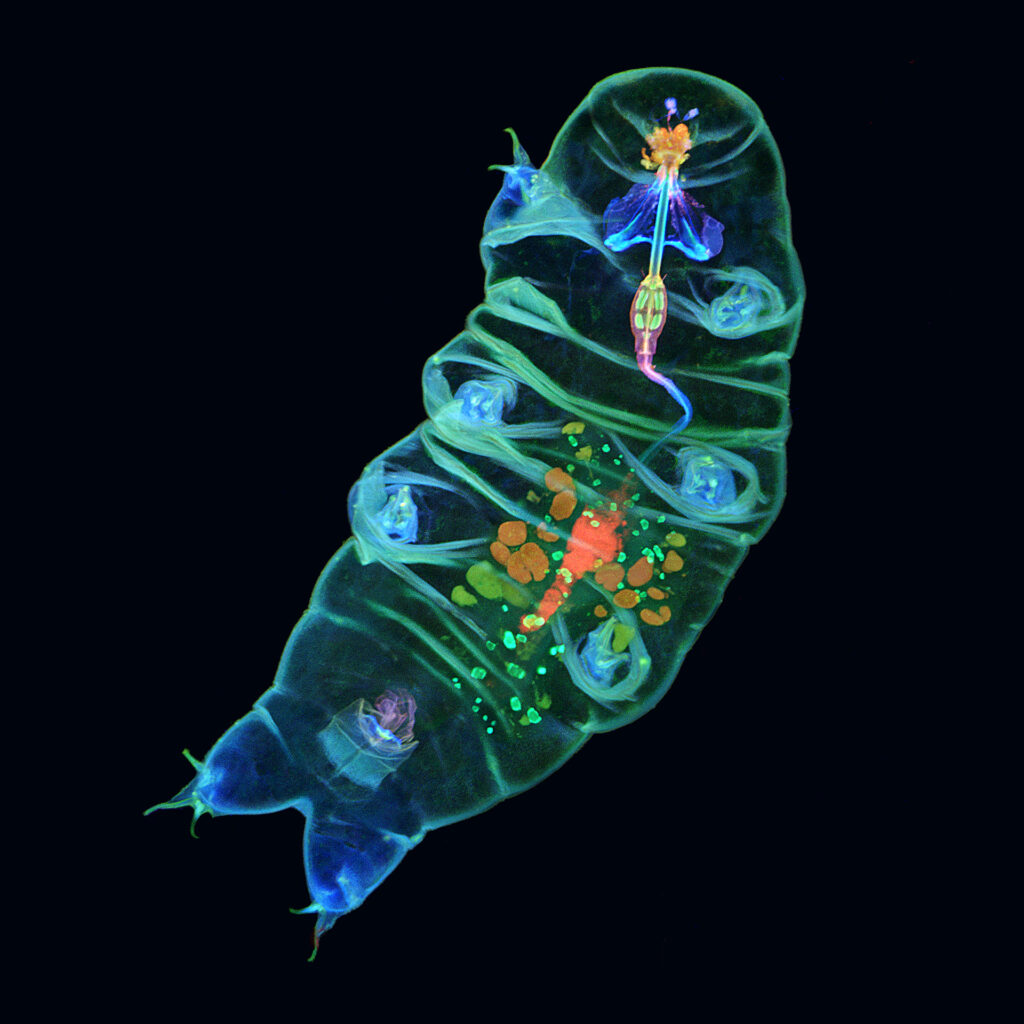 The featured tardigrade came from a sample deCarvalho used in the Microscopy and Imaging Techniques class that she teaches in the KPIF. "Students remarked that observing these cute little guys was one of their favorite parts of the class," she says. 
To create the winning image from this tardigrade, deCarvalho used the new super-resolution confocal microscope in the Interdisciplinary Life Sciences Building.
Sharing fascinating microorganisms
deCarvalho enjoys combining her interests in art and biology to make beautiful microscope images. One of her other projects involved making 13 images of microorganisms collected on campus by students. The collection has been made into a beautiful poster titled "Campus Microcosmos."
As for the winning tardigrade, "I knew the moment I saw this colorful specimen that it was going to be a remarkable image," deCarvalho says. "I love sharing the fascinating things I see in the microscope with other people."
Banner image: Tagide deCarvalho works on Campus Microcosmos in the Keith Porter Imaging Facility. Photo by Marlayna Demond '11 for UMBC.
Tags: Biology