The UMBC community is excited to welcome Jim Ferry as the Retrievers' new head coach of men's basketball. Ferry is the tenth head coach in UMBC's history, taking the place of Ryan Odom, who transitioned to Utah State University early last week. 
Talking about the interview process, Ferry says, "The sincerity and the love for this place, it just came through. This is one of the fastest-growing universities in the country and I'm excited to be a part of this family and such an outstanding basketball program."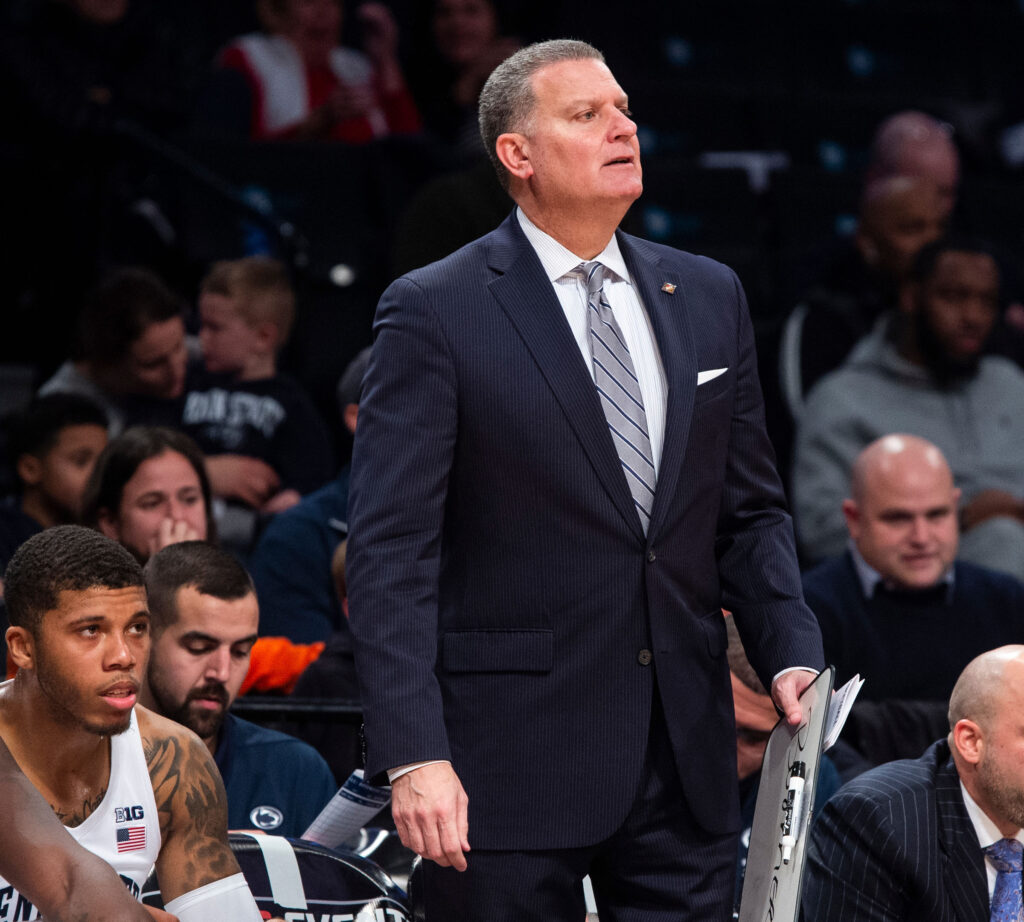 Ferry began his tenure as an assistant coach at Penn State in 2017-18 and was an integral part of the offensive resurgence for the Nittany Lions. Ferry joins the Retrievers after most recently serving as PSU's interim head coach for the 2020-21 season. In his most recent season, Ferry led the Nittany Lions to an 11-4 season and a 7-12 Big Ten record. 
"I have a national network of basketball people I talk to and I've never heard such unanimously positive thoughts about somebody's character. And at UMBC, that really matters to us," says Brian Barrio, director of Athletics. "At the end of the day, winning matters too, and this is a gentleman who has 30 years of winning across college basketball."
Before his time at PSU, Ferry was the bench boss at Duquesne University. And prior to his five years at Duquesne, Ferry spent ten seasons as head coach at LIU Brooklyn, guiding that program to unprecedented levels of success. 
Trading blue and white for black and gold
Ferry will now lead a team that was on track to clinch the America East Championship again this year after taking their share of the regular season title before falling just shy of their opportunity to advance. Fans applauded the players' dedication and diligence as essential to making a Retriever season possible amid the COVID pandemic. 
"There's [UMBC's student-athletes] an extraordinary group of young people who have followed the health and safety rules and who have been working really hard in the classroom to be able to compete on the court and on the field this year, and they continue to represent UMBC exceptionally well," says Greg Simmons, M.P.P. '04, public policy, vice president for Institutional Advancement.
Meeting his new players for the first time this week, Ferry talks about the passion of the community and how excited he is to join the ranks of Retriever Nation. 
"These guys seem to be really unselfish. They play basketball the right way. You can tell they like each other and they're a bunch of talented guys," says Ferry. "I think you're really going to like the way we play."
The resounding sentiment from those involved in the recruitment of Ferry is that he's a natural fit for the UMBC community and Retriever Nation can't wait to see him in action. 
"I would tell Coach that UMBC is a remarkable community of people who come from a broad range of backgrounds with a whole set of skills and abilities and promise. At UMBC, we believe in working together to achieve things that we could not do alone," says Simmons. "It's an extraordinary place and we're excited to have him here."
Banner image: Jim Ferry, men's basketball head coach, speaks with Brian Barrio, UMBC Athletics Director. All images by Marlayna Demond '11 unless otherwise noted. Video produced by Corey Jennings '10.
Article written by Steve Levy, associate athletic director for athletic communications, and Kait McCaffrey, communications manager, for UMBC News.