UMBC is part of a new consortium that has received $64.1 million from NASA to establish the Partnership for Heliophysics and Space Environment Research (PHaSER) and fund it for the next five years. UMBC will receive $10 million from the award to move forward the next phase of heliophysics research at the university.
Heliophysics researchers study the Sun and how it affects and interacts with the solar system, including its role in space weather. The Catholic University of America leads the PHaSER consortium, which also includes University of Maryland, College Park (UMD); George Mason University; Howard University; and the Universities Space Research Association.
The UMBC arm of PHaSER will replace the Goddard Planetary and Heliophysics Institute (GPHI), a cooperative agreement between NASA, UMD, and UMBC that UMBC has led for the last 10 years. Both GPHI and PHaSER support missions run by the NASA Goddard Space Flight Center's Heliophysics Science Division (HSD). Recent GPHI research has included identification of a phenomenon known as the Terminator, which helps describe sun cycles and could improve decade-scale weather forecasts.
"The primary purpose of PHaSER is to collaboratively support the HSD in studying plasma processes in our solar system and developing new missions and instruments," says Jan Merka. He served as GPHI director and will now direct the UMBC arm of PHaSER. "UMBC has a long tradition of working with NASA and HSD," Merka adds, noting that in the last year alone GPHI funded 30 full-time researchers, 15 of them at UMBC.
All hands on deck
"The mission of the heliophysics division is to study the transport of energy, in the form of particles and radiation from the sun through interplanetary space and its effects on Earth's atmosphere and ionosphere," says Bob Robinson, the director of PHaSER and research professor of physics at Catholic University. PHaSER will support that mission through a multi-pronged approach targeting a range of initiatives.
For example, PHaSER's goals include nurturing early-career and underrepresented researchers. Specific programs designed to do that will be a hallmark of the new center, including student internships and funding for postdocs. PHaSER support will also help sustain and strengthen partnerships across institutions and with NASA researchers. It will fund visiting scientists and sabbaticals for established faculty, and offer conference hosting and organization.
"PHaSER represents a network as much as a partnership, and we will leverage the many linkages the member institutions have to help move HSD scientific and technical projects forward," the group said in its proposal. 
"Cooperative agreements like GPHI and PHaSER enable closer connections between NASA and universities, which simplifies sharing ideas and performing joint research and technology development," Merka adds. He emphasizes, "Another significant benefit is connecting students with research opportunities and mentors in heliophysics."
The new partnership will enable institutions to hire more researchers in specialty heliophysics fields. Plus, in addition to supporting researchers, the PhaSER proposal calls for staff at NASA and the partner institutions to be directly engaged in planning, technology development, and implementation for PHaSER projects. 
By supporting heliophysics researchers, students, and staff, PHaSER will empower people at all career levels and from all backgrounds to contribute new knowledge about the Sun and how it affects processes in the solar system.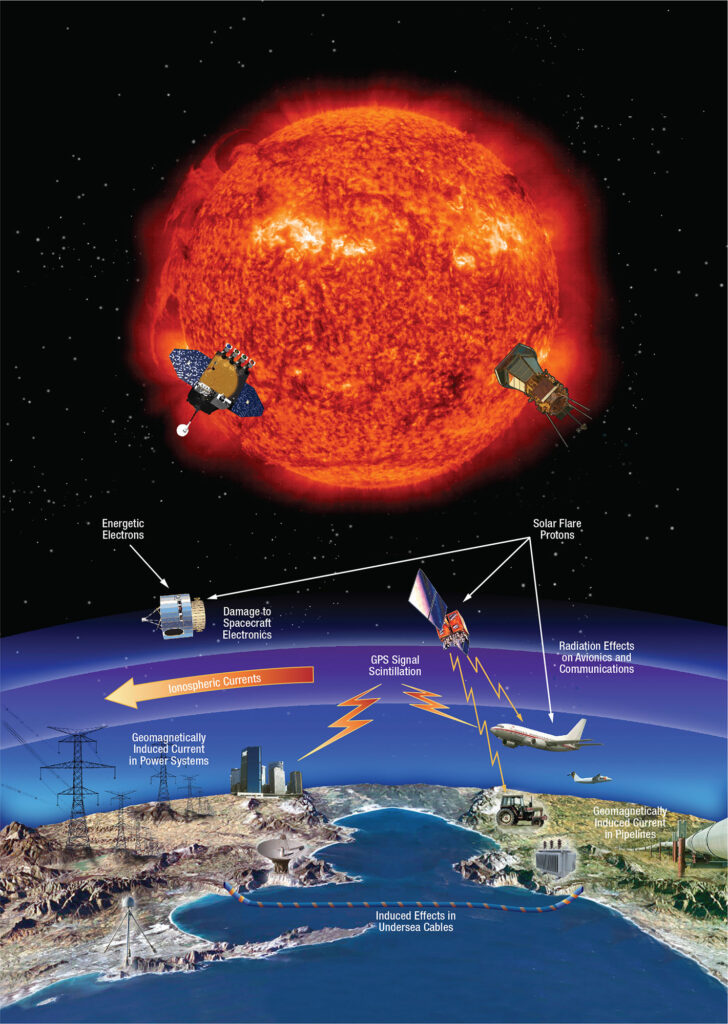 Tradition of partnership
The strength of UMBC's relationship with NASA goes beyond GPHI and PHaSER. The Joint Center for Earth Systems Technology (JCET), a similar partnership housed at UMBC, recently celebrated its 25th anniversary. And a third partnership, the Center for Space Science and Technology (CSST), recently received a funding renewal and enhancement. 
JCET scientists, engineers, and statisticians conduct research on Earth and its atmosphere, while CSST supports researchers who study distant celestial bodies and phenomena. Both centers are housed at UMBC, which is one of the top 100 public universities in the U.S. for NASA funding.
"We are very proud of this new multi-institutional partnership with NASA Goddard," says Karl Steiner, vice president for research at UMBC. "The new PHaSER program will not only continue to enhance our heliophysics research capability, but also provide unique opportunities for UMBC faculty and students to work in this important field."
Banner image: A terminator event, a phenomenon discovered by GPHI researcher Robert Leamon, on the Sun in 2011. The three different colors (added by researchers) represent three temperatures. Photo courtesy of NASA Solar Dynamics Observatory.
Tags: GPHI, majoraward, Research