Two research teams led by UMBC engineering faculty are transforming COVID-19 testing technologies. Rather than making users choose either the fastest or most affordable COVID-19 test, or the most accurate test, they seek to offer tests that are rapid, accessible, and highly accurate, all in one.
One of these new innovations focuses on testing individuals for the virus causing COVID-19. The other focuses on collecting air samples in large spaces at risk for enabling COVID-19 transmission. Both teams behind this public impact research hope their innovations will help limit the spread of the disease as many U.S. and international jurisdictions rescind COVID-19 restrictions.
Bringing tech innovation to the public
A group of researchers led by Dipanjan Pan, professor of chemical, biochemical, and environmental engineering, developed two diagnostic tests that can rapidly, accurately, and affordably detect SARS-CoV-2 (the virus causing COVID-19) in individual patients.
The nano-amplified colorimetric test does not require RNA extraction, which many other tests rely on, making it much more accessible. Pan's other testing technology works on the principle of electrochemical detection that can be used even at home by applying a simple hand-held device for the read-out. Both of these technologies were recently licensed by RNA Disease Diagnostics, Inc.
"I'm delighted to know that my lab has received FDA registration and certification as a development site for the electrochemical AntiSENSE COVID-19 Test. A leading global molecular diagnostic company, RNA Disease Diagnostics, Inc. has received a worldwide exclusive license from UMBC and the University of Maryland, Baltimore (UMB) to commercialize the test," explains Pan. He notes that the results of this work have been published in several high-impact journals, including May 2020 and October 2020 articles in ACS Nano and an April 2021 article in Nature Protocol.
Pan's multidisciplinary team includes Maha Alafeef, a graduate research assistant at the University of Maryland School of Medicine (UMSOM); Parikshit Moitra, a UMSOM faculty member; and Ketan Dighe, a faculty research assistant at UMBC.
"This commercialization is a significant achievement and testament to my team's hard work and dedication," Pan adds. "While the high impact publications confirm the quality of our science, the licensing agreement and FDA certification attests the translational value of this technology."
Rapid diagnosis with gold nanoparticles
In fall 2020, Pan and his collaborators received two grants from the National Institutes of Health (NIH) to improve testing to detect SARS-CoV-2, supporting the development of this technology. From there, the research progressed rapidly.
A chief benefit of Pan's plasmonic technology is that the test results can be detected qualitatively by the naked eye at the point of care, without special technologies. This is made possible due to highly specific antisense oligonucleotides, which are synthetic DNA fragments that bind to RNA molecules from the virus, and aggregate gold nanoparticles.
"For our electrochemical test the ultimate goal is to develop a tiny handheld device for determining the presence of the viral RNA in the nasal swab or saliva samples. Our early prototype involves a disposable test strip that the meter uses to calculate the viral load and then displays the level," Pan explains.
Pan has a dual appointment at UMBC and UMB, where he serves as professor of diagnostic radiology and nuclear medicine and pediatrics at the University of Maryland School of Medicine. At UMBC, Pan is also affiliated with the department of computer science and electrical engineering (CSEE).
Detecting COVID-19 using readily available tools
A second group of interdisciplinary researchers created a simple way to determine whether SARS-CoV-2 is present in the air. This group is led by Govind Rao, professor of chemical, biochemical, and environmental engineering (CBEE) and director of the Center for Advanced Sensor Technology (CAST). The journal Biotechnology and Bioengineering published their findings last month.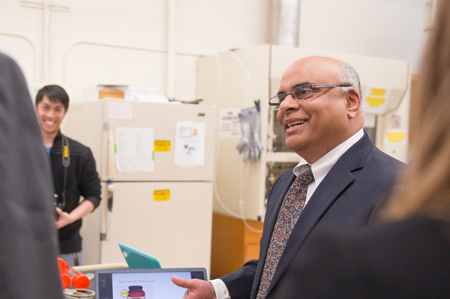 The researchers found that they could collect samples of SARS-CoV-2 by using a simple portable dehumidifier. They successfully tested their collection process in several locations within a hospital, where people reported experiencing flu-like symptoms.
This unique way of identifying SARS-CoV-2 allows hospitals to use readily-available dehumidifiers to detect the virus, rather than buy new scientific equipment to capture air samples for analysis.
"This technology could find widespread use, as it is analogous to a smoke detector," says Rao. "Once fully developed, it could potentially be deployed everywhere and empower people by giving them a direct readout of viruses and other biological threats in the air around them."
Rao worked alongside Pan, Douglas Frey, Xudong Ge, and Dighe, all CBEE and CAST faculty. Also working on the research are Michael Tolosa, staff member in CAST; Aaron Thole, a graduate student in CBEE; Priyanka Ray, a postdoctoral researcher in CBEE; and Benjamin Punshon Smith, a graduate student in computer science and electrical engineering. Moitra is also contributing to this work. The UMBC team collaborated with Jim Chang, director of the University of Maryland Medical Center's department of safety and environmental health, who arranged for deployment of the dehumidifiers at various locations in the hospital.
The research team also is developing a rapid and sensitive test for detecting pathogen signatures in minutes, to pair with the dehumidifier.
Banner image: UMBC's Interdisciplinary Life Sciences Building. Photo by Marlayna Demond '11 for UMBC.