Marie desJardins, associate dean of the College of Engineering and Information Technology (COEIT) and professor of computer science and electrical engineering, will be leaving UMBC to take up a new position as founding dean of the College of Organizational, Computational, and Information Sciences at Simmons College in Boston.
"What I will remember most about my 17 years here is UMBC's collaborative spirit. Because of the open environment and commitment to diversity, I've been able to work with colleagues across the university on a wide range of initiatives," desJardins says.
During her tenure at UMBC, desJardins has applied her passion and expertise to implementing programs for students across all disciplines and majors, explains Keith J. Bowman, dean of the College of Engineering and Information Technology (COEIT). "She brought her passion and expertise to UMBC, and has changed the lives of faculty, students, and staff through her work," Bowman says. "As COEIT's founding associate dean, she has played a crucial role in establishing how the College operates, with a focus on supporting students at all levels. She has set an incredibly high bar in all areas of her work."  
One of desJardins' many accomplishments was the development and launch of UMBC's Grand Challenge Scholars Program, based on the National Academy of Engineering's (NAE) Grand Challenges for Engineering. The program is open to students who are interested in working on interdisciplinary teams to address pressing challenges facing society. UMBC's program is distinct because it is open to all majors, bringing together students studying everything from computing and mechanical engineering to the life sciences, social sciences, humanities, and the arts. The Grand Challenge Scholars Program is "a great match with so many things that UMBC and UMBC students are already doing: applied, project-based learning; service learning; entrepreneurial explorations; global involvement; and undergraduate research," desJardins said of the program when it launched in 2016.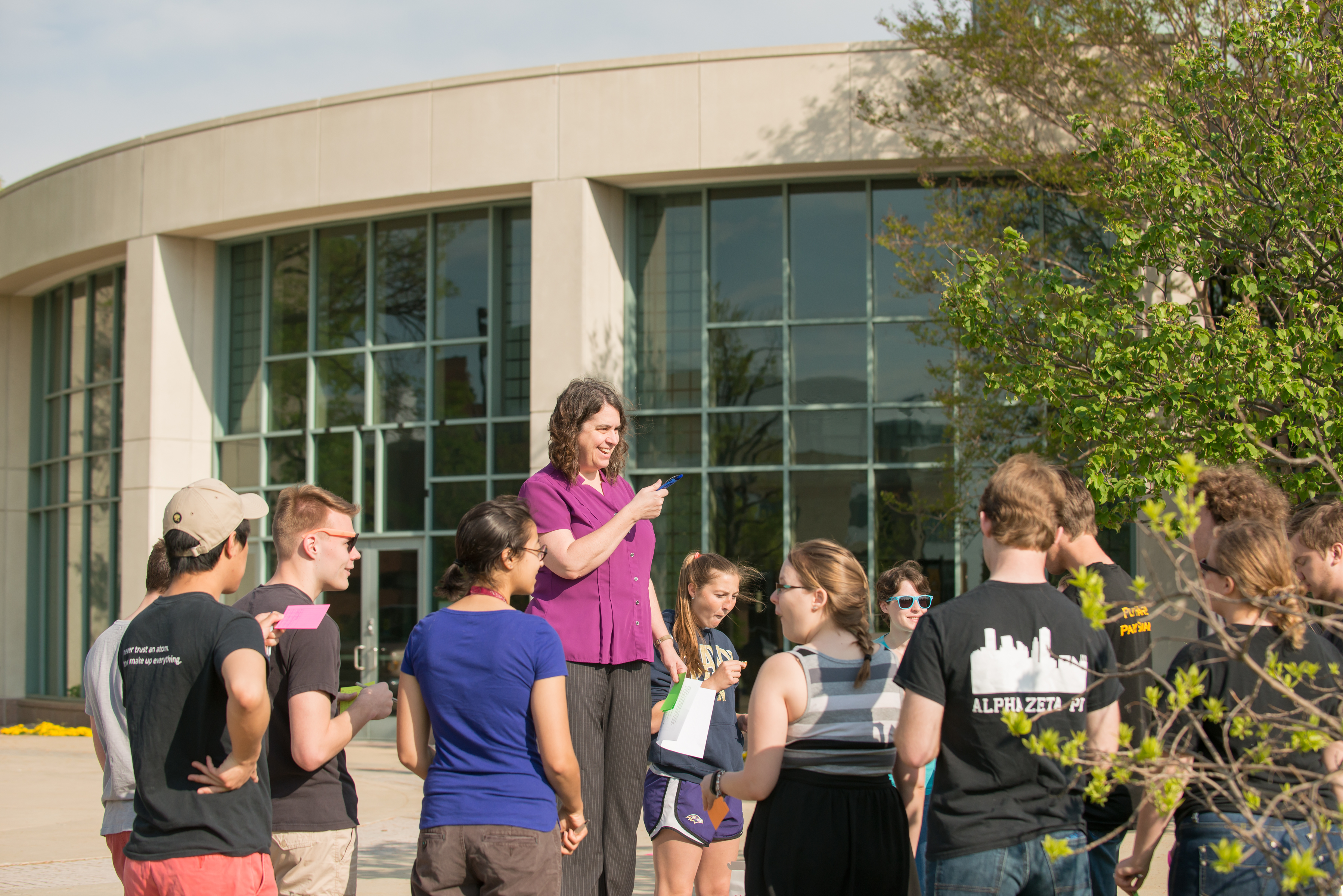 desJardins also reached students across the university through her work with the Honors Colleges, as an Honors Faculty Fellow. This role enabled her to teach a seminar called "Computation, Complexity, and Emergence," where students from a range of majors shared their perspectives on interdisciplinary topics and learned how subjects they had not previously explored were relevant to their lives. desJardins also served as a chair of the Honors College Advisory Board during her tenure at UMBC.
Beyond her passion for expanding computer science education at UMBC, desJardins has also been steadfast in her work to increase access to computing education for K – 12 students. She has served as the lead principal investigator of CE21-Maryland, a series of projects implemented to increase opportunities for high school students to access computer science education. She was also instrumental in the creation of How Girls Code, an afterschool program and a summer camp at UMBC where girls in elementary and middle school develop computer science skills through engaging activities and learn about careers in the field.
In addition to her writing for academic and technical audiences, desJardins has written numerous articles for the public, including pieces for The Conversation and The Baltimore Sun about the need for computing education for students of all ages. She is particularly passionate about engaging girls and women in computer science.
In a recent op-ed in The Baltimore Sun, desJardins discussed the importance of computer science education in K – 12 schools, both to expand career opportunities for students of all backgrounds and identities and to make sure the world has a chance to benefit from a diverse talent pool in computing fields. "The need for computer science and computational thinking skills is becoming pervasive not just in the world of software engineers, but in fields as varied as science, design, marketing, and public policy," she wrote.
desJardins has also worked to support new faculty in her College, as they work to advance their careers, inviting assistant professors and lecturers in COEIT to participate in the Junior Faculty Initiative. The program introduces participants to university resources through units like the Faculty Development Center and Office of Student Disabilities Services. It also supports junior faculty through a series of workshops addressing topics such as time management, mentoring relationships, and conflict management, to acclimate faculty to UMBC.
Across the nation and the world, desJardins has been recognized as a leader in the field of artificial intelligence (AI). Earlier this year, she was named a fellow of the Association for the Advancement of Artificial Intelligence. In 2017, she was included on Forbes' list of women advancing AI research. UC Berkeley, desJardins' alma mater, also recently recognized her work to advance her field by presenting her with the Distinguished Alumni Award in Computer Science.
"UMBC has given me so many opportunities to learn, grow, and give back to the community around me, I will be forever grateful," says desJardins. "No matter where I go from here, I will always consider myself to be part of the UMBC community."
All photos by Marlayna Demond '11 for UMBC.
Tags: COEIT, CSEE, HonorsCollege