UMBC has taken important early steps in the long-term work of making the university a safer, more supportive learning community for all, with a focus on improving sexual assault prevention and response. This follows last Thursday's community listening session on sexual misconduct and campus safety—an event that resonated deeply with attendees, who filled the Fine Arts Recital Hall and two overflow spaces across campus.
Guiding next steps is a leadership committee appointed by President Hrabowski, which met for the first time on Monday, September 24. This group will engage with student partners; faculty, staff, and student shared governance organizations; and other community members to review comments and recommendations received through the listening session and other outreach; engage external expertise to evaluate current policies, practices, and resources; and keep the UMBC community updated on progress.
Collaborative approach
Co-chairing the leadership committee are Vice President for Student Affairs Nancy Young and Vice President for Administration and Finance Lynne Schaefer. Also serving are psychology professor Christopher Murphy, whose research focuses on abuse and violence in intimate adult relationships, and Jess Myers, director of the Women's Center and advisor to the survivor-advocate student organization We Believe You. Additional members include Assistant General Counsel Morgan Thomas '13, political science, who has deep familiarity with Title IX, and Chief of Staff Candace Dodson-Reed '96, English.
"As we've talked with and heard from community members over the past couple of weeks, it is clear that we must do more to support our students," says Schaefer. "Having an environment where students, faculty, and staff take care of each other is essential. I am committed to doing all I can to make sure our community lives up to our values."
Student Government Association (SGA) and We Believe You will be among the leadership committee's core partners in the work ahead. SGA President Collin Sullivan '19, information systems, and We Believe You Vice President Kim Spadafora '20, mathematics, served as moderators for last week's listening session, and have voiced their commitment to being engaged in this work for the long term.
"The past couple of weeks have been difficult for everyone in our community," says Sullivan. "SGA's first priority is to represent the undergraduate student voice. We are committed, more so than ever, to uphold this value through collaboration so we can all create lasting, meaningful change on campus together."
"The best thing we can do right now," Spadafora says, "is support survivors and continue to advocate for change."
Institutional courage
Informing the committee's work is current scholarship, highlighted by Myers and Murphy, on how the quality of institutional responses to sexual assault can profoundly impact students, potentially exacerbating prior traumas.
Myers explains that University of Oregon psychologist Jennifer Freyd coined the term "institutional betrayal" to describe the additional trauma that survivors of sexual violence can experience when an institution fails to prevent or respond appropriately to wrongdoings committed within the context of the institution. "This can happen in acts of commission or omission," Myers notes, "such as failing to take necessary steps to prevent abuse, creating difficult processes for reporting, or failing to respond adequately. But UMBC has the opportunity to do something different—to embrace institutional courage."
Institutional courage is another term coined by Freyd to describe, as Myers explains, "institutions working actively to listen to survivors and their allies, to hold themselves accountable for the harm done, and to honor transparency in the changes that need to be made. Institutional courage is about culture change."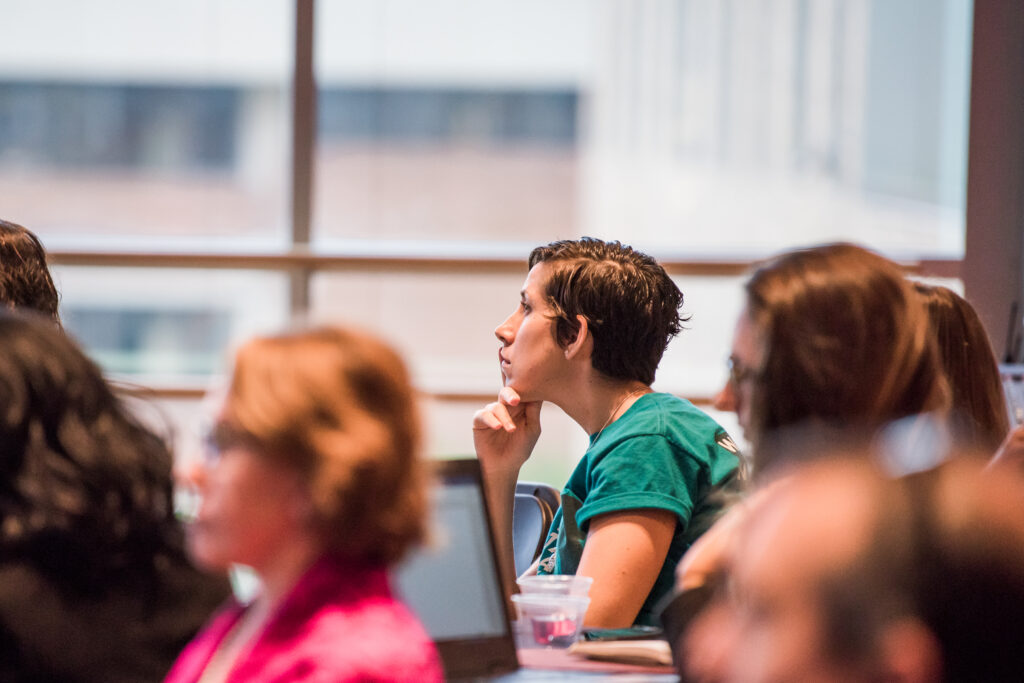 Thinking about how UMBC can embody institutional courage, Murphy says, "I believe in a multi-level and survivor-focused approach to violence prevention and response that includes universal messaging and media campaigns; mandatory preventive education for everyone (faculty, students, and staff); trauma-sensitive crisis response; advocacy and empowerment for survivors; intensive indicated and secondary prevention for individuals at increased risk for abuse or assault perpetration; vigorous protection of civil rights through Title IX; and full campus cooperation with criminal prosecution of sex crimes and relationship violence."
Long-term process, near-term actions
The leadership committee recognizes that achieving lasting change will require an extensive, long-term process, bringing together a diverse range of UMBC community voices and additional expertise. As one of its first actions, the committee will engage campus partners in selection of a third-party consultant to inventory and evaluate existing UMBC resources, policies, and practices related to campus safety, particularly preventing and responding to sexual misconduct.
The group is also looking at more near-term strategies to make UMBC a safer, more supportive community. One initial idea, recommended by student leaders, is reprinting all campus cards to include clear information on how to report sexual misconduct and where to find support and resources. President Hrabowski, Facilities Management, UMBC Police, and student leaders will also soon complete a lighting tour of campus, to see where additional lighting may be needed.
Moving forward, the university can expect to hear regularly from the leadership group about action steps and how community members can be involved.
"It's time," Murphy says, "for all of us to listen to survivors, engage in serious and deep self-reflection as a campus, and to work together to invest the time and resources needed to provide everyone with a safe and productive educational experience at UMBC."
Header image: Women's Center resource table at the campus listening session. All photos by Marlayna Demond '11 for UMBC.
Tags: retrievercourage