The Chronicle of Higher Education has named UMBC an outstanding academic workplace for the seventh consecutive year. UMBC is one of only 80 universities to receive the "Great Colleges to Work For" distinction and the only Maryland four-year institution to be recognized.
Each year, the Chronicle surveys faculty, staff, and administrators and asks them to rate their workplaces on a variety of factors. The assessment also includes analysis of demographic data and workplace policies. The Chronicle's 2016 results are based on responses from more than 45,000 people at nearly 300 public and private, two-year and four-year institutions nationwide.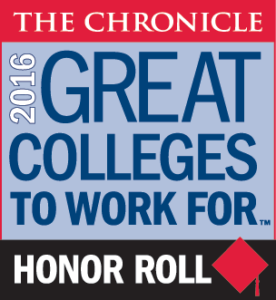 For the fifth consecutive year, UMBC was featured on the Chronicle's "honor roll," which recognizes universities that excel in almost every recognition category. Among those categories, UMBC was recognized for its strong shared governance model, vision and strategy of its leadership, and the university's continued investment in teaching and research.
This year, UMBC was highly rated in the following categories:
Collaborative Governance
Confidence in Senior Leadership
Professional/Career Development Programs
Respect and Appreciation
Supervisor/Department Chair Relationship
Teaching Environment
Tenure Clarity & Process
Work/Life Balance
"This 'Great College' recognition reflects the commitment and dedication of the people who work here," says President Freeman Hrabowski. "It affirms what we all know: UMBC is a place that supports people, values collaboration, and fosters trust, respect, and enthusiasm for helping our students succeed."
The Chronicle's acknowledgment caps a month of national recognition for UMBC. Forbes and MONEY both released their rankings in early July, naming UMBC a top public university. UMBC was also recognized for its stellar academics and supportive community in the latest edition of the Fiske Guide to Colleges.
Image: UMBC's main campus, outside the University Center and Academic Row. Photo by Marlayna Demond '11 for UMBC.
Tags: Rankings