A team of three UMBC graduate students earned first place in an innovation competition for their pioneering work in the rapid detection of bacteria in blood. The students joined teams from the University of Pennsylvania and the University of Michigan, which earned second and third place, respectively, at the BMEidea competition hosted by VentureWell, a national alliance of collegiate inventors and innovators.
UMBC's team competed in the biomedical and bioengineering innovation student category of the competition, and presented a device called ASTEK, which allows physicians to more effectively treat bacterial infections. The interdisciplinary team included Mustafa Al-Adhami M.S. '15, mechanical engineering, Ph.D. '19, mechanical engineering; David Burgenson '17, chemical engineering, PhD '21, chemical engineering, and Benjamin Punshon-Smith M.S. '17, electrical engineering, and Ph.D. '22, electrical engineering.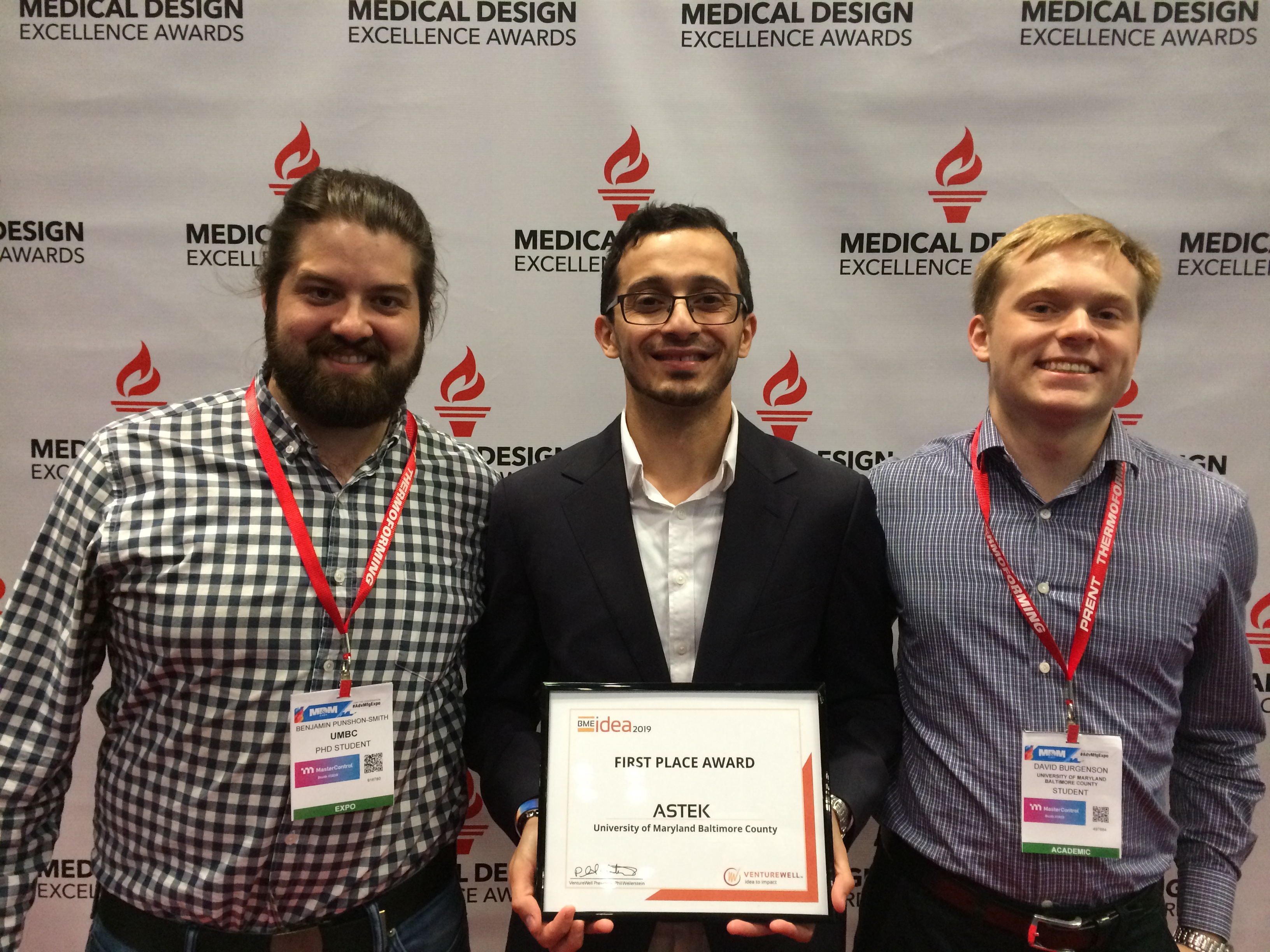 "It can be difficult to translate science into relatable terms and a feasible business plan," says Al-Adhami. "Participating in the BMEidea competition proved not only that they are interested in our research, but there is the potential to create a business around it. The BMEidea competition gave us the opportunity to get validation that we are onto something."
Al-Adhami, Burgenson, and Punshon-Smith share office and lab space in UMBC's Center for Advanced Sensor Technology, which is directed by Govind Rao, professor of chemical, biochemical, and environmental engineering. The group is also advised by Yordan Kostov, research professor in chemical, biochemical, and environmental engineering at UMBC, and Alan Cross, professor of medicine at the University of Maryland School of Medicine. 
The team will use their $10,000 prize from VentureWell to continue to develop the technology and advance the ASTEK. 
In 2016, Al-Adhami earned third place in UMBC's Cangialosi Business Innovation Competition, and he explains that the feedback from the judges was valuable and helped him refine the design of the device. "I have used feedback and networking connections gained from these competitions to develop my business plan and expand my outreach on a national scale," he says. 
The technology was initially developed to detect bacteria in water, but after Al-Adhami learned about sepsis and the serious complications that it can cause, he changed focus to meet a known need in healthcare. The ASTEK displays results of the blood test in a user-friendly interface, he says. 
"The project is at the intersection of mechanical engineering, electrical engineering, chemical engineering, and biology," Al-Adhami explains. "The best thing about working on a multidisciplinary team is there are always four solutions to every problem we face." 
Banner image: Mustafa Al-Adhami gives his three-minute thesis talk at the 2018 Graduate Research Conference. Photo by Marlayna Demond '11 for UMBC.
Tags: CBEE, COEIT, CSEE, GradResearch, interdisciplinary, MechE