NASA has announced a major award of $72 million over three years for the new Goddard Earth Sciences Technology and Research (GESTAR) II center. UMBC serves as the lead for a national consortium and will receive over $38 million. Morgan State University serves as the primary partner. Colorado State University, Arizona State University, and Pennsylvania State University are also close partners in the program, as are Northrop Grumman Corporation, Earth Resources Technology, Inc., and the non-profit Southeastern Universities Research Association.
"This award is a massive win for UMBC, for the University System, and—with Morgan State as a key partner—for Maryland as a whole," says Jay Perman, chancellor of the University System of Maryland. "The sheer size of the award, supporting the work of over a hundred researchers and students, demonstrates NASA's faith in UMBC as consortium leader."
"And," Perman adds, "I know the entire UMBC community welcomes an even tighter connection to Goddard and an even more prominent role in answering some of the biggest questions in earth and atmospheric science."
Connecting colleagues and students
The GESTAR II consortium will support over 120 researchers, creating extensive opportunities for breakthroughs in earth and atmospheric science research. Participants will carry out observational, experimental, and theoretical research in support of NASA strategic earth science mission objectives.The large scale of this work will also enable students at all levels to contribute to the research.
"I am absolutely delighted that this new cooperative GESTAR II award will further strengthen and expand the mutually beneficial partnership between NASA Goddard and UMBC, which was first launched a quarter-century ago," says Karl Steiner, UMBC's vice president for research. "Together with our partner institutions, especially Morgan State University, we are looking forward to the exciting scientific and educational opportunities that lie ahead."
"Morgan brings more than a decade of experience working with NASA, and we look forward to partnering with UMBC and other collaborators in GESTAR II to produce cutting-edge, world-class Earth science in support of our national space program," adds Willie E. May, vice president for research and economic development at Morgan State. "We are also very excited about what this partnership will mean for our students—more exposure, new educational pursuits, and access to longer-term employment opportunities."
Reaching beyond
Like UMBC's Joint Center for Earth Systems Technology (JCET), GESTAR II will create opportunities for undergraduate and graduate students to conduct research with and be mentored by NASA scientists and engineers. Some of these researchers might also teach courses or offer workshops to students from participating institutions.
This builds on the work of scientists like Belay Demoz, director of JCET and the incoming director of GESTAR II. Demoz has been recognized for his ongoing commitment to mentoring students from all backgrounds in climate science. His scientific and mentoring work is driven by his early life in Eritrea, which was struggling with drought and other climate-induced challenges that continue today.
"So much of what we are able to do at UMBC is tied to the dreams of our current and future students to reach beyond ourselves," says Keith J Bowman, dean of UMBC's College of Engineering and Information Technology. "UMBC's NASA centers help drive our aspirations as a university to have an impact that reaches beyond our campus, beyond our state, and even beyond our planet."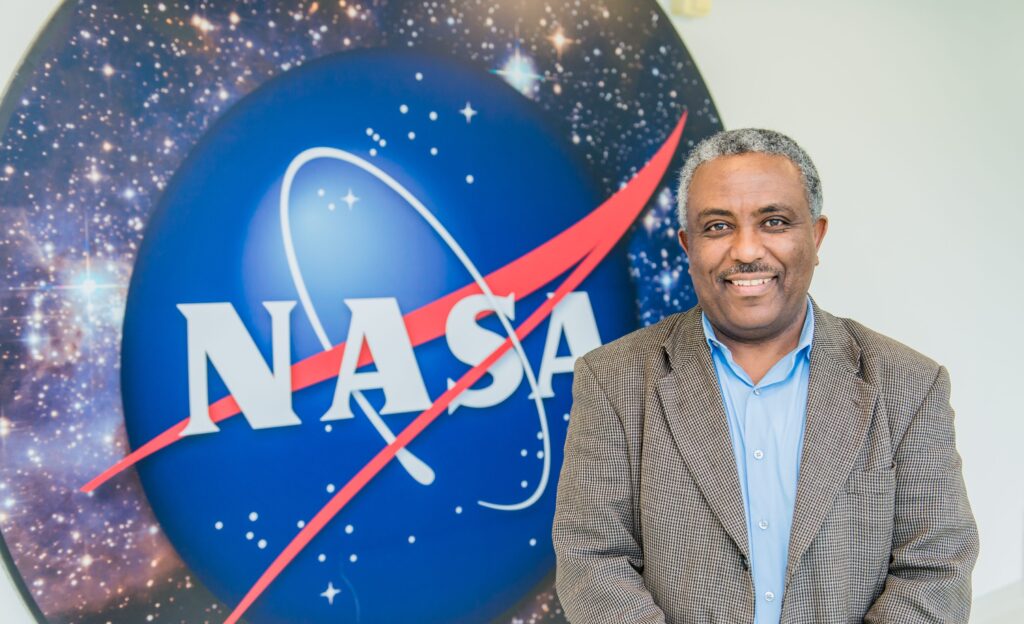 Advancing high-impact research
This fall, funding for JCET will sunset after two-and-a-half highly productive decades. The new GESTAR II award will enable ongoing projects to continue, while also creating opportunities for expansion under a new structure.
JCET-supported researchers have examined ice shelf collapse, air quality, humans' role in climate change, how boreal forests are responding to rising temperatures, and more. JCET also supported scientists and engineers who launched UMBC's first CubeSat, the Hyper-Angular Rainbow Polarimeter (HARP), named AIAA Small Satellite Mission of the Year in 2020.
Many of these investigators' work will continue through GESTAR II. Demoz describes the consortium partners as "powerhouses in earth science research and administration."
"The collaboration between Morgan and UMBC serves as a model for how two research universities, operating in a highly competitive space, can join in common purpose, pooling intellectual capital, resources, and expertise for the greater advancement of earth science and technology," says David K. Wilson, president of Morgan State.
NASA's next generation
Bringing together students and researchers from UMBC, Morgan State, NASA, and other institutions creates the opportunity for innovation and major advances in earth science. It also creates a pipeline of students from a wide range of backgrounds who are prepared to pursue careers at NASA and elsewhere, using the skills they've gained through learning from and with NASA team members.
"GESTAR II embodies UMBC's collaborative, multidisciplinary approach to research and highlights the importance of research partnerships," says Bill LaCourse, dean of UMBC's College of Natural and Mathematical Sciences. "Only through inclusive excellence, which GESTAR II exemplifies, can we hope to unravel the mysteries of the universe and understand the world around us."
"I am deeply grateful to everyone, especially our colleagues at Morgan State, who helped make this new partnership a reality," says Freeman Hrabowski, president of UMBC. "I am looking forward to seeing what breakthroughs in earth science will come from the collaborative work of the scientists, engineers, and students who participate in GESTAR II."
Banner image: UMBC and Morgan State colleagues gather to celebrate the new GESTAR II award outside UMBC's Interdisciplinary Life Sciences Building. From left to right: Willie E. May, Daniel Laughlin, David K. Wilson, Margo Young, Freeman A. Hrabowski, Belay Demoz, Karl V. Steiner. Photo by Marlayna Demond '11 for UMBC.
Tags: CNMS, COEIT, JCET, majoraward, Research