Next February, Jessica Novak, a fourth-year Ph.D. student in biological sciences, will pack her bags and relocate to the National Renewable Energy (NREL) Laboratory in Golden, Colorado. She'll conduct research there through June with support from a competitive U.S. Department of Energy (DoE) Office of Science Graduate Student Research Program Award.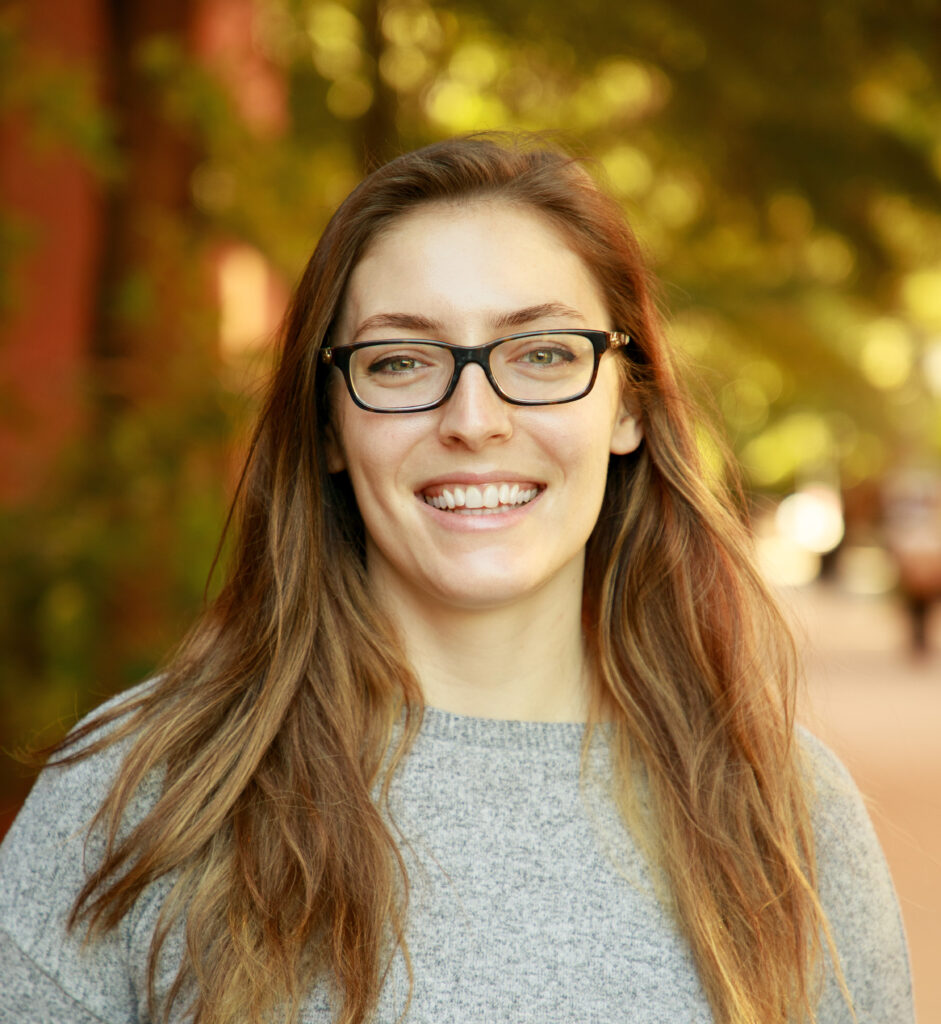 At UMBC, Novak studies how the bacterium Cellvibrio japonicus breaks down complex carbohydrates with Jeffrey Gardner, associate professor of biological sciences. Unlike most other bacteria, C. japonicus can simultaneously break down a variety of sugar types, Novak explains, which makes it especially appealing for biofuels applications. At NREL, she plans to improve the understanding of how C. japonicus breaks down switchgrass, a bioenergy crop used to create bioethanol.
"The neat thing we're going to look at is the rate Cellvibrio japonicus consumes different sugars that are in switchgrass, so that will help us better characterize its metabolic capabilities," Novak says. NREL's equipment and established protocols will be particularly helpful for that analysis, she adds.
Her time at NREL "will also train me in some of the biochemical analyses that I'm going to do back at UMBC," she says. "I think the results we're going to get from this fellowship will spark new ideas."
Little steps toward big goals
The fellowship is an exciting step for Novak, who is a self-identified "planner." Her interest in biofuels began in an undergraduate molecular genetics class at Salisbury University, where the professor talked about using algae as biofuels. "I knew eight years ago that I wanted to try out NREL," she says, "and I've been taking little steps to make that happen."
After finishing her bachelor's, Novak worked at a company detecting biological threats in environmental samples. When she was ready to start her Ph.D., she connected with Gardner based on his research interests. She carefully selected an interdisciplinary thesis committee, which includes Brandon Knott, a chemical engineer at NREL. The DoE fellowship requires a co-mentor at the destination laboratory, and Knott will fill that role for Novak. Novak will also work with NREL scientists Violeta Sànchez and Alissa Bleem.
"I put so much time and effort into planning out my life and what I wanted to happen," Novak says. "It's just incredible that it's starting to work out that way. I'm absolutely ecstatic. I cannot wait."
Using bacteria to make things better
Novak's trajectory hasn't been a simple beeline to a career in biofuels. In Gardner's lab, Novak has been studying a different bacterium that breaks down plastic alongside her work on C. japonicus. Those experiences ignited her interest in bioremediation—a process that uses organisms like plants or microbes to remove toxins from the environment.
Now, she says, "I'm really interested in how we can use bacteria to break down man-made errors," both literally and figuratively. "They just evolve so quickly to adapt to our faults. I really love the idea of utilizing that to repair our environment."
Novak's current plan is to finish her Ph.D. by summer 2025, and then pursue a postdoc in industry focused on bioremediation.
A new turning point
Gardner has supported Novak's goals along the way. "He is so supportive and so encouraging of us bettering ourselves," Novak says. "I've expressed that appreciation to him, and he always says, 'It's my job to support you and help you be as prepared as you can be leaving here.' He takes that to heart—he's just been remarkable."
"I'm extremely proud of Jessie for winning this DOE fellowship," Gardner shares. "She has done outstanding graduate work, and her time at NREL will not only advance her thesis research, but also help develop her professional network and provide opportunities for career mentoring. Additionally, the skills she brings back and shares with the lab will expand what we are able to do at UMBC."
Novak expects her NREL fellowship to be another turning point in her career journey.
"I have loved what NREL does for a long time, so I am really hoping to meet some people there and see what they do on the industry side of research," Novak says. "The fellowship gives me a chance to peek into that and progress my research at the same time, which will help me figure out what I want to do moving forward."
Tags: Biology, CNMS, GradResearch, rca-2, Research