Elijah Mugabe
Degree: B.S., Chemistry
Hometown: Greenbelt, MD
Post-grad plans: Ph.D., Pharmacology, Cornell University
Amongst the beakers, test tubes, and chemicals in a laboratory prep room of the Meyerhoff Chemistry Building Elijah Mugabe found friends, and a calling. A Meyerhoff Scholar, Mugabe worked as a lab assistant his sophomore year and enjoyed the behind-the-scenes view of research that it offered. The next year, he joined the lab of Songon An, associate professor of chemistry and biochemistry, embarking on research into how metabolic enzymes organize themselves in cells, and how disease affects that organization. The experience opened his eyes to the range of unanswered questions scientists are exploring.
Mugabe's academic achievements have been recognized with the Faculty Award for Excellence in Chemistry from the department of chemistry and biochemistry, among other honors. Away from the lab, Mugabe formed connections with the broader UMBC community. He volunteered with Retriever Essentials, an organization committed to tackling food insecurity. "It was a gratifying and enjoyable experience seeing the group's impact and having a better understanding of our community," he says.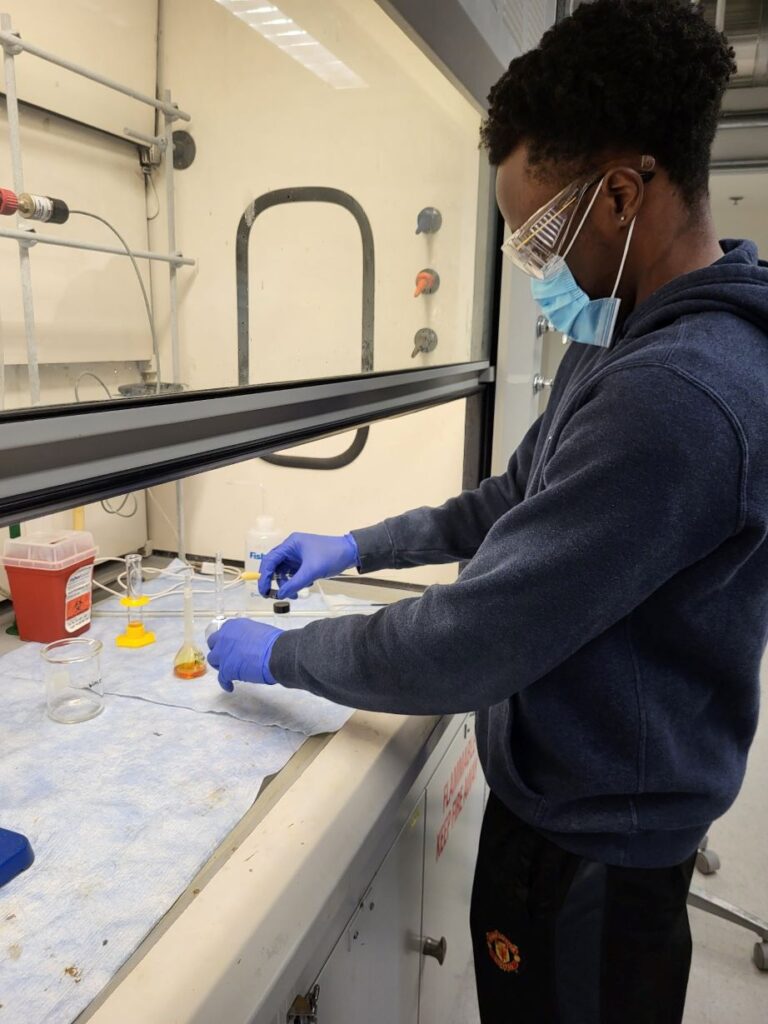 Has there been a mentor or fellow student who influenced your time at UMBC?
"Karis Barnett graduated from here a few years ago, and she was a chemistry major like me and my personal peer advisor. She helped me a lot when it came to picking classes, helping me with assignments, and just being a good person to talk to when I wanted an ear from someone. She made my time at UMBC smoother than it would've been without her, and I am still in contact with her to this day. "
What has been the best part of your UMBC experience?
"The best part of my UMBC experience would have to be being a part of the Meyerhoff Scholars Program, specifically in cohort M31. Knowing people who are working towards similar goals pushed me to be better academically, and as a person."
Tags: Chemistry and Biochemistry, CNMS, Undergraduate Research