When Bill LaCourse became dean of UMBC's College of Natural and Mathematical Sciences (CNMS) in 2012, he had three top priorities in mind: innovate undergraduate science education to boost learning outcomes, forge new partnerships, and develop and support a diverse group of faculty. This year, the college took several steps forward in realizing this vision.
"The college has laid the foundation, and now is really in a strong position for growth," LaCourse says. "It's all about paying attention to the people and their needs," he explains, so faculty, staff, and students can do their best work and create a thriving community together.
Student success at the center
This year, CNMS received a $1.4 million grant from the National Science Foundation for Improving Undergraduate Science Education. Faculty at UMBC and community college partners will use the funding to improve the undergraduate experience in biology—the major of one in six UMBC students. This includes focus areas like enhancing the alignment of curriculum across institutions and making sure advising meets the needs of transfer students, both before and after they come to UMBC.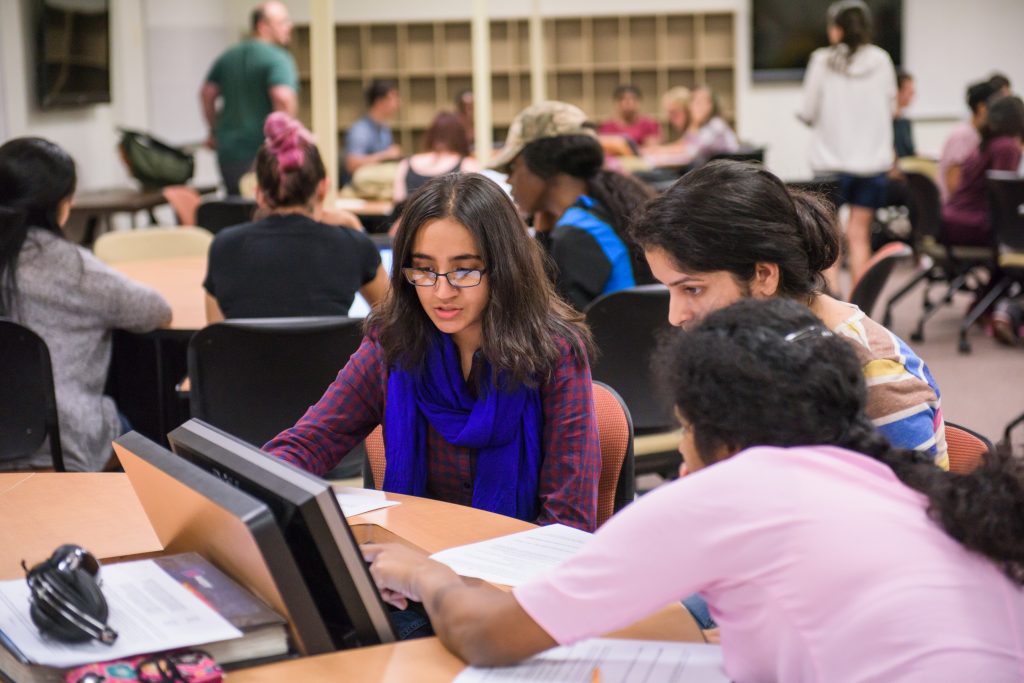 "We're building community, trust, and relationships with the community colleges," LaCourse says, and that has huge benefits for students.
The Active Learning Inquiry Teaching (ALIT) certificate offered to UMBC STEM faculty is another growing partnership focused on supporting students. It includes CNMS, the College of Engineering and Information Technology, the Faculty Development Center, and CNMS's Building Infrastructure Leading to Diversity (BUILD) program. To earn the ALIT certificate, faculty attend a series of workshops on teaching in an active learning style, which has been shown to more effectively engage students and boost performance. They also participate in a teaching observation and other activities.
Initiatives like the Science and Mathematics Advising Resource Team (SMART) are also coming into full swing now. "The program formalizes the relationship between pre-professional advisors, CNMS advisors, and faculty advisors," explains SMART director Michelle Bulger. "Everyone knows a little about everything," so no matter which resource they start with, students get the support they need to find their best path through UMBC and into a career.
Celebrating student pioneers
The UMBC STEM BUILD program reached an exciting milestone this academic year: graduating its first program participant, Alexis Waller, in December 2018. Additional BUILD students earned their degrees in May 2019.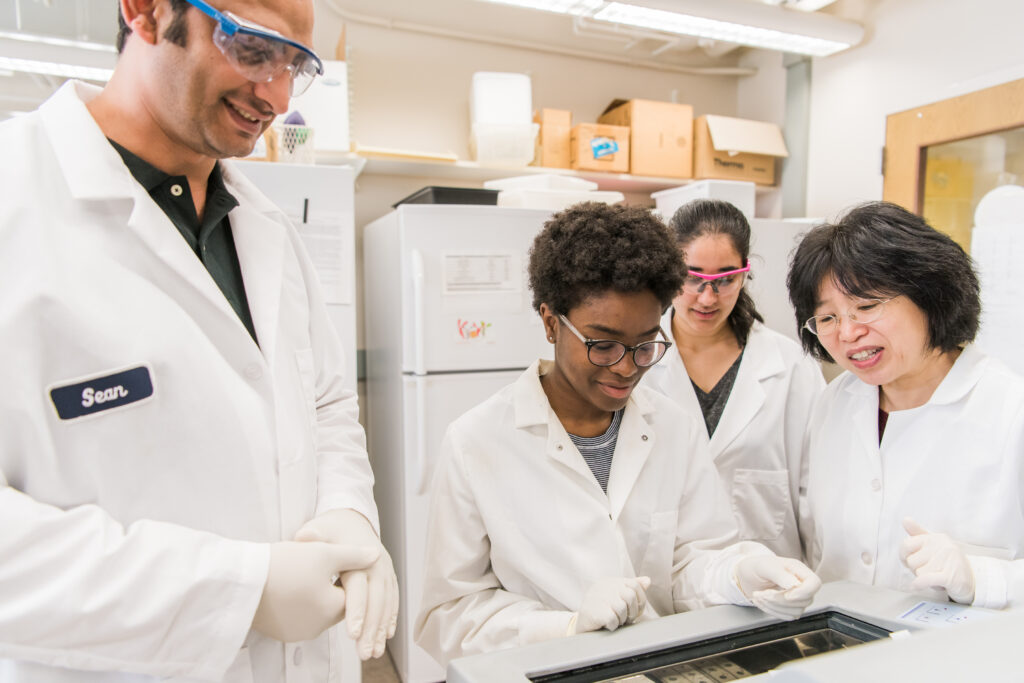 BUILD is a CNMS initiative funded by the National Institutes of Health. It is designed to help UMBC learn best practices for engaging large numbers of students in mentored research and other practices that support student success in STEM. At some institutions, mentored research experiences are reserved for a select few, often in scholars programs. At UMBC, faculty and staff are actively working to make research accessible to all students.
Three students just became the first to complete another new path through UMBC. Just one day after graduating from UMBC, they were commissioned as officers in the U.S. military. CNMS administers UMBC's Naval science department, which supports the Naval Reserve Officer Training Corps (NROTC) program. UMBC's NROTC program was the first of its kind in Maryland when it was launched in 2015.
This spring, ENS Ghazi Nazzal '19, business technology administration, and ENS Ryan Simpson '19, environmental science, were commissioned as officers in the U.S. Navy. 2nd Lt Benjamin Dunlap, modern languages, linguistics, and intercultural communication, was commissioned as an officer in the U.S. Marine Corps.
"We're proud to have them on campus," says LaCourse, who has a family history of Navy service.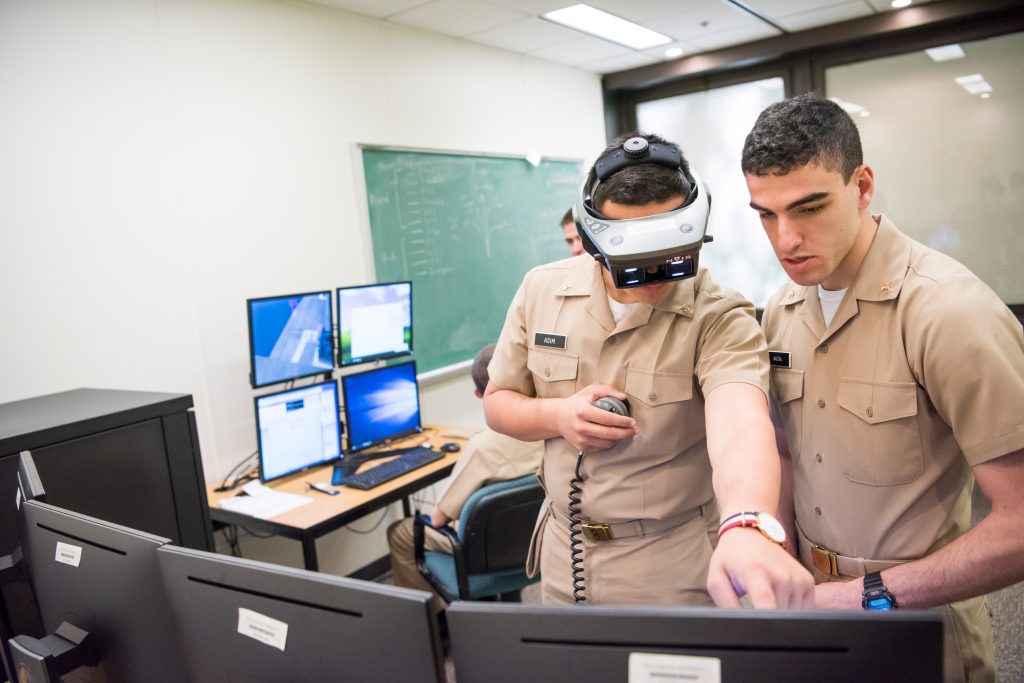 Connecting every angle
One of the most exciting CNMS partnerships emerging this year—with the potential to significantly impact students and employers in the region—has a complex name: the Translational Life Science Technology (TLST) program. The program focuses on preparing UMBC students at the Universities at Shady Grove for careers in Montgomery County's rapidly growing biotech industry. TLST is UMBC's first undergraduate STEM program at Shady Grove, and this year welcomed its first students.
"With this program as well as the professional master's degree in biotechnology, CNMS is pioneering UMBC's expansion at the Shady Grove campus to serve the over one million people in Montgomery County," says Annica Wayman '99, M6, mechanical engineering, the new associate dean for Shady Grove affairs for CNMS.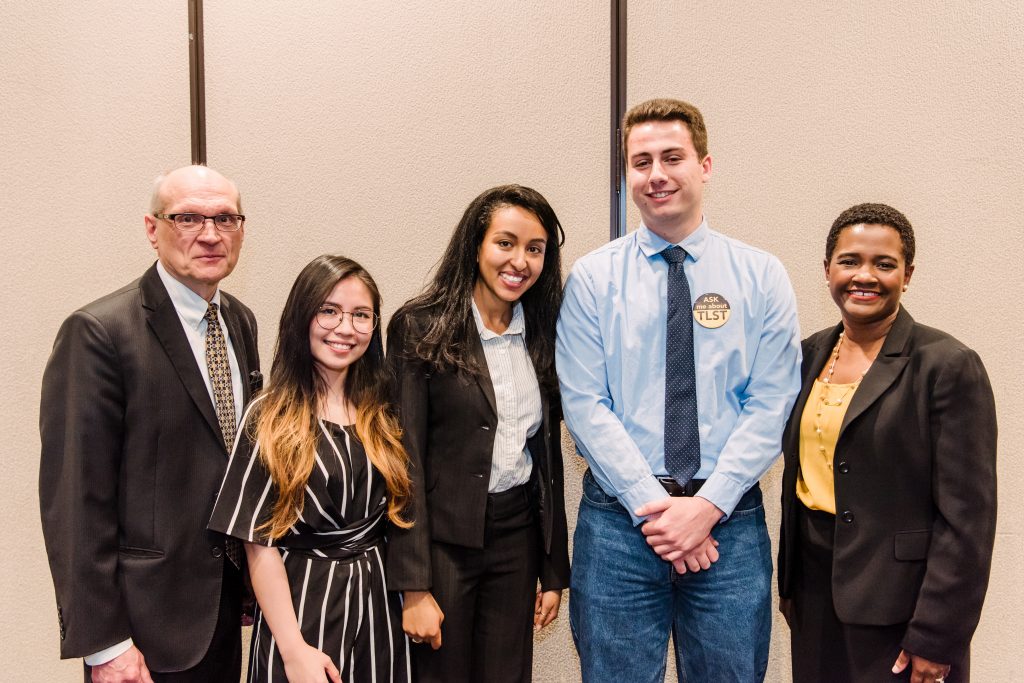 LaCourse sees the new program as the beginning of "a new way of working with Shady Grove." He shares, "It puts us in a position to bring applied STEM programs to the doorstep of businesses in Montgomery County."
Constructing collaboration
Perhaps the most visible representation of the college's commitment to forging partnerships is the Interdisciplinary Life Sciences Building (ILSB), now in the final phases of construction. It will open for classes in fall 2019.
The building includes spacious and bright teaching labs, open faculty laboratory space that promotes collaboration, and classrooms designed for active teaching and learning. Unlike other buildings on campus, faculty who wish to conduct research in the ILSB must propose interdisciplinary projects to be completed there, and the lab spaces are designed to facilitate a variety of kinds of work equally well, from genetics to environmental engineering.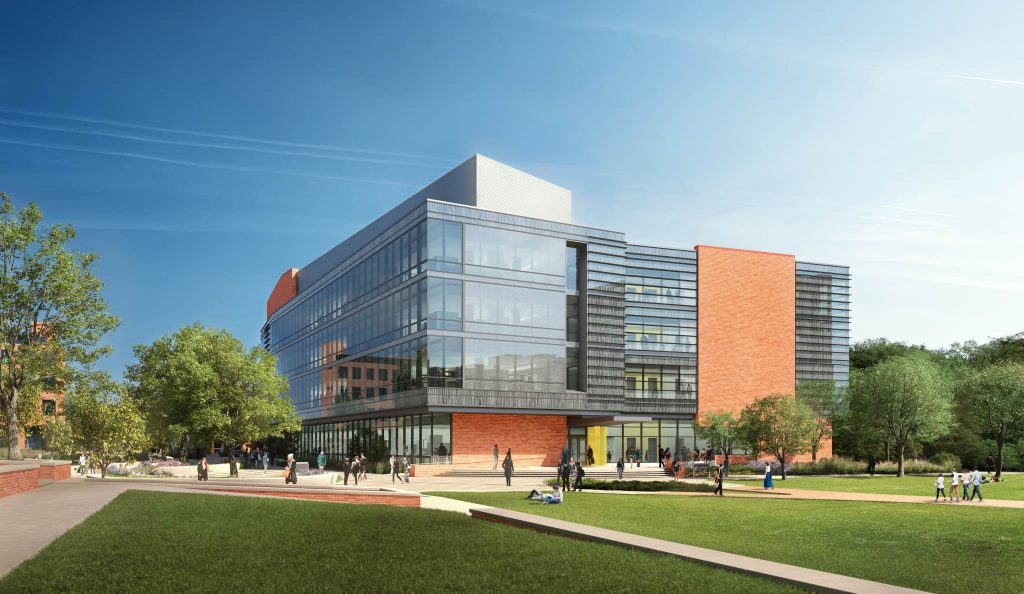 The new building will also house UMBC's second Maryland Public Art installation: a colorful sculpture that emerges from a large wall and features abstractions of elements found in UMBC research, from bird flight to microscope images of individual cells.
The ILSB is open for use by any department on campus, and is administered by CNMS. "It's exciting for me to be involved in the operations of the ILSB," says building manager Dennis Cuddy. "It will be a transformative facility and allow UMBC scientists and students to do important work and cutting edge research in a flexible, state-of-the-art facility."
Josh Wilhide, manager of UMBC's Molecular Characterization and Analysis Complex, is particularly excited about new research equipment in the ILSB. One instrument will streamline the process of generating information about the proteins in a sample. It will be "used for drug discovery and genetic exploration for researchers ranging in fields from chemistry to biology to engineering," Wilhide says. "The ILSB truly is a building designed to drive multi-discipline research."
Faculty forward
CNMS has also made significant structural changes in the last year to better recruit and support a diverse faculty, and to enhance advancement opportunities and research support for faculty at every level. In addition to Wayman's new role as associate dean, Kathleen Hoffman, professor of mathematics, now also serves as the CNMS associate dean for faculty advancement. Chuck Bieberich, professor of biological sciences, serves as the associate dean for research.
"Our college has a strong history of performing cutting-edge research. However, in recent years, the federal funding climate has created new challenges for even the most seasoned researchers," Bieberich says. "So one dimension of my role as associate dean is to connect our faculty, both newly hired and long-serving, with resources that can increase the likelihood of funding success."
Hoffman has been supporting faculty advancement, particularly for women in science, for years. She was a key player in developing UMBC's ADVANCE program, an initiative funded by an NSF Institutional Transformation Grant in 2003 that has led to a 60 percent increase in the number of women faculty in STEM. At a more granular level, ADVANCE has led to a 75 percent increase in women at the associate professor level and a 140 percent increase at full professor.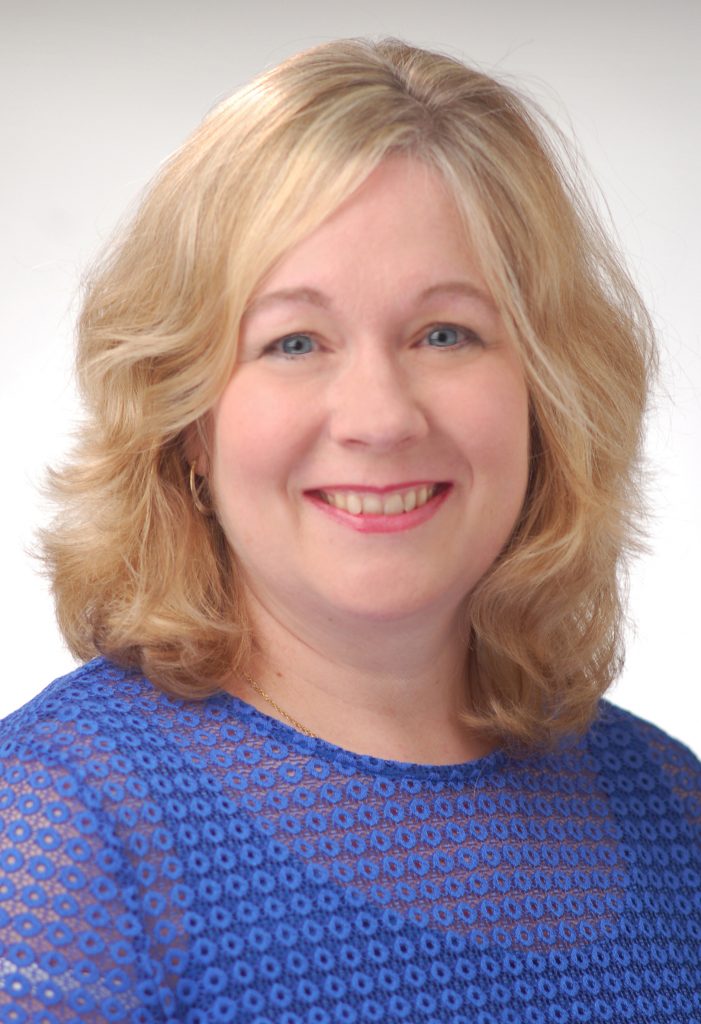 As of fall 2018, 24 percent of faculty in STEM at UMBC are women, which shows both how much progress has been made and how much growth is still needed.
"In this position, I will support CNMS faculty through college-wide workshops and initiatives focused on faculty success," Hoffman says. She adds that she and Bieberich "will ensure that CNMS faculty have the support they need to fulfill their potential as faculty members in their departments, in the college, and as members of the university community."
Diversity drives success
This year, CNMS hired two more pre-professoriate fellows. The fellows program is designed to enhance the diversity of CNMS faculty to better reflect the college's diverse student body and actively welcome faculty who prioritize the value of diversity. Adriana Lima will join physics, and Joseph Bennett will join chemistry and biochemistry.
The biological sciences department led the way with this program, having previously hired Fernando Vonhoff and assistant professor Mercedes Burns. Mathematics and statistics followed with the hire of Yehenew Kifle, who had previously spent a year at UMBC as a visiting professor. Vonhoff and Kifle will successfully convert to assistant professors in August 2019.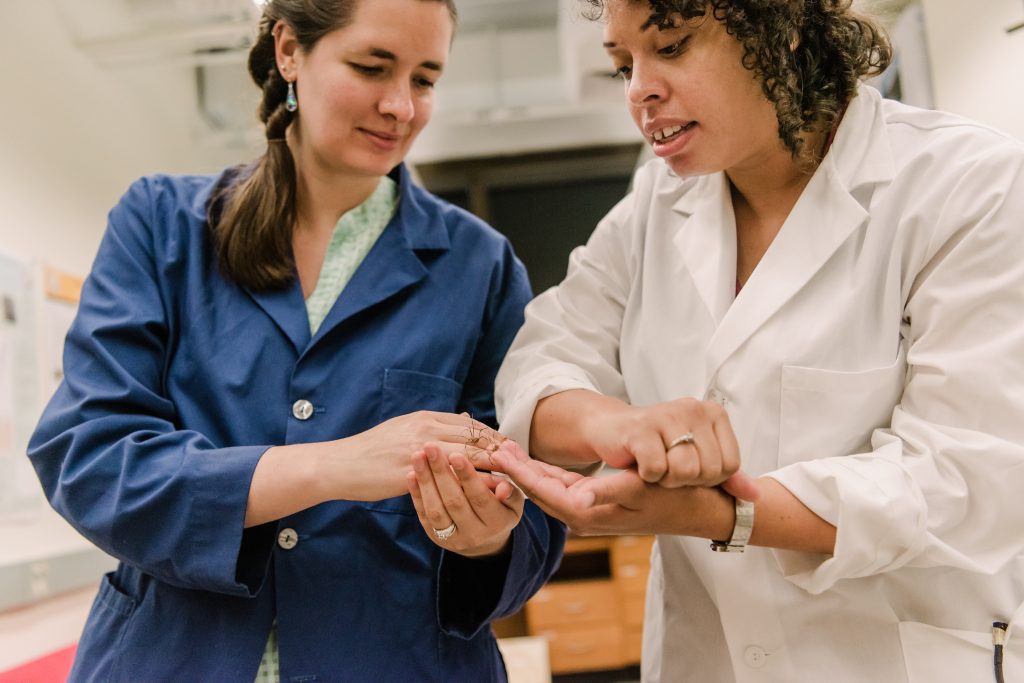 "We want to make sure that UMBC can be a good home for faculty from all backgrounds," says LaCourse. The pre-professoriate program offers incoming faculty two-year appointments as research assistant professors, with structured mentoring and other scaffolds for success. There is the option to convert the fellowship to an assistant professor position.
This year UMBC also partnered in the launch of the PROMISE Academy. This new initiative will draw on the expertise of universities around the nation and evidence-based best practices to recruit and retain a diverse group of faculty members in STEM fields.
With the 15th anniversary of its formation just one year away, "CNMS is coming into its own," LaCourse says. "We're ready to move to the next level."
Banner image: CNMS pre-professoriate fellow Fernando Vonhoff works in the lab with Abby Cruz '18.
All photos by Marlayna Demond '11 for UMBC unless otherwise noted.
Tags: Biology, CNMS, COEIT, IS, MathStat, Naval, ShadyGrove, STEMBUILD