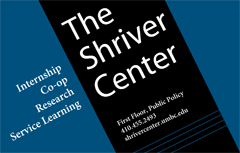 Christine Routzahn, Shriver Center Director of Professional Practice, comments on the increasing value and popularity of internship opportunities in this month's new issue of Diversity/Careers in Engineering & Information Technology (click and scroll to page 46).
"Students need to distinguish themselves from others to ensure that they can compete in a tight job market," Routzahn says. She also suggests internships are valuable not only for students, but also for companies, who appreciate hiring from a pool of talented job candidates whom they've already worked with and trained.
The article notes that the Shriver Center "coordinates more than 1,700 UMBC student intern, co-op and research placements at more than 500 public and private organizations around the globe," and these figures increase annually. Learn more about UMBC's 2011 interns and their experiences at the UMBC website.
Tags: Research, ShriverCenter