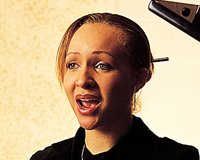 "Broadway Bound"
 
Kriste Belt has a passion for performance. "I've always wanted to be on Broadway – that's my number one aspiration," she says. "Being a well-rounded person will help me achieve that dream."
Belt selected UMBC after visiting top-notch universities and conservatories across the country. "I chose UMBC because of the incredible faculty and the amount of care they give to help students grow," she explains. "I get a solid liberal arts education, and the intimacy of the campus helps me learn about many disciplines, including music, dance and theatre."
As a music major and a Linehan Artist Scholar, a program for UMBC students pursuing a degree in the visual and performing arts, Belt has the opportunity to participate in both performance and research. She worked with the music department's Collegium Musicum Ensemble on a scholarly study of two compositions by George Handel, and will embark on new research this year.
Most recently, Belt spent three months as an apprentice for the Broadway Theatre Project in Tampa, Florida, where she took workshops and participated in special performances with world-renowned actors, directors and choreographers. "It was the single most amazing experience of my life," she explains. "I worked one-on-one with performers such as Ann Reinking, Gregory Hines, Ben Vereen, George Hamilton, Dave Clemmons and Debbie McWaters."
In addition to being an active member of the UMBC Gospel Choir, Belt also performs in several shows a year with the Stephanie Powell Dance Company, the Maryland Arts Festival and the Columbia Community Players.
After graduation, Belt plans to continue her education and pursue a master's degree with an emphasis on vocal performance. "I want to continue to take classes at the graduate level to prepare myself for Broadway," she says.