Alycia Marshall '95, mathematics, was named one of 100 Inspiring Women in STEM by Insight into Diversity for her work with the Engineering Scholars Program at Anne Arundel Community College (AACC).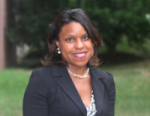 Marshall drew on her experience working with Meyerhoff Scholars at UMBC to start the Engineering Scholars Program at AACC with help from a National Science Foundation grant. As the principal investigator for the program, Marshall was instrumental in connecting underrepresented students with scholarships, mentoring, and support services.
Read "AACC professor selected for national STEM award" on Eye on Annapolis.