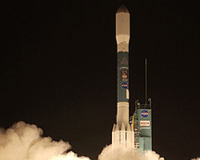 "AIRS Takes to the Sky"
At 2:55 a.m. Pacific time on May 4, the world's understanding of the mystery of global climate change and the art of improved weather prediction took a great leap forward, thanks in part to the ingenuity of a team of researchers led by UMBC Professor of Physics Larrabee Strow.
As AQUA, NASA's latest Earth observing satellite, successfully launched from California's Vandenberg Air Force Base, it carried the Atmospheric Infrared Sounder (AIRS), a "Cadillac" of satellite instrumentation developed in part by Strow's seven-person research group, the Atmospheric Spectroscopy Laboratory.
AIRS' job is to take the most accurate measurements to date of our planet's air and surface temperature, humidity and clouds. In about two months, AIRS data will begin helping the National Weather Service, National Oceanic and Atmospheric Administration  and weather services in the United Kingdom, France and other European Union countries to make better prediction models.
"The big hope is to increase the quality of long-range, four to five day forecasts," says Strow. "It should also help with hurricane prediction and lowering the number of forecast busts."
UMBC Assistant Professor of Physics Wallace McMillan is working with the AIRS team to validate the instrument data, and scientists from UMBC's Joint Center for Earth Systems Technology (JCET) are also involved. The AQUA team is a global one, with members from Brazil, France, Italy and Australia. AQUA is part of NASA's Earth Science Enterprise, a long-term research project to determine how manmade and natural changes are affecting our global environment.