Graduating Retrievers forge strong bonds with Baltimore communities
By: Catalina Sofia Dansberger Duque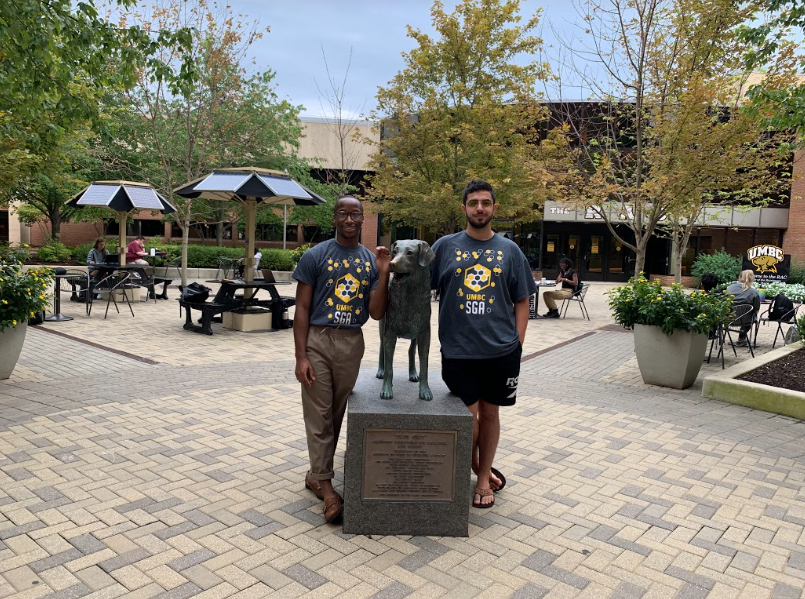 Joshua Forlotta Gray '22, takes as his compass in life a 1968 quote by Dr. Martin Luther King, Jr.: "Everybody can be great because everybody can serve." When taking on a new project, job, or student activity, Gray, a dance and media and communication studies major, asks himself, "Will the work uplift and support others?"
When he was presented with the opportunity to contribute to Charm City Connection's economic community development work the answer was an emphatic yes. He was equally thrilled to join three of UMBC's Alternative Spring Breaks in Baltimore City looking at access to the arts, transformative justice, and decarceration.
Gray's focus – in both academics and community engagement – is understanding processes that create change. He sees work with communities as intrinsically multicultural, multilingual, and international, as it must serve the needs of many. "I'm invested in the process of creating access and social change through learning, teaching, and leading," says Gray. "The essence of the work energizes me."
"He is talented, demonstrates academic excellence, and has prioritized civic-minded engagement during his time at UMBC," Liz Patton, associate professor of media and communication studies and a mentor, says of Gray. "In other words, he is grit in action."
Supporting immigrant youth
For Gray and other UMBC students focused on community engagement, Baltimore is more than a place to volunteer. It is a city with tremendous assets that draws students from all over the world.
Melisa Argañaraz Gomez, Ph.D. '22, geography and environmental systems, moved to Maryland from Spain to work with Baltimore's Latin American immigrant youth. CASA of Maryland and Centro Sol, groups that provide resources and services to Latin American immigrant families, were two of the organizations that welcomed her as a volunteer. 
"Immigrating from Argentina to Spain when I was thirteen, and then to the U.S. as a graduate student, I know how challenging the immigrant experience can be, to start from zero, especially as a teenager," says Argañaraz Gomez.
She forged strong bonds. Several young Latina students enthusiastically worked with Argañaraz Gomez to create the award-winning project PARqueología Migrante, a community-outreach website highlighting their immigrant experience in Baltimore.
"The students had internalized anti-immigrant messages. They didn't see themselves as being able to be leaders and researchers and felt that their voice and work did not matter in Baltimore," says Argañaraz Gomez. Through PARqueología Migrante, participants realized that their voices and work matter and can transform their lives and those of other immigrant youth.
Collective strength
The project reached well beyond those directly participating. Community leaders, schools, and institutions actively supported the project with resources and guidance, valuing the students' work. What had started out as a small project with students became the work of many.
"The students and I were moved that community leaders and researchers alike valued their point of view, skills, and research," says Argañaraz Gomez. These insights confirmed for her the transformative power that space and place can have in the process of belonging for immigrant teens.
Argañaraz Gomez also connected with a local collective of Latinas and participated in social justice work around immigration. There she met fellow community member and creator of "Moving Stories: Latinas in Baltimore," Tania Lizarazo, associate professor of modern languages, linguistics, and intercultural communication and global studies. Lizarazo supported her in navigating academic spaces.
"Being in community with other Latinas is essential for learning how to navigate institutions, and obscure processes such as the job market, especially as an international or first-generation student," says Lizarazo. "Supporting Latin American students benefits the whole Latin American community on and off-campus, and contributes to making UMBC more welcoming for all."
Baltimore's greatness
Keenan Hickman, M.P.S. '22, community leadership, sees Baltimore's greatness as a part of his personal story. Hickman's roots are in Baltimore, but at the beginning of COVID he was living in California, working alone from his home office. He realized that in every job he'd had, wherever he lived, and in all the countries he had visited, he always found time to volunteer in communities working towards racial equality. He wanted that to be a more central part of his life.
Hickman moved back home to Baltimore, surrounding himself with his family and fellow Returned Peace Corps Volunteers. Ready to make his passion for community service his life's work, Hickman enrolled in UMBC's master's in community leadership through the Shriver Peaceworker Fellows Program.
"Keenan is rich with reflection and values," says Joby Taylor Ph.D. '05, language, literacy, and culture, director of UMBC's Shriver Peaceworker Program. "When he shares ideas or stories or questions in our classes, I learn a new and often powerful perspective."
The program gave him a fresh perspective as well. He learned that equity and racial justice work is not only about volunteering with social change organizations. It is also about diversifying access to and leadership in equity work.
Hickman saw this in action in his work with Baltimore Corps. Their purpose is to draw underrepresented talent through equitable fellowships and professional networks, developing a pipeline of innovative social justice leaders dedicated to Baltimore's future.
"My life is in, about, and for Baltimore," says Hickman. "I'm part of a growing social justice entrepreneurial community reimagining equity and access for an even greater Baltimore."