In the early morning hours of  Saturday, November 2, a few hundred guests at the NASA Wallops Flight Facility gathered at the VIP launch viewing site—a grassy pad near a large tent. Sitting on metal bleachers and in camping chairs, they gazed upward. The NASA Antares rocket and Northrop Grumman's Cygnus capsule stared back at them from two miles away, more than 14 stories high and loaded with supplies for the International Space Station (ISS). Also on board were more than 30 "cubesats"—small satellites no bigger than large loaves of bread—all of them containing scientific instruments their makers hoped would contribute to a better understanding of our world.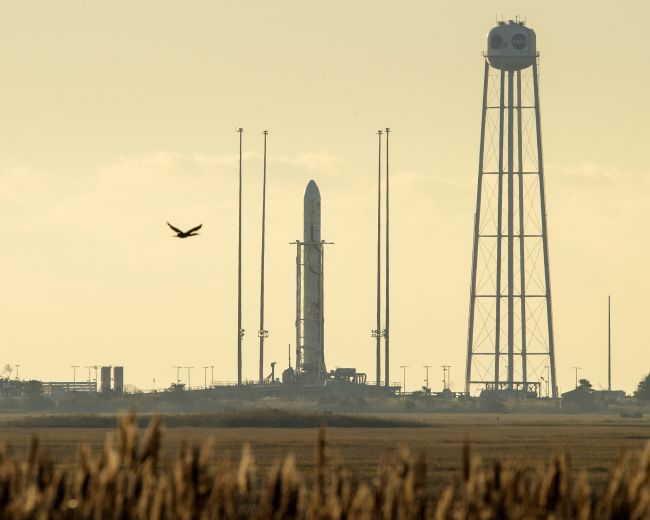 One cubesat, the Hyper-Angular Rainbow Polarimeter (HARP), has been a labor of love for a small group of dedicated UMBC scientists and engineers for the last five years. There were times when they weren't sure if HARP would ever get to space, but the big moment had finally arrived. Today, HARP was headed up. Way up.
Around 9:55 a.m., the crowd quieted. Their thoughtful silence spoke to years of late nights, early mornings, sighs and tears, hugs and high-fives. They thought back to team meetings with frantic napkin scribbling, spacecraft models made of children's toys when an idea struck at home, and big dreams.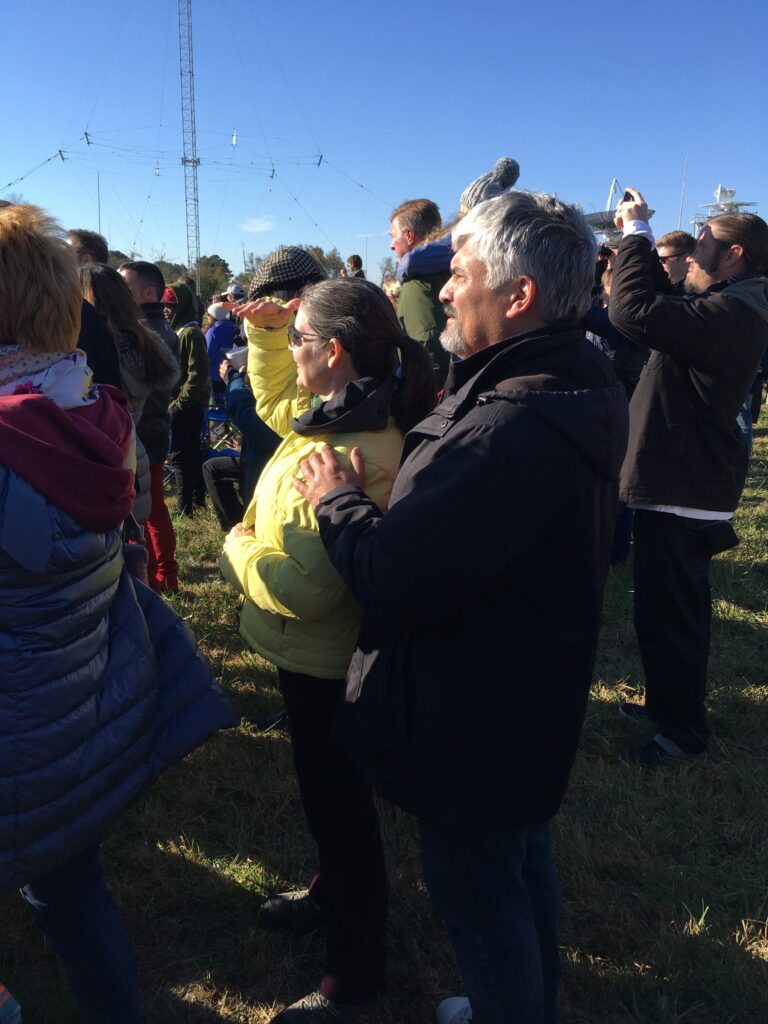 UMBC's Roberto Borda, one of the core engineers for HARP, stood at the front of the viewing area, his arms around his wife. "It's happening, it's happening!" he whispered excitedly in her ear. Other team members stood nearby with their spouses, children, and friends.
The crowd collectively held its breath and squinted across open fields at the rocket, which was backed almost directly by the low morning sun. And then, finally, it got loud. Really loud. The silent guests watched as Antares and Cygnus roared to life, 440,000 pounds of oxygen fueling eight massive explosions generating upwards of a million pounds of thrust.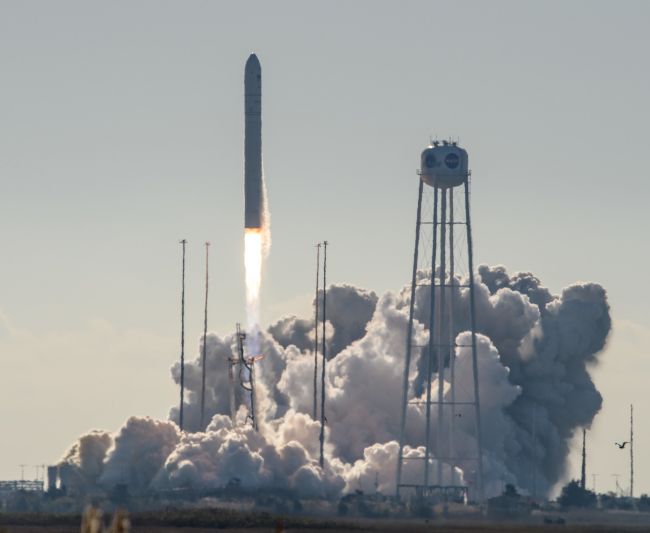 At exactly 9:59:37, right on schedule, the rocket burst from its restraints and bolted upward into the sky. Cheers erupted, and the nervous tension dissipated as the rocket rose ever higher. Within four minutes, it was 100 miles above the Earth, headed to the space station at 17,000 miles per hour.
A few minutes later, champagne bottles popped and the celebration began.
Observing particles in Earth's atmosphere
The HARP satellite's unique sensors will collect new kinds of information about clouds and tiny particles in Earth's atmosphere, such as wildfire smoke, desert dust, and human-generated pollutants. These particles, collectively known as aerosols, have a multitude of effects on the global climate and the health of organisms. For example, rain droplets condense around the particles, so they play a role in global precipitation. The particles can also reflect light away from Earth as well as trap energy inside Earth's atmosphere, which both affect climate. And pollutants can lead to various respiratory ailments in humans and other animals.
With its innovative design, HARP is able to observe the particles from many angles at once to give scientists a more comprehensive view of what's going on in the atmosphere. The new data will equip scientists with information they need to better understand climate and air quality concerns. 
"HARP is really a technology demonstration mission," explains Vanderlei Martins, the lead researcher on HARP and director of UMBC's Earth and Space Institute, "but our goal is to also do some science with the data."
The team is comprised of engineers, physicists, and mathematicians. "As an engineer, I'm looking to develop technology that can make the science happen," says Dominik Cieslak, an assistant research scientist with the Joint Center for Earth Systems Technology (JCET), a UMBC partnership with NASA. Other team members are developing algorithms to effectively analyze the data that will eventually be arriving in huge quantities. Cieslak notes that the data could be used in new ways for years to come as researchers develop new algorithms and computing power continues to grow.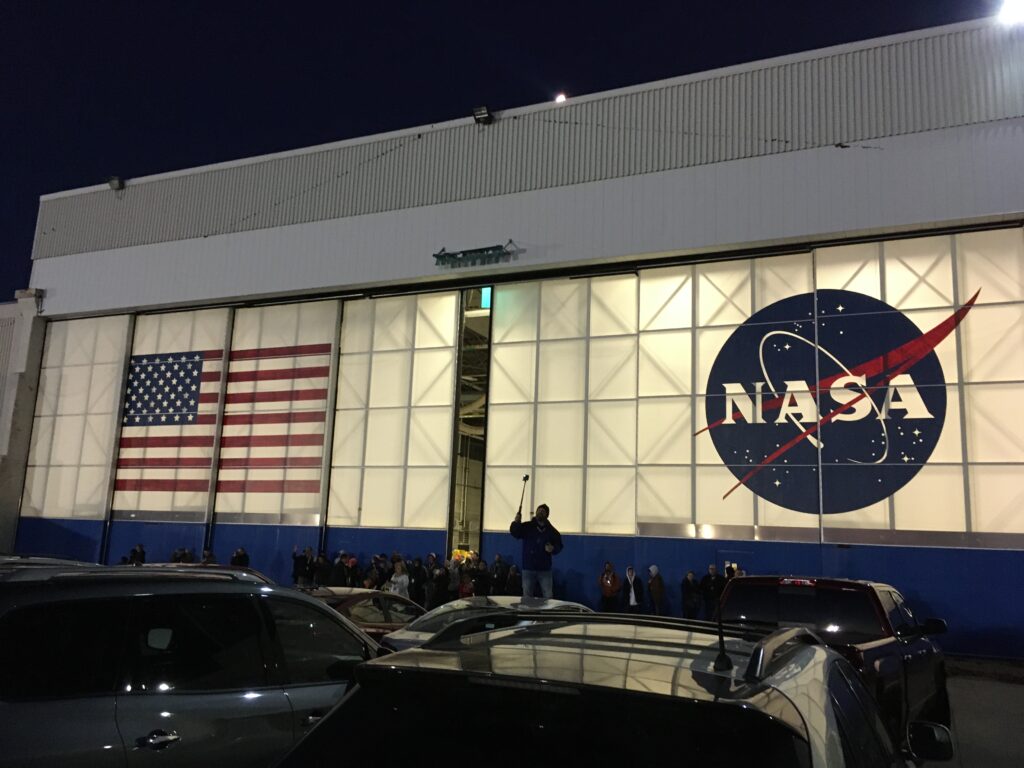 Awaiting "first light"
"We're going to celebrate every step," Martins said on the morning of the rocket launch. He is careful to note that the launch is just one step—a particularly exciting one—in a still-lengthy sequence. Only when the satellite is orbiting Earth and sending back data will he and his team know if HARP is working the way they intended.
Cieslak shared Martins' cautious optimism. "There are many ways for things to go wrong," he said, "but there is only one way for everything to go right."
To increase the likelihood of things going right, the team tested HARP many times on two different kinds of aircraft that fly at high and low altitudes, to ensure the instrument is working properly. But still, says Borda, "It's a different beast going in a plane versus going to space."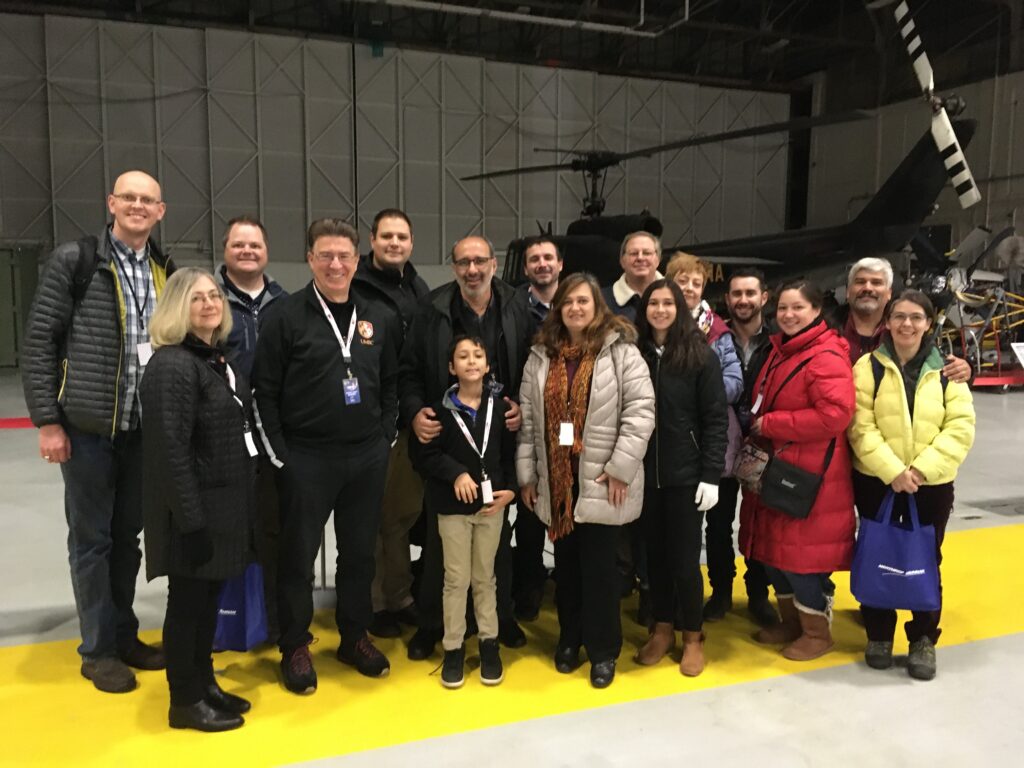 On Monday, November 4, the Cygnus capsule made it safely to the ISS. Another step completed. In about a month, astronauts will launch it and its cubesat companions into space. If that goes smoothly, the satellite will stabilize and enter low-Earth orbit. Then, Earth-bound instrumentation will need to successfully establish a connection with the satellite for transferring data. 
If that succeeds, the team will anxiously await the first images from the satellite, which Martins refers to as "first light." "I'll really really celebrate when we get the first light," Martins says.
An important day
Despite the additional steps to come, the launch "is a big milestone," says Brent McBride '14, physics, a current Ph.D. student in atmospheric physics. With the setbacks the project has experienced over five years, to arrive at launch day "is a wonderful thing."
"We're all really invested in the spacecraft and the work that will come out of it," says Ryan Martineau, from the Utah State University Space Dynamics Laboratory, which partnered with UMBC on HARP, and "there's still more to do."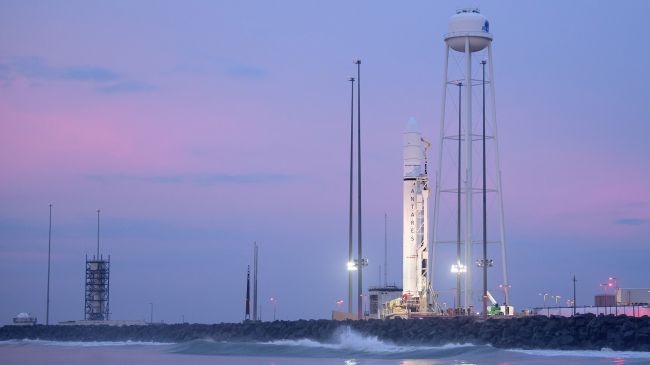 Karl Steiner, UMBC's vice president for research, was thrilled to witness his first NASA rocket launch, especially after being inspired by the moon landing and Apollo missions as a child. "To have seen Vanderlei and his team work on this as long as I've known them, and know the amount of work and sacrifice they've put in, the chance to be with them on this important day…" He trailed off, brimming with emotion. "It's a very special day for the team and for UMBC."
At a pizza party after the launch, the team members reminisced about the time they've spent together—some as many as 15 years on other projects and five years on HARP—as the excitement of making it to this next big step began to sink in.
"Life can surprise you. Even five years ago I couldn't have imagined I'd be here today. So keep dreaming," said Cieslak. "Keep dreaming." 
Banner image: Vanderlei Martins, Roberto Borda, and Dominik Cieslak with HARP at UMBC. Photo by Marlayna Demond '11 for UMBC.
Tags: CNMS, GradResearch, JCET, Physics, Research