UMBC's newest undergraduate degree, the bachelor of science in Translational Life Science Technology (TLST), has received the inaugural BioBuzz Workforce Champion of the Year award for its contributions to enhancing the regional biotech workforce.
Bill LaCourse, dean of the College of Natural and Mathematical Sciences, envisioned the program as a way to both support students and help fill a workforce gap in the region's bustling biotech industry. In fall 2018, the college hired Annica Wayman '99, M6, mechanical engineering, as associate dean for Shady Grove affairs to oversee implementation of the program. The TLST program, a partnership with Montgomery College, enrolled its first students in fall 2019, and its first graduates will earn their degrees this week.
"It was important to me to implement this program because it is innovative and impactful," Wayman says. "A multidisciplinary curriculum that includes cell biology, bioinformatics, bioprocess design and control, and epidemiology…more accurately reflects what the drug discovery and development process in the industry looks like. It also helps to build more critical thinkers that have an intellectual curiosity."
Ready for biotech careers
In addition to establishing the TLST program, Wayman and her team have re-launched UMBC's master's degree in biotechnology management at The Universities at Shady Grove (USG) campus in Montgomery County. Graduates of both programs are prepared to enter a range of well-paying roles in the local biotech industry.
"UMBC's TLST degree uniquely prepares students for the many jobs in the growing biotechnology industry where medical products are made," Wayman writes in a USG blog post. "Among the 300-plus biotech companies in Montgomery County, there will be hundreds of jobs opening in the next few years to work on COVID-19 vaccines and treatments, cell and gene therapy products, and other novel biopharmaceuticals."
New alumni joining these companies will also help support a leading industry in the region's economy, particularly important in this economically challenging time.
Club Biotech
Titina Sirak '20, TLST, is graduating this week with multiple job offers for biotech positions. Her experiences with varied coursework and multiple internships have prepared her to succeed. "From those experiences, I got my foot in the door," Sirak says.
The support she found at Shady Grove, and in the TLST community in particular, was also key for her progress. "I wouldn't have been able to do it without Dr. Wayman," Sirak says. "I was new to this country—I just moved here two years ago."
"I love the openness and the communication between the students and the professors," adds Charmaine Hipolito '20, TLST. Together, Sirak and Hipolito created Club Biotech to help their classmates connect with employers and learn more about the industry.
Wayman has long seen TLST as a way to get students excited about careers in biotechnology, as well as to prepare them for biotech jobs. And the experiences of the program's first graduates show her that it's already happening.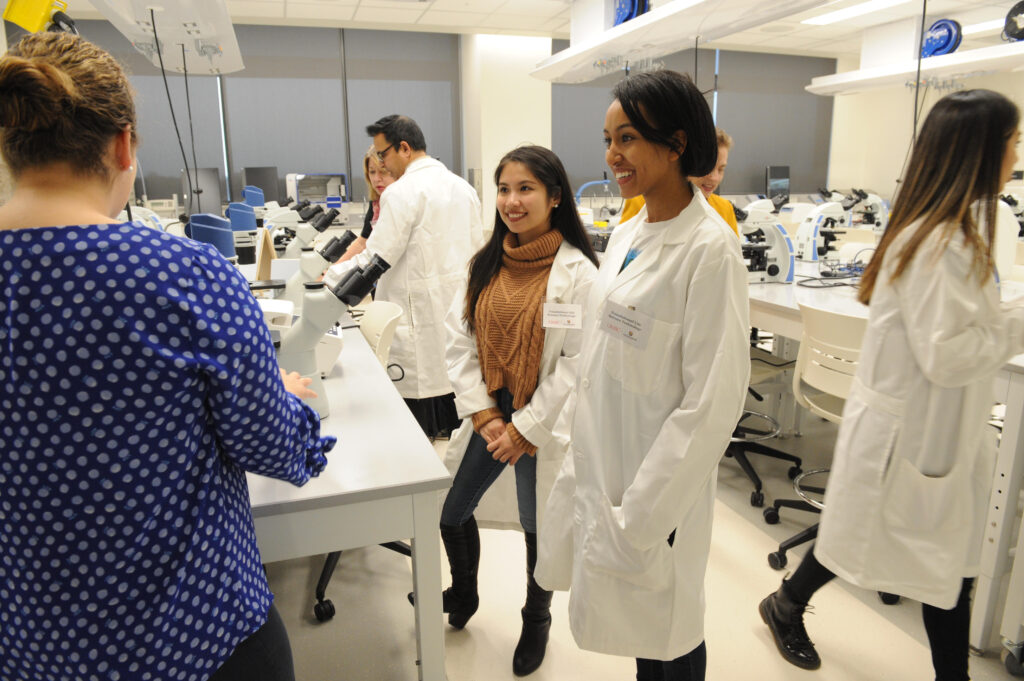 A team effort
Although Wayman has been the implementation lead, she is quick to thank the many others who have coaxed the program into existence and continue to nurture its growth. Receiving the BioBuzz Workforce Champion of the Year award, she says, is a credit to the work of a dedicated team. 
"It is because of the visionary thinking of [Dean] Bill LaCourse, [Vice Provost] Chris Steele, and many others at UMBC; Sanjay Ray, Margaret Latimer, and Collins Jones at Montgomery College; Stewart Edelstein and Mary Lang at USG; and many others, that the TLST program was created, and now has the opportunity to leverage today's opportunities and tackle today's challenges," Wayman said, in accepting the award. "I thank them so much."
Wayman continued, "We're also grateful to the many companies who have collaborated with the TLST program to support applied, practical teaching, hands-on learning, and student internships." Wayman, LaCourse, and the rest of the TLST team look forward to continuing to create opportunities for students to thrive in the biotech industry, as they address global challenges through gene therapy, vaccine development, and future biotech innovations.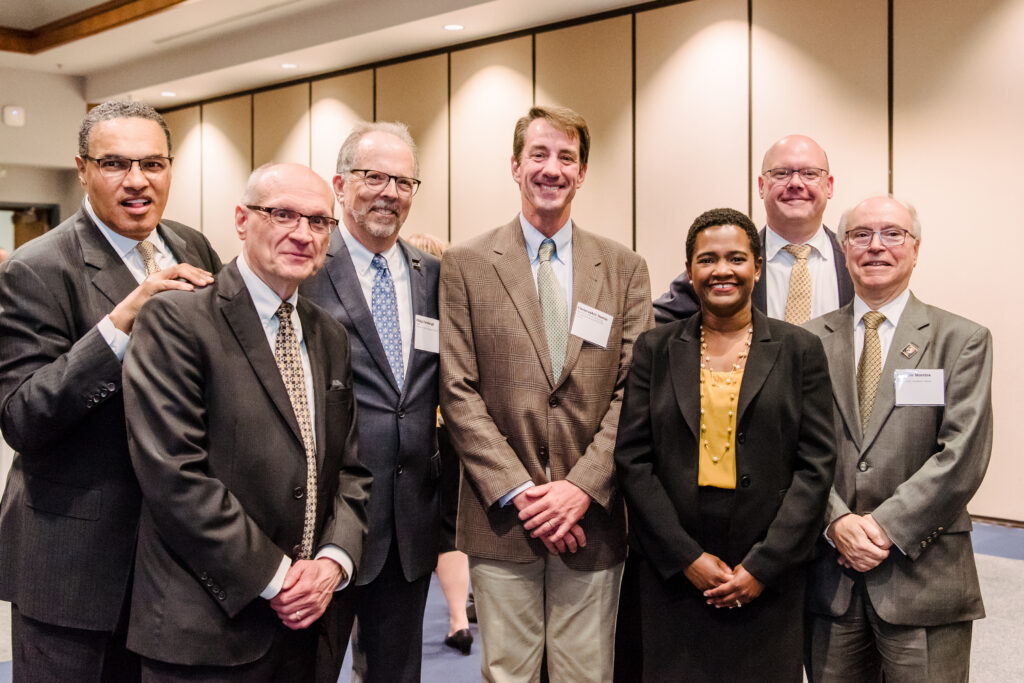 Header image: Titina Sirak '20, TLST, speaks at the TLST launch event in 2019. Montgomery College President DeRionne Pollard is behind her. The TLST program is a partnership with Montgomery College. Photo by Marlayna Demond '11 for UMBC.
Tags: CNMS, ShadyGrove, TLST