UMBC's Translational Life Science Technology (TLST) degree is the new kid on the block among UMBC undergraduate programs, and its first graduates will earn their degrees this month. These students joined the program—a partnership with Montgomery College—in fall 2019. Through TLST they have gained deep knowledge of all aspects of the biotech industry and hands-on (and virtual) experience through internships and course work. They have also developed genuine and caring relationships with their classmates and professors, and feel ready to launch biotech careers.  
Jobs of the future
Take Titina Sirak '20: She's already received multiple job offers at biotech companies. She also plans to pursue a graduate degree in data science. 
Sirak completed in-person internships in traditional wet labs at the University of Maryland and the University of Maryland School of Medicine. Then, she did a remote internship with Kite Pharma, where she helped design a system for managing workflow, minimizing waste, and maximizing efficiency in their pharmaceutical production.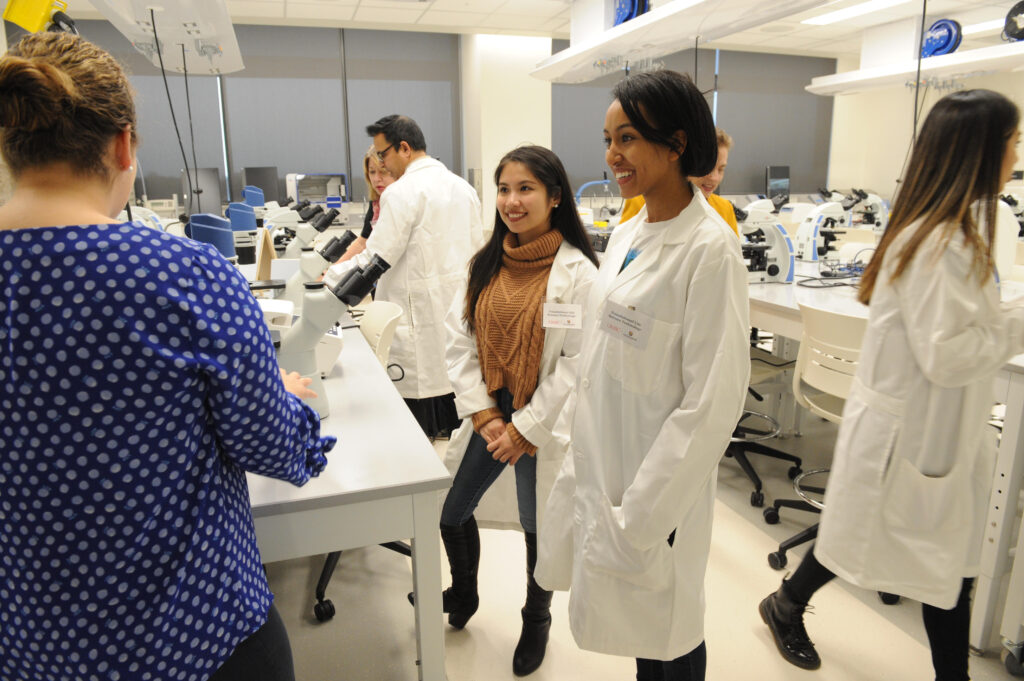 "That's the thing about the TLST major: When you're studying biotech, you can be in any field. You could be on the data side, you could be in the lab doing manufacturing, you could be planning, you could be on the business side of it," Sirak says. "That's how TLST is different from other majors, because you take a whole range of classes. It helps you open up your mind to different sides of biotech."
Sirak says she loves the manufacturing side and hands-on lab work, but plans to pursue data science because it is where jobs will be most plentiful moving forward. "Lots of things are going to be automated. But if you just look at all the systems that are required to make one pill, every step is recorded data," she says. "Humans are just figuring out how to deal with all of it. I'm really interested in doing a graduate degree in that, because I want to learn how to analyze and manage data."
Close-knit community
Sirak's classmate, Charmaine Hipolito '20, TLST, also already has more than one biotech job offer in hand. Hipolito originally planned to become a doctor, but a position as a medical assistant helped her realize she wanted to explore other possibilities in the biomedical field. Then she found TLST. "When I looked at the requirements, it seemed like it was just right for what I wanted to do," she says. "I love lab work and research, and…you're still helping people. So I thought, 'Let me try this.'"
The program has met her expectations and more. "I really like the classes that the program offered," Hipolito says. "I feel like those lab courses will really help me right after college, because most of the techniques that we did in class are the things that I'll be doing in the jobs that are available."
In addition to the academic program, Hipolito and Sirak both appreciated the closeness of the Shady Grove community.  
"Even if it's small, Shady Grove has been amazing for me," Sirak says. "You're close to your professors. It's easier to develop that close mentoring relationship. There are small class sizes, which helps you feel more connected to the other students. I'm so glad that UMBC has a campus at Shady Grove."
"It's very much like a family, and I like that my classmates are really motivated to learn," Hipolito adds. "When you're in that kind of environment, it helps you as well. Everyone is really helping everybody. There's no competition."
To further support their classmates, Sirak and Hipolito created Club Biotech. Sirak says, "We try to expose the club members to the professional environment and help them find internships and jobs and build networks."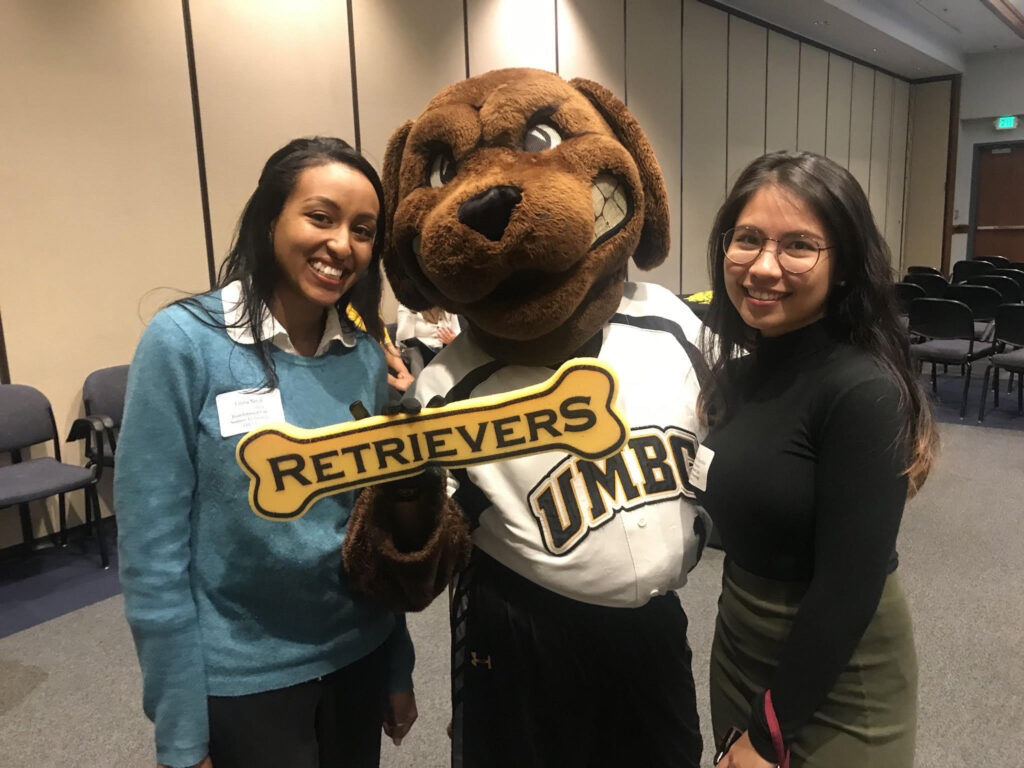 Real-world connections
Pedram Miraghazadeh, M.P.S. '20, biotechnology management, is completing a graduate degree at Shady Grove focused on biotech, and he experienced some of the same benefits as the TLST students. "When I first started, I knew I liked biotech, but I wasn't really sure exactly what I wanted to do," he says. "Each class was different, so you can find your passion in a specific part of biotechnology."
Miraghazadeh also felt prepared for his internships because of the hands-on nature of the program. "When I went to the lab, I knew what this centrifuge is going to do, how to clean my hood, how to wear my gown—the simple things that I learned from a book, but now I went to the lab and practiced it."
Miraghazadeh has a special interest in the regulatory process, which has burst into the national spotlight with the development of COVID-19 vaccines. "I was explaining to all of my friends," he says. "They always call me asking what's going to happen with phase 1, phase 2, etc. I learned all that stuff in class, and now I see it in the real world."
He has also felt supported and welcome in the Shady Grove community and with his professors. Miraghazadeh formed a special connection with Antonio Moreira, vice provost for academic affairs, who taught five of his courses. "As vice provost, he's always busy, but he always made time for me when I had questions," he says.
Changing the face of biotech
All three students shared that UMBC and the Shady Grove campus helped them find their way. Staff members Abigail Granger and Chelsea Moyer smooth TLST students' transition from Montgomery College to UMBC and organize activities to help students connect with each other and the larger UMBC community. Grainger is assistant director of undergraduate recruitment and retention and Moyer is the director for UMBC at the Universities at Shady Grove.
Other key supporters of students in UMBC's biotechnology programs include lecturer and active biotech professional Jeffrey Robinson '99, biological sciences; Manik Ghosh, assistant director of the TLST program; and Annica Wayman '99, M6, mechanical engineering, associate dean for Shady Grove affairs in the College of Natural and Mathematical Sciences.
"All of my professors have supported me, but Dr. Robinson and Dr. Ghosh have been with us through all three semesters of the program, teaching different classes," Sirak says. Hipolito adds, "Dr. Robinson is really flexible in working with us, and very understanding when it comes to how some students work at different paces."
Wayman's leadership was instrumental in developing and implementing the TLST degree, and re-launching the MPS degree at Shady Grove. She firmly believes these intensive efforts have the potential to make a major difference.
"The impact is in the students we educate, who are often from underrepresented groups in STEM. It's also in the lives that will be saved through the work they will do after graduating from the TLST program," Wayman shares.  "Additionally, we are able to have impact by addressing the biotechnology workforce crisis in the region."
"Students leave the program with a greater business acumen and improved leadership and communication skills to complement their technical knowledge and advance their career," she adds.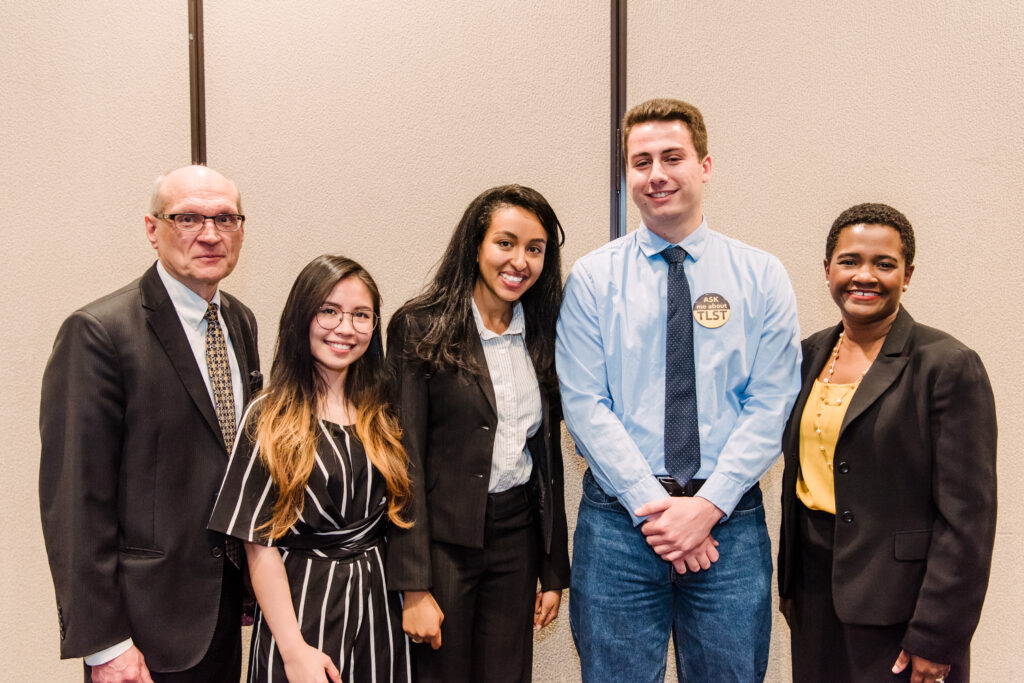 A journey begins
For Wayman, the new graduates' success is proof that her team's vision is already coming to life: students are gaining employment in a growing field, feel empowered to make an impact, and know that they have a close network of support.
And for students like Miraghazadeh, UMBC has been more than a degree—it's been a transformation. He came to the U.S. from Iran seven years ago, spent the first year improving his English, then attended Anne Arundel Community College before graduating from UMBC with his bachelor's degree. Now he's completing the biotech MPS with applied internships under his belt. He's formed meaningful relationships with mentors and peers, and he's confident and ready to make his own waves.
"UMBC for me," he shares, "was the place helping me to find out what I want to be."
Header image: Charmaine Hipolito (right) and Titina Sirak use the microscopes in a teaching lab at the Universities at Shady Grove. Photo by USG.
Tags: ClassOf2020, CNMS, ShadyGrove, TLST