This month, 11 Montgomery County residents completed a pilot Biotech Boot Camp offered by UMBC at the Universities at Shady Grove and Montgomery College. The participants were all people who had recently become unemployed or underemployed due to the pandemic. After four weeks of intensive, hands-on training in basic biotech techniques, they are now qualified to apply for in-demand, entry-level roles in the biotech industry.
While some industries have experienced significant setbacks and lost jobs during the pandemic, the biotech industry has seen explosive growth. Hundreds of biotech companies in the region are struggling to fill critical roles with qualified workers. The new program seeks to address this mismatch between available workers and available jobs. 
UMBC and Montgomery College partnered with WorkSource Montgomery to identify eligible participants for a skills-based introductory training course. With the support of the Montgomery County government, the experience was tuition-free for participants.
Setting people up to succeed in well-paying new jobs and simultaneously filling the gap in the biotech workforce "is a win-win that we're really excited to be a part of," says Annica Wayman '99, M6, mechanical engineering. Wayman serves as associate dean for Shady Grove Affairs in UMBC's College of Natural and Mathematical Sciences.
Leveraging skills
Some of the participants came to the program from lengthy careers in other fields, from sales to transportation. "We're looking for ways to tie what they used to do to biotech, now that they have these new lab skills," Wayman says. "We're trying our best to be matchmakers—we're racing to do that now."
Manik Ghosh, assistant director of the Translational Life Science Technology degree program laboratories at UMBC-Shady Grove, is the lead instructor for the boot camp. He is confident that the training he designed will set participants up for success. "If they get interviewed, and they get an opportunity to join a company, we are 100 percent sure that they are capable of entry-level work," he says.
Because they already have extensive work experience, some of the participants may quickly ascend into mid-level positions. These roles can be especially difficult for companies to fill because of a pipeline gap.
"Leveraging their prior skills could be a great way for them to build mid-level careers in biotech very quickly," Wayman says. A few have also already expressed interest in UMBC's Master of Professional Studies in Biotechnology, which would help them rise even faster.
Seizing opportunity 
When he heard about the project, "I got so excited!" recalls Ghosh, who also teaches courses on cancer biotechnology and biochemistry. His enthusiasm is impossible to ignore; his laughter and smile come easily as he recalls the experience of planning the boot camp and implementing it with the students. He described the planning group, including Wayman; Elizabeth Friar, TLST program director; and himself, as a "dream team."
Offering the boot camp in person was challenging during the pandemic, though, with everyone masked, gloved, and maintaining social distance. "It's a very dynamic and challenging environment," Ghosh says. But at the same time, "This was a great opportunity for us, because this is a pilot program. We got a lot of great experience for if we run another boot camp, so we can change accordingly."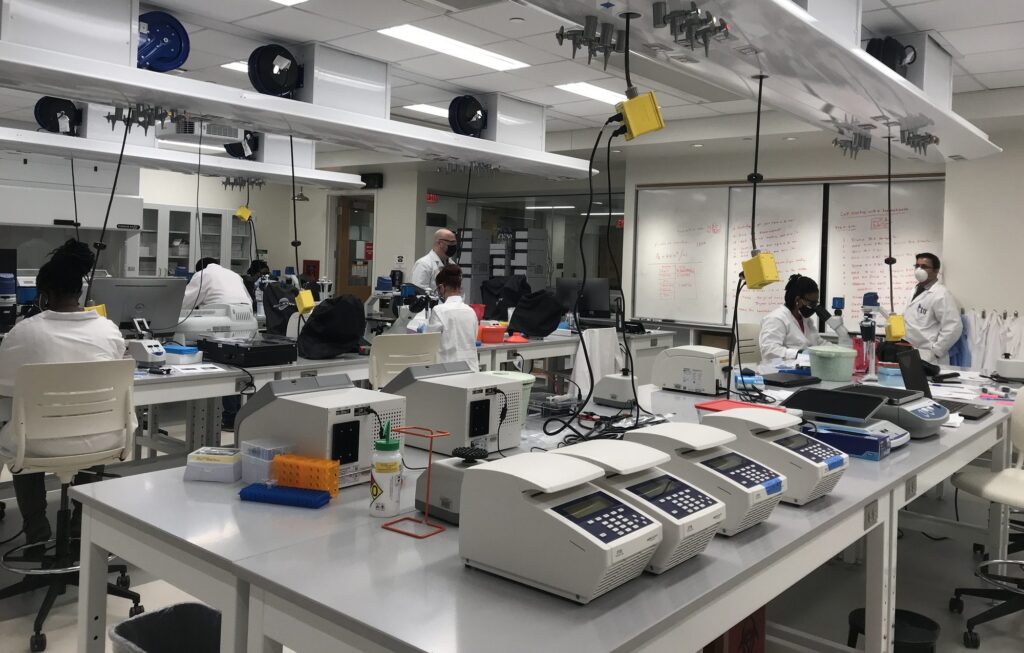 Optimism in a challenging time
On top of generating a blueprint for future programs, developing the students' lab skills, and supplying local businesses with qualified talent, the boot camp offered something even more valuable to the participants: confidence and optimism.
"It's been amazing," Ghosh says. "The first day, when they joined the boot camp, they looked nervous because they didn't know anything about biotech. But as time passed, we saw a significant change in their confidence level."
For the participants who identify with groups underrepresented in STEM, Wayman has been an inspiring presence. "Just me being an African American woman in the sciences has been encouraging for them to know that there are people like them succeeding in this high tech industry, so they can do it, too," she says. 
Wayman has also been working with the students on their resumes and supporting them through personal challenges. "It's been amazing to make these personal connections in such a short period of time."
Kevin Wiglesworth came to the program from a long career in sales. Now he's excited to blaze a new path. "The most exciting thing about camp was taking something I had no experience with and feeling confident in those skills when the camp was over. It proved to me I still have the ability to pursue a new career," he shared in a note to Ghosh after the program concluded. "Thank you again for all the work you put into teaching a newbie like me. I'll never forget that."
Working with students like Wiglesworth "is a great feeling, because I know we worked very hard, and they worked very hard with us," Ghosh says. "This is a very challenging time, and at the end of the day, we are very satisfied in our hearts because we helped the people who needed it."
Banner image: The exterior of the Biomedical Sciences and Engineering Building at The Universities at Shady Grove. Dedicated in 2019, the building contains the labs where the Biotech Boot Camp took place. Photo courtesy of USG.
Tags: CNMS, ShadyGrove, TLST