"UMBC is giving me the ultimate opportunity of time and support to think, write, and teach about what matters to me the most—conducting research about my community," says Fernando Tormos-Aponte, public policy and political science. He shares the same enthusiasm that Emily Yoon Perez, English, and Blake Francis, philosophy, have about their new appointments as 2019-2020 Postdoctoral Fellows for Faculty Diversity in UMBC's College of Arts, Humanities, and Social Sciences (CAHSS). 
The postdoctoral fellows are pursuing research in a broad range of topics. Perez researches diverse twentieth- and twenty-first-century texts. Francis studies the ethics of environmental problems. Tormos-Aponte focuses on identity and social movements. What connects them all is a dedication to pursuing research involving diverse communities and working closely with students who are eager to explore these subject areas.
Reflecting diversity in literary texts
Perez was born and raised in Baltimore by immigrant parents from Korea who were small business owners in Northeast Baltimore. She was constantly surrounded by the rich diversity Baltimore has to offer and saw that reflected in some of the texts she read throughout high school. "I read African American texts throughout my time in secondary and higher education, which provided an opening to explore other minority literatures," remembers Perez. In graduate school, she was able to take an African American literature course. This reaffirmed for her the desire to pursue an academic career in English, which was first inspired by Toni Morrison's writing.
Her current research areas focus on twentieth- and twenty-first-century literature, critical race theory, postcolonial and transnational studies, and feminist theory. Perez's book project is titled Little Intimacies: Race and Oceanic Migrations in Minority U.S. Fiction. It brings together transnational literary studies, comparative racialization studies, postcolonial theory, and ethnic studies.
"I choose to teach in a way that is inclusive. My courses always center on twentieth- and twenty-first-century authors from marginalized identities," shares Perez. "Diversity is also what is not seen—students may have jobs or take care of family members. They have lives beyond the classroom that I do not always know about. I use a range of assessments to allow students to show their mastery of the material in different ways and to be mindful of different modes of learning."
Her teaching mentor, Lindsay DiCuirci, English, notes Perez's background and research focus are a great match for the needs of UMBC students. "Emily's expertise in contemporary multiethnic U.S. literature and world literatures resonates with our students' desire to read literature that reflects their own diverse backgrounds," says DiCuirci. 
"Perez's Analysis of Literary Language course draws from writers like Audre Lorde, Ocean Vuong, Toni Morrison, Jhumpa Lahiri, and Viet Thanh Nguyen," DiCuirci notes. "She invites students to not only study literary form, but to think about how these forms enable writers to engage with subjects of race and ethnicity, belonging, sexuality, migration, family, language, and power."
Climate change responsibility
This sense of responsibility to students also drives Francis. He will be teaching a course on climate change and intergenerational justice social justice in the spring that explores issues of environmental racism.
Francis grew up in the southwestern U.S. with a great appreciation for the outdoors. When he identified as a masculine woman, he found it safer to be in distant natural environments, where he did not have to manage issues like which bathroom he could use.
"I began identifying as a transgender man around the time I decided to specialize in environmental ethics," shares Francis. "Protecting the wild places that have made me who I am is part of what motivates me to work on climate change, intergenerational justice, and environmental values."
In particular, Francis focuses on moral questions that come up in environmental policy and decision making, including the responsibility of nations to address climate change and what happens when they don't take responsibility. He is currently examining the responsibility of the U.S. to provide reparations for the victims of climate change and whether taxpayers should be responsible for underwriting those costs.
"I am committed to working across disciplines (including science, public health, and economics) to make progress on climate change," explains Francis. "I model this commitment to my students, and I design classes at the intersection of ethics, political philosophy, environmental studies, and economics, which are open to students from all backgrounds."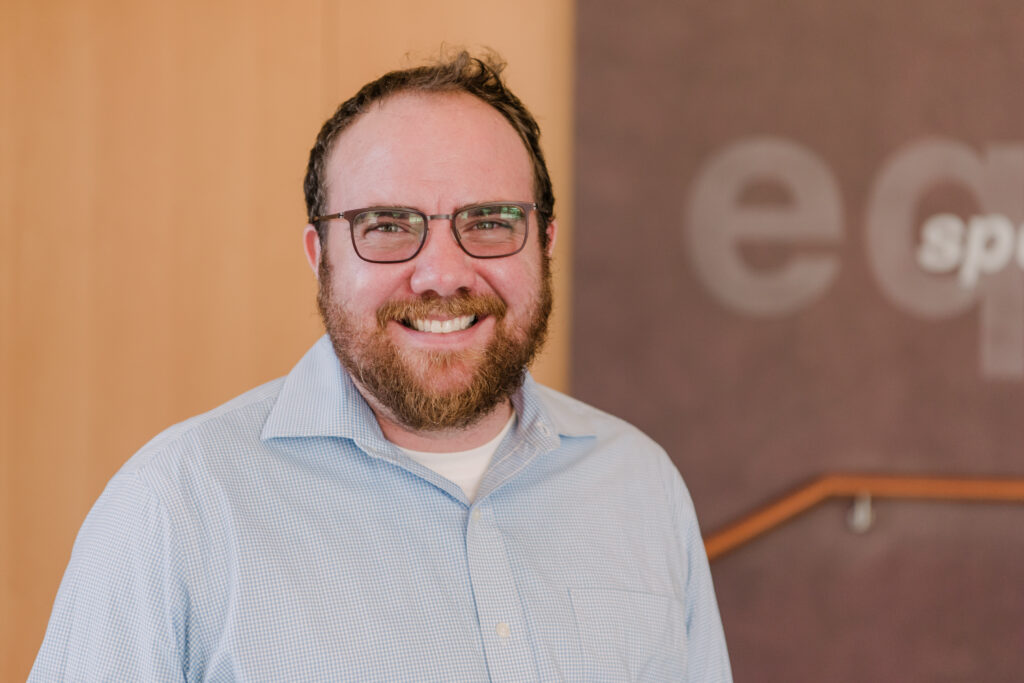 Francis hopes to build connections with scientists and social scientists at UMBC and other institutions in the region who are doing intergenerational work on environmental justice issues. "I've seen students at UMBC from across all majors gather to protest for sound environmental policy," he adds. "Successful political action on climate change requires an interdisciplinary approach. It won't make their message stronger necessarily, but it probably makes it smarter."
Jessica Pfeifer, philosophy, appreciates Francis's ability to work across different fields for the greatest impact. "Blake Francis's work has significant implications for how we balance different sorts of harms and goods and whether we can hold collective agents (such as nations and corporations) accountable for climate change," explains Pfeiffer. "He also helps build connections to other departments and programs on campus, including the Human Context of Science and Technology Program."
Identity and social movements
Climate change also underlies much of Tormos-Aponte's work. "I was born and raised in Puerto Rico," he shares. "You can't live in a place like Puerto Rico and not care about the beauty of this planet, the politics that drive it as well as who is impacted by it and who is ignored in that political process."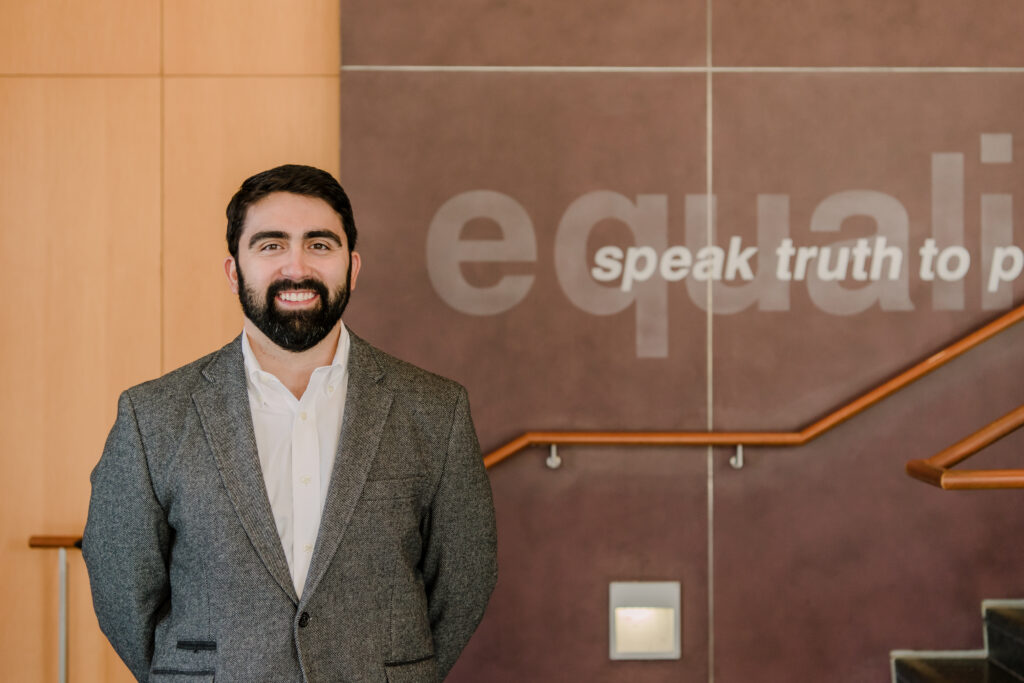 Tormos-Aponte spent time working on climate change research and social movements during the 2015 Climate Change Conference in Paris. While there he was able to join a delegation of indigenous people from all over the world protesting for their rights to be included in the climate change agreements. "You cannot separate identity and social movements," he says.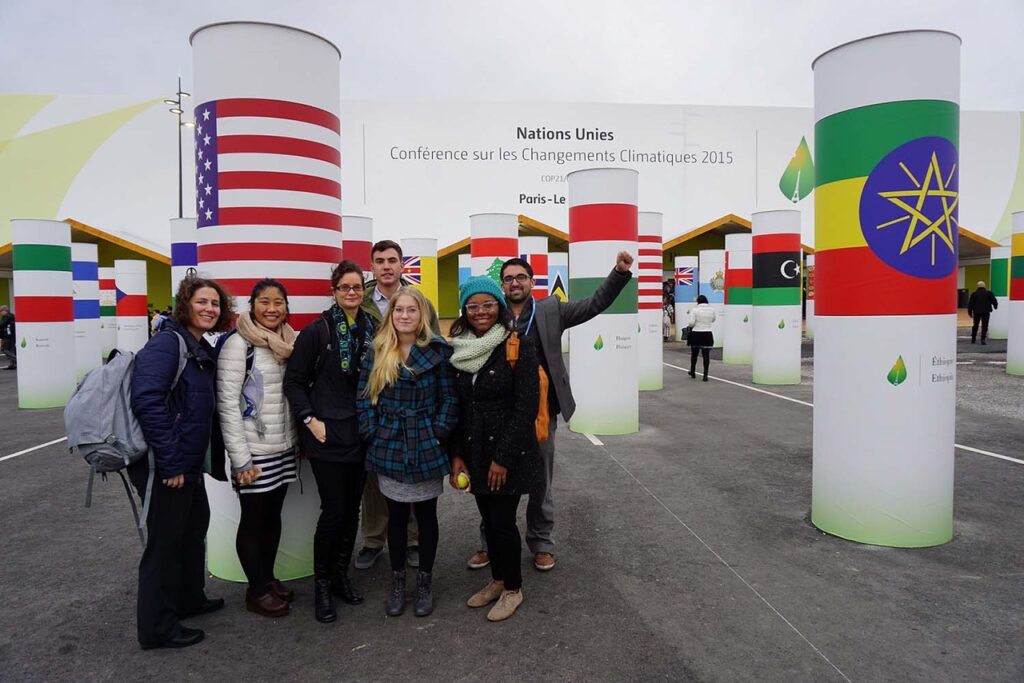 Professor Pamela Bennett, public policy, mentors Tormos-Aponte and sees him as an excellent model for students who want to learn how to combine their scholarly research interests with real-world engagement. "From his work on social justice movements such as Black Lives Matter to his work on climate change and the ongoing impact of Hurricane María in Puerto Rico, Fernando's research engages with a range of issues that are vitally important to the Baltimore metropolitan region, the state, and around the world," says Bennett.
For all the fellows, accepting the opportunity to come to UMBC as a postdoctoral fellow was not only about exploring their research in an inclusive scholarly community but also about finding a home for themselves that is open to their many identities and affiliations. 
"Being at UMBC is about being able to be myself," says Tormos-Aponte, "to be proud of my heritage and its positive influence on my research."
Banner image: (L to R) Francis, Perez, and Tormos-Aponte at UMBC. All photos by Marlayna Demond '11 for UMBC unless otherwise noted. 
Tags: CAHSS, diversityandinclusion, English, Philosophy, PoliticalScience, PublicPolicy, Research