Hulon Morgan '18, graduating from UMBC this month with a degree in psychology, remembers growing up seeing his mother's commitment to helping her congregation. He learned how to reach behind him, in front of him, and to the side to help as many people as possible. And he carried those values of service and connection when he enlisted in the Air Force and throughout his college career.
Morgan is one of many UMBC students graduating this December who exemplifies the Retriever spirit of building connections and community by offering a compassionate ear, a helping hand, and a voice of support when it is most needed. Together, these students have created a more inclusive, accessible, and supportive UMBC for everyone, and they continue to reach together to help UMBC grow.
Who I am
After attending Howard Community College, Morgan came to UMBC with a sense of possibility, but also uncertainty. "I didn't know what I was going to do," the psychology major recalls. "UMBC had a lot of freedom. It was a culture shock for me."
To find his grounding, Morgan turned to a meaningful constant in his life: building a supportive community. He focused on helping peers in crisis, offering education and intervention on mental health issues, and becoming a leading advocate for suicide prevention.
Morgan volunteers as a crisis counselor for Crisis Line, a nationwide text hotline, and has already managed over 100 crisis texts this year. He also planned and led UMBC's 2018 Out of the Darkness Campus Walk for suicide awareness and prevention. Organizers started with a goal of raising $2,000 and getting 50 participants. Ultimately, says Morgan, "We raised over $5,000 with the American Foundation of Suicide Prevention and had over 100 people attend."
While at UMBC, Morgan has also worked as a peer health educator, leading workshops and providing resources on sexual and mental health for peers across campus. When he began this work, Morgan didn't realize service would help him find a passion for health education and promotion. He says, "I just knew that I wanted my time at UMBC to count."
Jasmine Abrams, assistant professor of psychology, has seen Morgan's drive first-hand, through his time in her lab. "He always showed up to his community work with passion, enthusiasm, and thoughtful curiosity," she says. "I have no doubt that he will be a strong contributor to health promotion and equity in the coming years."
Morgan, an Honors College student, has also taken the time to connect with prospective and incoming transfer students, sharing his experience at university events and one on one. "I want other students to know that they don't have to go through the same culture shock," he says. "UMBC has a lot of resources for them."
Soon, Morgan will return to full-time status in the Air Force as an education and training manager. Like his fellow Retrievers, he expects to continue reaching out and building community beyond UMBC. "If someone needs help, I'll be there," he says. "Sign me up. It is who I am."
"Why not?"
If you ask Shannon Cole '18, biological sciences, why she has focused so much time and energy on community work for nearly a decade, she will smile shyly, shrug her shoulders, and ask you, "Why not?" After a pause, the Sondheim Public Affairs Scholar and Honors College member shares, "I am drawn to building relationships and understanding others. Volunteering is not something I plan."
Beyond her academic work, Cole has participated in the Global Brigades student organization and in the College Journey Upward Mentoring Program (College JUMP), which is a partnership between the Refugee Youth Project and UMBC's Shriver Center.
With Global Brigades, Cole traveled to rural Nicaragua and helped set up medical clinics, drawing on her rigorous attention to detail, organization, planning, and research skills. The experience had a profound impact on how she understands disparities in access to medical care. "It gave me a new perspective on healthcare access," she says, "serving people who walked 30 miles to reach our clinic because there was no regular access to healthcare."
Through College JUMP, which supports refugee youth in Baltimore, Cole mentored two young women from Burma as they prepared to apply for college. "I enjoyed connecting with them and learning about their culture and getting a different perspective," she shares. "I remember struggling when I applied to college. I am glad I could help." The young women were both successful in their applications, earning admission to the University of Baltimore and Community College of Baltimore County.
College JUMP also offered Cole an opportunity to continue working with the program as a fundraising specialist in her last semester. "She has truly helped College JUMP, which is only in its fourth year, grow stronger," says Eloise Grose, assistant director of applied learning and community engagement in the Shriver Center.
After graduation, Cole will continue research and data analysis work at the Food and Drug Administration.
Meaningful connections
For economics major Charra Wudtee '18, coming to UMBC was an opportunity to grow in new directions, and building community became a big part of that. "I wanted my college experience to be drastically different from my high school experience," she explains, "I wanted to connect with as many people as possible."
Wudtee, a member of the Honors College, has built a vast network of peers, faculty, and staff members all committed to growing supportive communities, both on and off campus. Her desire to make meaningful connections led her to teach English and literacy to immigrants through Baltimore's Esperanza Center, serve as an eco-ambassador for UMBC sustainability programs, and establish a day of service for freshman in the Honors College, in partnership with Civic Works.
Wudtee has also felt connected and inspired through relationships she has built as an orientation peer advisor and resident assistant. She shares that deep, meaningful, and difficult conversations with others have helped her feel successful and supported, even when coping with challenges or failures along her journey. She has channeled this feeling into supporting incoming Retrievers, saying, "I wanted students new to campus to know that someone remembers, knows, and supports them."
Wudtee will next join Morgan Stanley as an operations analyst.
Legacy
Daniel Willey '18, a third-generation Retriever, is a leading advocate for helping all students feel included and supported in being their authentic selves at UMBC. But just six years ago, they couldn't have imagined the path they'd take to get here.
"I never met a gay or trans person before UMBC. Where I come from if you were gay you didn't tell people," says Willey. "My first year at UMBC was my first time living as an out person. I was in the process of forming my identity and choosing my pronouns. It was terrifying but I had to do it."
Willey found a supportive community that welcomed their voice through their work as part of the executive board of the Freedom Alliance, QUMBC, and serving on the Queer Leadership Council and the Campus Climate Workgroup. Through those leadership roles, they identified opportunities for the university to improve inclusion and support for transgender and non-binary students, such as through improving access to all-gender bathrooms.
"When you are worried about how people are going to perceive you, the safety of the situation, how comfortable you will be, using the bathroom becomes something you worry about," explains Willey. "If I go into the women's bathroom, are they going to tell me I'm in the wrong bathroom? If I go into the men's bathroom, am I going to be unsafe?"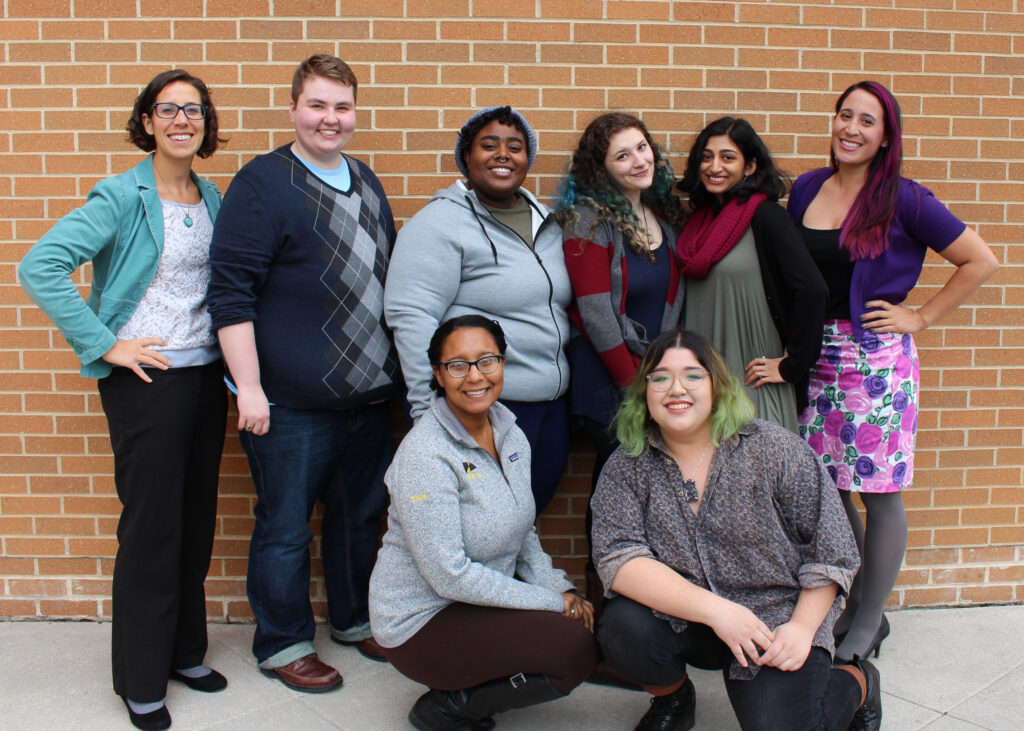 As an intern at the Women's Center, Willey helped facilitate Rebuilding Manhood, a group for men to explore ideas about manhood and to analyze cisgender privilege. They also facilitated Spectrum, a group for transgender and non-binary students.
"I wholeheartedly believe the Women's Center would not be the community space it is today without Daniel's legacy of courage and accountability," says Jess Myers, director of the Women's Center. "Daniel constantly embraces courage, authenticity, and accountability in themselves, and it's impossible not to embrace those same qualities after working with them."
Beyond community groups, Willey, a gender, sexuality and women's studies major and a member of the Honors College, also encourages students to take the time to explore these issues in the classroom. "I tell everyone I meet to take gender and women's studies class before graduating. You can't walk away from that class the same person you were when you walked in."
Willey who looks forward to continuing a career as an early childhood educator. "I take with me the support of a community that helped raise me," they say, "and the skills it equipped me with to continue to create change in any community I am part of."
December commencement ceremonies will be livestreamed through both the UMBC Commencement website and UMBC Facebook page. Share well wishes for our grads using #UMBCgrad and #UMBCproud.
Banner image: Hulon Morgan talks with peer health educators at a UMBC workshop. Photo by Marlayna Demond '11 for UMBC.
Tags: Biology, CAHSS, CNMS, diversityandinclusion, Economics, GWST, HonorsCollege, Psychology, ShriverCenter, WomensCenter