UMBC celebrated the start of its 50th anniversary year with a high energy Welcome Week greeting 2,800 new students and with a landmark newspaper headline: "A Catonsville university turns golden."
As new freshman and transfer students began their UMBC journey, President Freeman Hrabowski shared with Catonsville Times reporter Jon Bleiweis what first drew him to the university. "There were a lot of high-achieving people here who wanted to be rebellious and crossing disciplines and solving problems," Hrabowski said. "I wanted to be a part of that story."
The article highlights UMBC's growing national reputation in both teaching and research, including the most recent U.S. News & World Report rankings, which placed UMBC fourth in the nation in innovation and sixth in undergraduate teaching, in a list dominated by Ivy League schools.
"What they say," Hrabowski told the paper, "is we are the national model for the combination of academic innovation and inclusive excellence, a place where students can come from all over the world — and from Catonsville — and do superbly."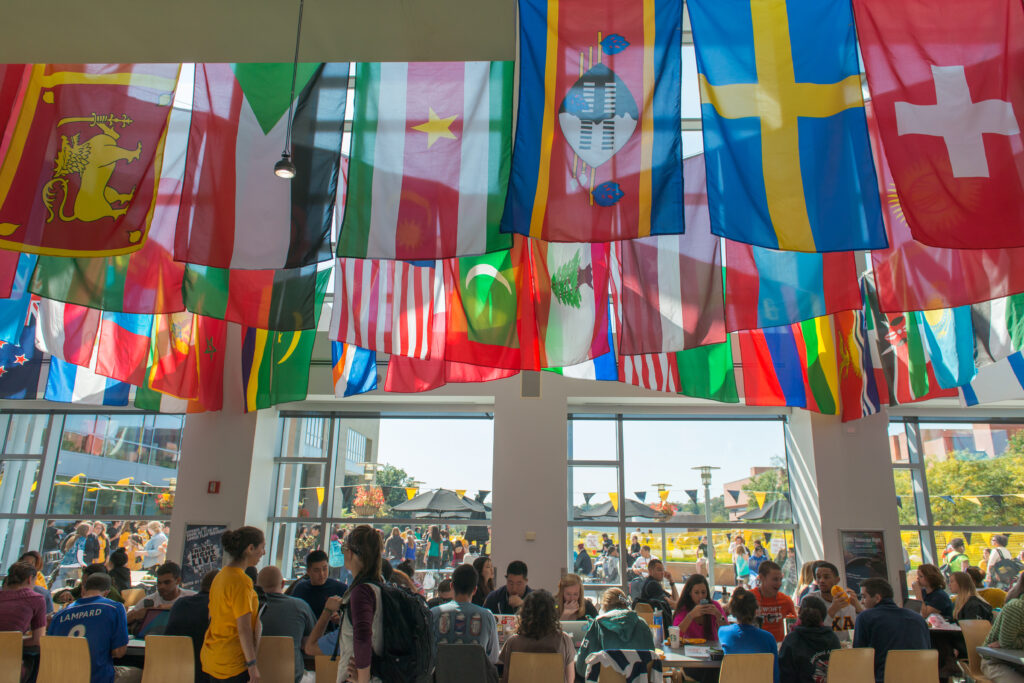 For President Hrabowski and others in the UMBC community, that sense of innovation and excellence applies both within and outside of the classroom. Bleiweis writes, "Hrabowski defines academic innovation as the ability to say tomorrow can be a better day," and says, "a UMBC student represents hard work, perseverance, resilience and a willingness to never give up."
Repeating a refrain familiar to UMBC students, Hrabowski emphasized, "If there's one thing we want people to remember, is that success is never final. We are constantly working to be better."
This theme of striving for greatness on a daily basis, through grit and determination, emerged again and again throughout the start of the semester, from the comments of new students to faculty and staff at the Fall Opening Meeting, to remarks by campus leaders during Convocation, to social media posts throughout Involvement Fest, where students encouraged one another to follow their passions, getting involved in organizations and issues that matter to them (#UMBCifest).
Ana Maldonado, an incoming Ph.D. student in psychology, spoke about her experience as a first-generation college student at UMBC's Fall Opening Meeting. "I see education as a really big privilege," she said. "Every success I've had I see as an accomplishment for my whole family…From zero schooling to Ph.D. in one generation is something I'm proud of and that my family is very proud of."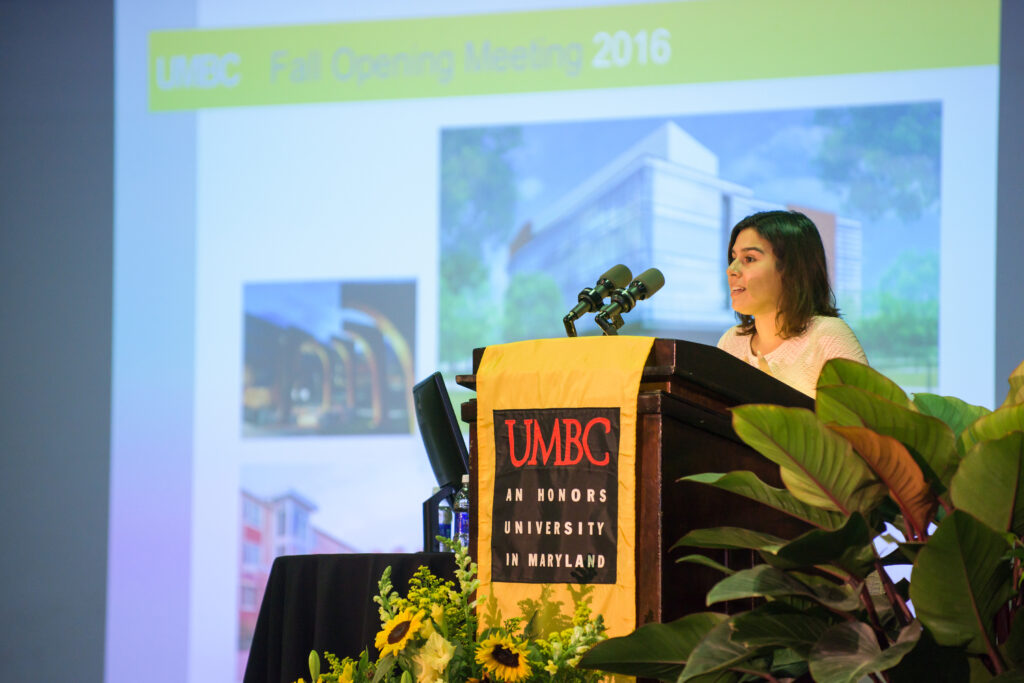 Maldonado plans to research intimate partner violence, and came to UMBC as a Princeton graduate after gaining earlier research experience with UMBC's Chris Murphy, professor and chair of psychology. "I've only been here a little while, but I already feel at home," she shared.
Her comments and intended area of research resonate with how UMBC students, faculty, and staff have described the university community's shared values. Hrabowski explained to Bleiweis, "What we like about UMBC and our values is that we really are focused on the idea of supporting those in the community and helping students to think not just about making a lot of money, but what difference you will make in the lives of other people."
Jasir Qiydaar '18, media and communication studies, details what this means for him in a new City Paper College Guide commentary, "A UMBC student group strives to do community partnerships right." Qiyaaar describes how his experience growing up in Baltimore shaped his sense of the benefits and limitations of university/K-12 partnerships, and inspired him to co-create the Charm City Connection with fellow UMBC students. He explains, "university involvement in surrounding communities is essential and admirable, but only if it's done correctly."
"The community's needs have to be put first in any initiatives that are carried out," Qiydaar says. He describes working with UMBC's Shriver Center to make the program a reality, combining the strengths of the center's "track record of considerate community interactions" and longstanding relationships with area schools, with his and his collaborators' "personal connections to Baltimore."
UMBC alumna and program assistant Poulomi Banerjee '16, health administration and public policy, also grew up near the university, and spoke with the Catonsville Times about her sense of UMBC's growth at this historic golden anniversary moment. Banerjee shared, "I know we've been up and coming for a long time, but I think we're finally here and we're ready to show everyone what we can do."
For President Hrabowski, the 50th anniversary is both a community celebration and an opportunity for personal reflection. At Convocation on August 30 he shared the story of one recent graduate who, when he asked what she was planning to do next, responded, "I'm going to change the world."
President Hrabowski then said to the packed auditorium of new UMBC students, as well as faculty and staff:
There is my challenge to each of you – to think broadly, to dream about the endless possibilities for your own lives, and to prepare to change the world. The ineluctable question is, What will you do during the next 50 years of your life? Dreams and values. Welcome to UMBC.
Read "A Catonsville university turns golden" on the Baltimore Sun website, and watch the moving video that accompanies the story.
Learn more about UMBC's 50th anniversary and the upcoming celebration weekend, expected to bring thousands of Retrievers and their families to campus.
Images: True Grit at UMBC Involvement Fest 2016 (header); flags representing the nations UMBC students hail from, in the UMBC Commons (top); Ana Maldonado speaking at 2016 Fall Opening Meeting. All photos by Marlayna Demond for UMBC (bottom).