Summer internships and service-learning offer college students experience and professional networks that can help them succeed in competitive career paths and graduate programs. UMBC prioritizes connecting students with paid internships whenever possible, and is successful in meeting this goal with 75 percent of placements. But not all organizations are able to offer paid internships, and this means that students with financial constraints may not be able to access career-advancing opportunities.
To tackle this roadblock, UMBC's Career Center and Shriver Center partnered in 2018 to create the Student Internship and Service Fund to offer stipends to students interested in otherwise unpaid internship and service opportunities. The program launched a campaign through UMBC's crowdfunding platform, Gritstarter, and generated enough support to offer six stipends in its first year, selected out of a highly competitive pool of 70 applicants.
"We are grateful to the alumni, UMBC community members, friends and family who donated to the Student Internship and Service Fund," says Kacie Lawrence, associate director of internships and employment. "Their support made it possible for these students to pursue incredible summer opportunities, gain professional experience, and make an impact in their communities."

As a captain of UMBC women's basketball team, Tyler Moore '20, psychology, knows the importance of leadership skills. That's why she took her talents to the Special Olympics Maryland (SOMD) this summer to help with their Athlete Leadership Program. Moore worked to redesign an online captain's course to help athletes to get certified by SOMD.
"It allowed me to put what I know about leadership into a format that can be shared with others," says Moore. "This not only enhances my own leadership skills, but gives me the opportunity to help those around me become leaders themselves." She plans to apply this experience to a future career in sports psychology.
Emily Chetelat '20, interdisciplinary studies, spent her summer outdoors giving local students the opportunity to explore the environment. "SuperKids Camp aims to address the loss of academic skills that occurs when children lack access to academically enriching experiences during long breaks, known as the summer learning loss," Chetelat explains.
This summer was Chetelat's second time volunteering with SuperKids Camp, making the decision to return because she "found the experience to be incredibly enriching for both myself and the students I worked with." The internship connected directly with Chetelat's future career goal of helping to support Baltimore neighborhoods and increase children's access to green spaces and environmental learning opportunities.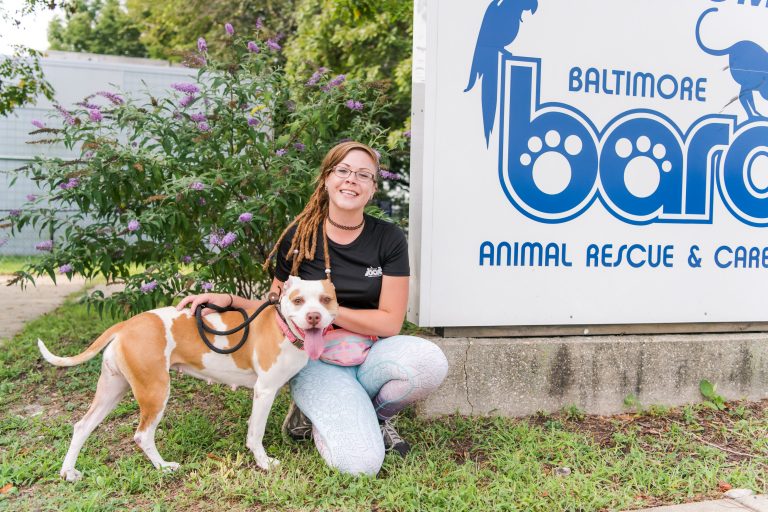 Laryssa Blanchard '19, psychology, began volunteering at Baltimore Animal Rescue and Care Shelter (BARCS) in fall 2017 as part of a service-learning experience, and she has continued her work there while exploring a possible career path in animal behavior.
"The Student Internship and Service Fund allowed me to be able to commute to and from the shelter two-three days a week, and made it possible for me to help BARCS during a time of the year when volunteers are scarce," says Blanchard. "College students often struggle when it comes to wanting to give back to their communities, or taking on unpaid internship experiences, because as students we know that we need to finance our education in order to pursue our dream careers."
Blanchard will continue working with BARCS as a student coordinator through UMBC's Shriver Center this fall. She'll be responsible for training and transporting a new cohort of service learners helping to guide prospective pet owners through the adoption process.
Future prosecutor Samiksha Manjani '19, political science and sociology, spent her summer in Washington D.C. interning for the Child Protection Section of the Family Services Division of the Office of the Attorney General.
"UMBC's Student Internship and Service Fund allowed me to pursue an internship I cared deeply about," says Manjani. "I was able to experience working in D.C. alongside attorneys and got to truly experience what working for the government would be like."
Manjani was able to get a broad sense of each stage of a child welfare case, including the difficult processes of removing a child from a parent or guardian in cases of neglect and finding them a safe and secure home placement. In her role, she curated evidence, filed motions, and discovered facts that would help attorneys general build cases. In addition to gaining experience and skills, she developed relationships with mentors who will help her progress in her career.
Aubrey Livi '19, sociology and economics, returned to Brinkbit, Inc., a custom software development studio, for her second summer. Through an initial internship in 2017, Livi offered marketing support to the entrepreneurs behind the burgeoning company, but a year later, she says,"Because the company is still growing, they were only able to offer me an unpaid internship. I definitely wanted to return and work with them again, but I wasn't sure if I could afford to."
Seeing an opportunity through the fund, Livi applied and was granted a stipend to expand her work with the company. She spent several weeks creating original content, visuals, brand positioning, and design to help the local firm be competitive in a highly competitive sector. She hopes to pursue a career in market research.
Scott Sainz '19, theatre, has been captivated by the Glyndon Area Players (GAP) since seeing their performance of The Little Mermaid in 2016. He didn't even make it to the end of the show before tracking down the lighting designer and introducing himself. From there, Sainz began volunteering with the small theatre company in Reisterstown, Maryland, assisting with their next production from build to strike. When the opportunity arose to turn this experience into an internship for 2018, Sainz was intrigued but didn't feel he would be able to commit to an unpaid summer.
"I think the problem UMBC Career Center and the Shriver Center recognized is that all unpaid interns grapple with the fact that unpaid often means sacrifice—sacrificing our apartments, credit, savings, and parents' savings. For many of us, we aren't only unpaid, but we lose money in transportation, supplies, and the potential to have a paycheck," explains Sainz. "The question I was faced with is do I sacrifice everything for a career advancement, or do I stay at my paying job and sacrifice the career opportunities?"
With the help of the Student Internship and Service Fund, Sainz was able to pursue his theatre lighting ambitions, working start to finish on GAP's summer production of Hello, Dolly! He earned hands-on experience and expanded technical knowledge in rigging, load calculation, genie lift practice, and other skills.
"I have spent my whole life wanting to control lighting for an audience and give them an experience they can't forget," Sainz shares. "I am confident that we did that this summer at GAP."
"Contributions to the Student Internship and Service Fund broaden opportunities for our students to deepen their learning and make contributions in ways that might not have otherwise been possible," says Lori Hardesty, associate director, applied learning and community engagement. "Generosity from students, faculty, staff, and alumni continue to make a difference for others." For more information and to support this initiative, visit the fund's Gritstarter page.
All photos by Marlayna Demond '11 for UMBC unless otherwise noted.
Tags: CAHSS, Economics, interdisciplinary, PoliticalScience, Psychology, SAPH, ShriverCenter, Theatre