Note: This story has been updated from the original February 3 version.
UMBC Mock Trial has earned its second consecutive bid to the American Mock Trial Association's Opening Round Championships (ORCs). The major accomplishment comes after the team earned the second overall bid out of 24 teams at the Baltimore Regional Tournament held February 27-28 at the University of Maryland.
In addition to the team's overall success, "A" Team attorney Kayla Smith and witness Zachary Garmoe earned All-Region Awards, and "B" Team witness Lily Felber also earned an All-Region Award for her portrayal of the defendant. The "B" Team also won or tied on multiple ballots and had several close rounds against strong national competition.
"What the UMBC students accomplished this past weekend is nothing short of extraordinary," shares UMBC Mock Trial Coach Ben Garmoe '13, political science. "The students worked as a team on a level I had not seen this year; simply put, they found another gear. I am beyond excited for the future of the team and program."
The ORCs will be held in Washington, D.C. on March 19-20 at the E. Barrett Prettyman Federal District Courthouse. UMBC Mock Trial will join teams from around the region to compete for a bid to the National Championship Round.
Earlier this year, UMBC Mock Trial's "A" team finished in 1st place at the inaugural Charm City Classic Mock Trial Invitational, held January 30-31 at Stevenson University. The tournament included teams from UMBC, Stevenson, Johns Hopkins University, and the University of Maryland.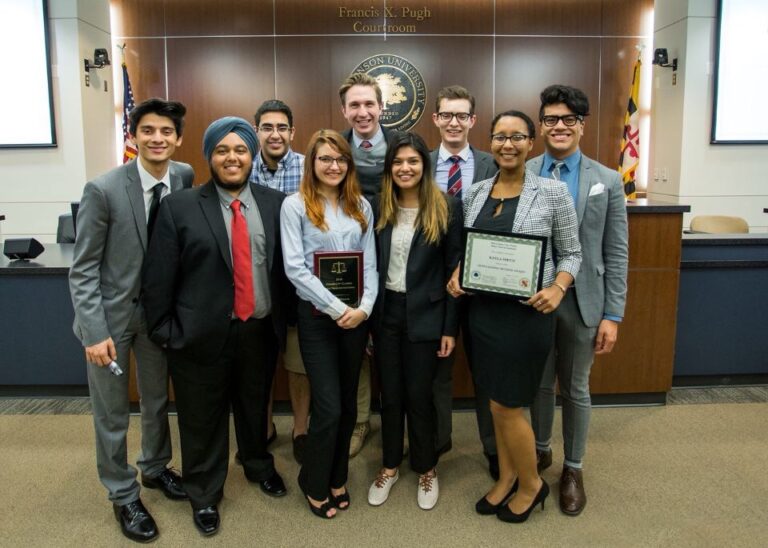 "The Charm City Classic is exciting not just for the results – this was the first time that UMBC hosted a mock trial tournament. We co-hosted the Classic with Stevenson University, and the plan is to make this a yearly event. Hosting an invitational will continue to grow UMBC Mock Trial on a national level as we seek to improve and achieve," shared UMBC Mock Trial President Cheyenne Smith '16, biology and psychology after the tournament.
The UMBC Mock Trial "B" Team also competed in the tournament and won the Spirit of the American Mock Trial Association (AMTA) award, an honor given to the team that best exemplifies the spirit of collegiality and professionalism at a tournament.
Additional honors for the "B" team included an Outstanding Witness award given to witness Lily Felber, in her first year of mock trial, for her portrayal of the defendant. "A" team members Kayla Smith and Zachary Garmoe also won Outstanding Witness awards.
For more information on the Charm City Classic and to view additional photos, read "Stevenson, UMBC host inaugural Charm City Classic Invitational Tournament" on Stevenson University's news site.
Header Image: UMBC Mock Trial "A" team at the Baltimore Regional Tournament. Photo courtesy Ben Garmoe. 
Tags: Biology, CAHSS, Psychology