"This year's team, they're not afraid of anyone," says Ben Garmoe '13 political science, adjunct professor and head coach of UMBC Mock Trial. "They will go into every round knowing they have a shot."
UMBC Mock Trial will compete in the semifinals of the American Mock Trial Association's (AMTA) annual national tournament, March 20 and 21. Garmoe's confidence in the team is rooted in their strong performance this season, capping years of steady growth into a national powerhouse. 
The team began 2002. Early members included students like Alicia Wilson '04 and Aaron Merki '05, both political science, who went on to prestigious law programs and careers. After a 2009-2010 hiatus, the team came back with a vengeance in 2011. They've competed in the semifinals, known as the Opening Round Championship Series (ORCS), every year since 2013, and advanced to the National Championship Tournament (NCT) three out of the past four seasons.
UMBC Mock Trial is currently ranked 24th in the nation. The university's A Team went 8-0 in regional competition leading up to the semifinals, beating schools like the University of Chicago and the University of California, Irvine.
Previous ORCS were geographically based, but this year's online format allows UMBC to compete against a national field. Garmoe and the team appreciate the opportunity to go head to head against a wider range of top schools.
Preparing for online competition
To prepare for competition in the new online format, Garmoe took UMBC Mock Trial back to the basics. The differences in competing online and in person forced the team to rethink aspects of their performance. For example, Garmoe explained that making eye contact and holding a judge's attention work differently in the Zoom environment.
"Over the course of this season, students have paid attention to those little details," says Garmoe. And adjusting to the needs of a trial through Zoom has helped UMBC gain an advantage, explains Thomas Azari '22, political science. 
Anzari is team vice president and recipient of several outstanding attorney honors. "We try to be as human as possible," he says. "I think the thing that separates us from some other teams is we are both focused and relaxed. We make a joke out of technical issues like forgetting to unmute or mute. You just laugh it off and you move on."
Bringing together top talent
Azari points to UMBC Mock Trial President Sydney Gaskins '21, political science, as another key asset to the team. Azari appreciates every opportunity to watch Gaskins compete since she is such a high caliber competitor.
Among Gaskins's dozens of honors is an All-American Attorney award from a prior AMTA National Championship Tournament. She also earned Best Cross Examination honors and was named a finalist in the 2020 Drexel/UCLA Trial by Combat competition. Anzari can't wait to see what she achieves in her final season of collegiate competition.
UMBC Mock Trial's four witnesses are also essential to the team's success. "We have four of the most likable witnesses in the country," says Azari. 
Two of those witnesses are freshman Maria Kutishcheva, political science and Russian, and sophomore Zinedine Partipilo Cornielles, political science and financial economics. Partipilo Cornielles describes the UMBC Mock Trial team as a family. To him, the team's sense of connection allows them to play on each others' strengths and performances.
"We act as a unit, as a team," says Partipilo Cornielles. "We're all parts of this moving mechanism. The fact that we are a family really helps us and sets us apart from other teams. Some other teams might be too individualistic, but one thing we are really lucky to have is this sense of teamwork."
Focus on the team
For each member of UMBC Mock Trial, the focus is always on the team. Even in the individual Trial By Combat 2020 competition, Gaskins shared, "The virtual tournament was not only a much needed opportunity to reconnect, but to also make my team proud."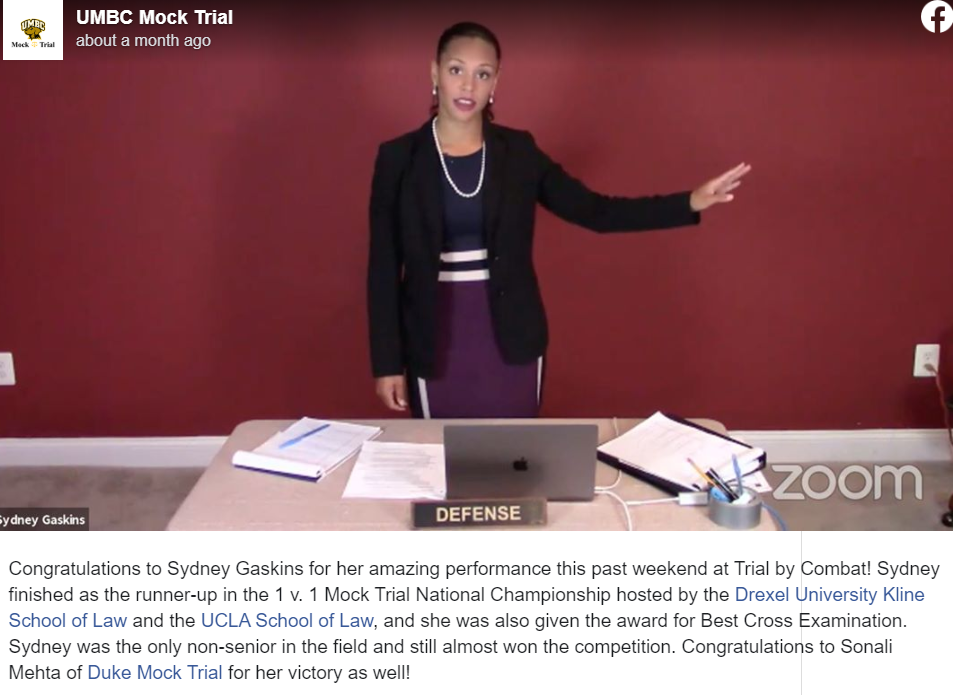 Extending that idea, Kutishcheva points to inclusivity and supportiveness as strengths of UMBC Mock Trial. She explains that the team truly cares for one another, and members help each other out beyond team practice. 
Kutishcheva also appreciates the diversity of the team. She has noticed that some universities' teams don't reflect the racial diversity and diversity of majors on their campuses. "But UMBC's diversity is reflected here on our team, and that makes me especially happy," says Kutishcheva.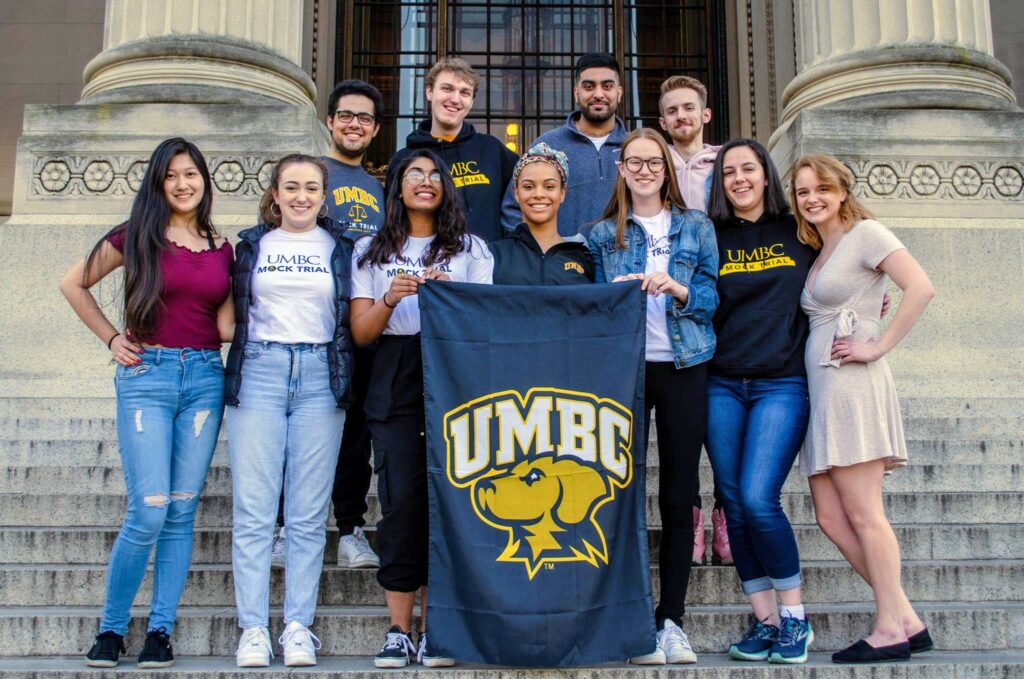 "I genuinely believe that this team is a uniquely UMBC story," says Garmoe—a story of inclusive excellence. "I think, over the last five, six years, what we've grown into is a testament to what this school has built itself to be."
---
Update 3/22/2021: UMBC Mock Trial has advanced to the AMTA National Championship Tournament, where they will compete April 16-18.
---
Featured image: UMBC Mock Trial's 2017 trophies. Photo by Marlayna Demond '11 for UMBC. All other photos courtesy of UMBC Mock Trial unless otherwise noted.
Article by Morgan Casey '22, media and communication studies, for UMBC News.