In the wake of March Madness, UMBC men's basketball is now on the edge of another monumental achievement. UMBC's bracket-busting win over University of Virginia at the NCAA tournament has been nominated for an ESPY Award as the "Best Moment" in sports this year. Fan votes through ESPN's website will decide the winner, and members of #RetrieverNation are voting daily to help UMBC claim victory.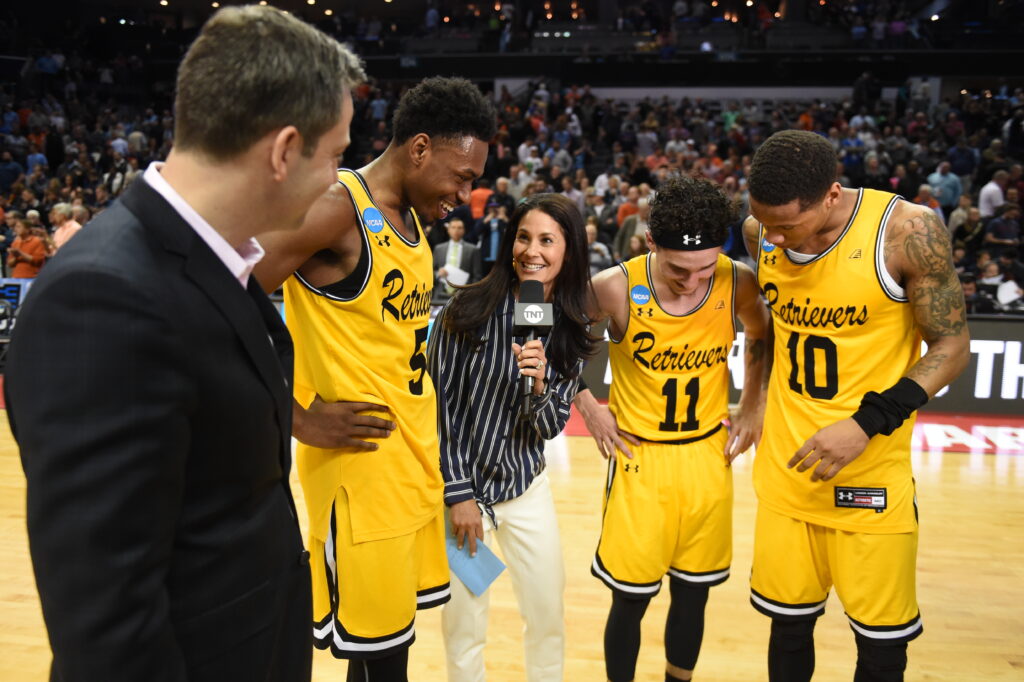 The 26th annual awards show will be on Wednesday, July 18 at 8 p.m. EST, airing on ABC and WatchESPN. Retriever fans tuning in will see familiar faces. Coach Ryan Odom and members of the squad will walk the red carpet at Microsoft Theater in Los Angeles, California.  
"We're honored to even be nominated for such a prestigious award. You're talking about moment of the year in sports, that's a pretty big thing," said Coach Odom. "[We're] honored to be mentioned amongst the other nominees who had spectacular seasons and individual moments that captivated the sports world."
This one shining moment for UMBC has helped to catapult the team and the university into the national spotlight and resulted in tremendous outcomes. Standout player Jairus Lyles '17, sociology, has been working hard and enjoying success as a member of the Utah Jazz Summer League. Building on an already successful program, the men's basketball youth summer camp doubled in attendance this year and continues to grow.
Even with such a monumental event on the horizon, Odom is constantly looking ahead to what's next for his players and team.
"We're excited and we're gonna have fun with it because it's kind of the final thing before we can move on to next season," he said.
The UMBC men's basketball 2018-2019 schedule will be released shortly. Already scheduled is the inaugural Bimini Jam in the Bahamas, where UMBC will face the U.S. Air Force Academy in the tournament's opening game on November 16, 2018.

Additional coverage about UMBC's ESPY nomination is available through the Baltimore Sun. Fans are invited to keep voting daily, up until the awards show airs. Share photos of how you're cheering on UMBC on July 18 using #RetrieverNation on social media.
Banner image: True Grit joins in on March Madness celebrations at the Event Center. All photos by Marlayna Demond '11 for UMBC unless otherwise noted.