Decked out in black and gold, Retriever fans cheered ecstatically on Tuesday afternoon as the UMBC men's basketball team set off for game one of the NCAA tournament—the team's first in a decade. The team now heads to Charlotte, North Carolina to take on the University of Virginia (UVA) on Friday, March 16 at 9:20 p.m. EST (see full game details).
The game follows a stunning 65-62 victory on Saturday, March 10, where UMBC dethroned the University of Vermont (UVM) and took the America East Championship crown for the first time since 2008. Jairus Lyles '17, sociology, M.A. '18, education, led the Retrievers with 27 points. The NCAA called his winning three-point shot, made with just seconds on the clock, "March Madness at its finest," and video of that moment has been shared by everyone from ESPN Sports Center to Sports Illustrated.
UMBC took down Vermont for the first time in over a decade IN DRAMATIC FASHION… and punched a ticket to the tourney! pic.twitter.com/j409FUMkZp

— SportsCenter (@SportsCenter) March 10, 2018
"That's a shot I've been working on all season—after practice, before practice," Lyles revealed, in PressBox coverage of the contest. UVM coach John Becker said of Lyles's performance, "He was the best player on the court…he was tremendous."
"I'm so proud of these guys," head coach Ryan Odom shared just after the team's championship victory. "From the day that I stepped on campus, they have tried to win every day. You have to earn the right to win and these kids did that."
The win was a major upset for the heavily favored Catamounts, and thrilled Retriever Nation fans tuning in worldwide. UMBC Athletic Director Tim Hall said after the game, "Words can't describe the surreal feeling an accomplishment like this evokes."
Since the win and the announcement that UMBC would take on No. 1 seed UVA next, there has been even more news for the team to celebrate. UMBC's Joe Sherburne '19, financial economics, has been named to the Academic All-America Division I Men's Basketball First Team. Sherburne is the first UMBC player and first America East player to receive this top academic honor in NCAA Division I men's basketball, selected by the College Sports Information Directors of America (CoSIDA).
Sherburne has also received America East All-Academic honors, earned the America East Elite 18 Award as the student-athlete with the highest cumulative GPA in the America East championship, and, for the second year in a row, was named to the Academic All-District 2 Men's Basketball First Team, which is comprised of players in Maryland, Delaware, Kentucky, New Jersey, Pennsylvania, and Washington D.C.
Now in his junior year, Sherburne has climbed to 19th in UMBC's all-time list of men's basketball top scorers, earning 1,077 points to date, while maintaining a 4.0 grade-point average in financial economics. He is the eighth student-athlete in Retriever history to earn NCAA first team honors, the last being men's soccer player Billy Heavner '17, who also majored in financial economics.
Saturday's win over Vermont has also sparked a new energy on campus (watch CBS video). Baltimore Sun reporter Jonas Shaffer covered the Selection Sunday live broadcast, which revealed the NCAA tournament bracket. When the show cut to a live-stream from inside Retriever Sports Zone, he wrote, booming cheers erupted as if UMBC "were announcing itself to the world." By the end of that broadcast, the tone shifted from simple excitement to a more focused drive to take on the nation's top team in the NCAA men's basketball tournament. "It was less 'Here we are, America'," Shaffer wrote, "and more 'Here we go.'"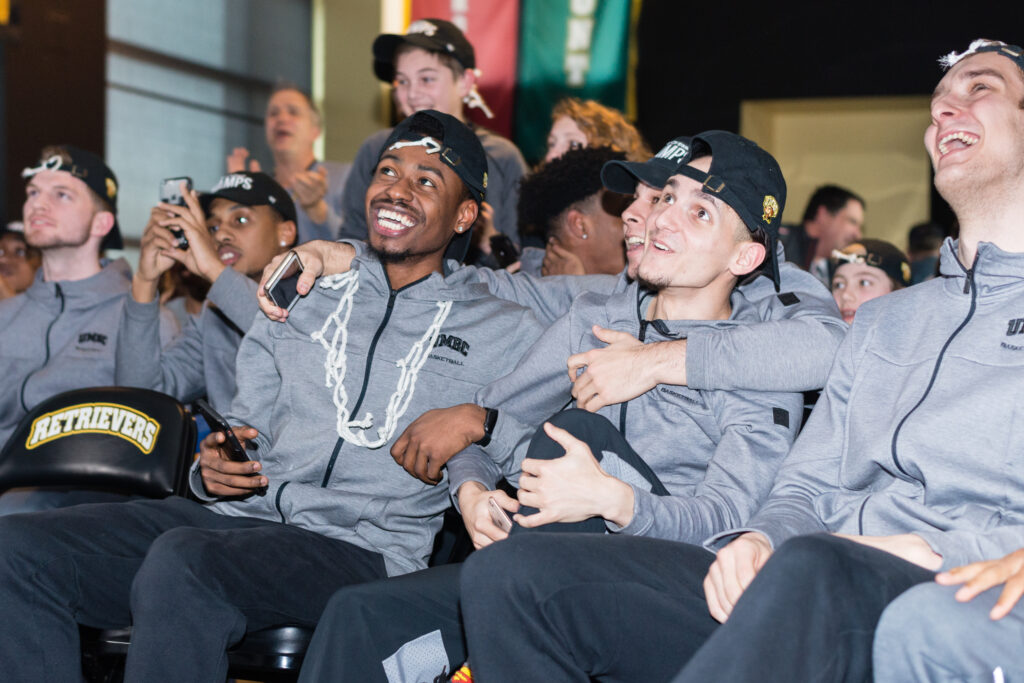 The path to the NCAAs has also generated national interest in the team's Cinderella story and UMBC as a university. "What's amazing about March Madness is it gives you a chance to help people understand what a tremendous community you have," Greg Simmons M.P.P. '04, UMBC's vice president of institutional advancement, told the Baltimore Business Journal. "This is an opportunity to tell our story at a national level."
In introducing the team to the nation, NBC Sports wrote, "The Retrievers are a very good shooting team," with a record that speaks well for "a program looking to upset someone." UVA head coach Tony Bennett has also noted UMBC's high quality of play, recently calling UMBC guard Lyles "quick and dynamic." "Good basketball is good basketball, and they play very good basketball," he recently said of the Retrievers. "You watch…and you're impressed."
March Madness has also brought out lighthearted media, with one paper naming the Retrievers the best mascot in the NCAA tournament, writing "No. 1 is for the dogs!"
With Tuesday's team sendoff, the gravity of this NCAA opportunity has come into focus for Retriever Nation. Before boarding the bus to North Carolina, guard K.J. Maura '18, sociology, shared his gratitude for UMBC community support and his thoughts on the game ahead, telling local press, "We don't go to the game thinking we're underdogs anymore. We got to the mindset that we're going to win the game."
"We're getting ready to play the most consistent team in the country," Coach Odom said at a recent press event. "We're going to have to play our best basketball just to hang in there." Still, he knows it's also a phenomenal opportunity, sharing, "To see this come to reality is just special."
His pride in the team and enthusiasm for the game ahead is contagious. The team is very aware they are fighting to become the first No. 16 seed to overthrow a No. 1 seed in an NCAA tournament, but they aren't shying away from that challenge. "It's never been done but coach keeps telling us we can be the ones to do it," says guard Jourdan Grant '18, media and communication studies. "I believe in my guys."
#RetrieverNation fans believe in the team, too. In addition to students and alumni cheering them on in North Carolina, fans are also planning watch parties on campus and across the Baltimore region. For full information on UMBC's trip to the NCAA tournament see umbc.edu/retrievernation.