Each graduating student's path looks different. For many Retrievers, UMBC offers an opportunity to develop not just knowledge and skills, but also self-awareness that enables them to pursue personal passions. That self-awareness often means understanding what kinds of support made an impact on their experiences, and how they can lend support to those coming up behind them. Excellence for these seniors is about more than accolades; it is about succeeding together.
Supporting student-athletes' mental health
As a volleyball player, Taylor Dunn '19 is very familiar with stereotypes of athletes as powerful, invulnerable, and self-assured. This media and communications studies major with minors in psychology and entrepreneurship has worked hard to help her fellow student-athletes become more comfortable discussing mental health concerns.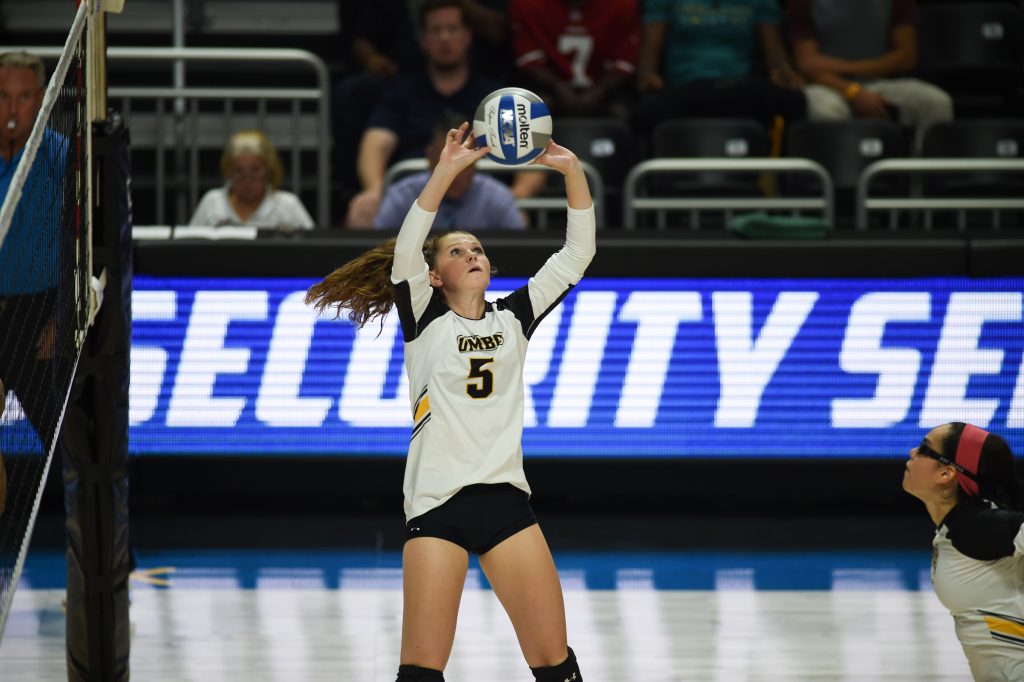 Dunn is a co-lead in UMBC's #RetrieverProject, a student-led mental health initiative for athletes. She helps others open up about challenges they might be facing, and shares with them how they can access support. "Athletes have many demands on them and are far away from home," says Dunn, "Managing all those demands when you are playing regularly is hard, but when you are injured or not playing as much it can actually be a greater challenge."
Dunn has also excelled in the classroom and on the court. This fall as she became the first player in conference history to be named America East Setter and Defensive Specialist of the Week in the same week. She also applied her communications and marketing skills to an internship working on social media campaigns for nonprofits—skills she hopes to integrate with a master's degree in psychology that she'll soon start at UMBC.
"I see all that is possible in helping organizations manage their communications to promote their mission and vision," shares Dunn. "A master's in psychology will allow me to understand the social behavior that drives communications and combine it with work similar to the #RetrieverProject."
Bridging anthropology and genetics
Zachary Nicholas '19, anthropology, with a biology minor, remembers encountering genetics for the first time in his eighth-grade biology class, then learning about gene function and individual differences in high school anthropology. By the time he got to UMBC, these fledgling interests grew into a passion for human genetics—a passion he has explored through broad-ranging research.

This past year Nicholas earned an Undergraduate Research Award and a Distinctive Undergraduate Experience and Research Award from his department for his research project "Deciphering Cultural Roles and Social Pressure on Parents of Children with Special Needs." At the same time, he's also completed research in the biology lab of Michelle Starz-Gaiano, where he examined cell migration in fruit flies to track development, wound healing, and disease progression.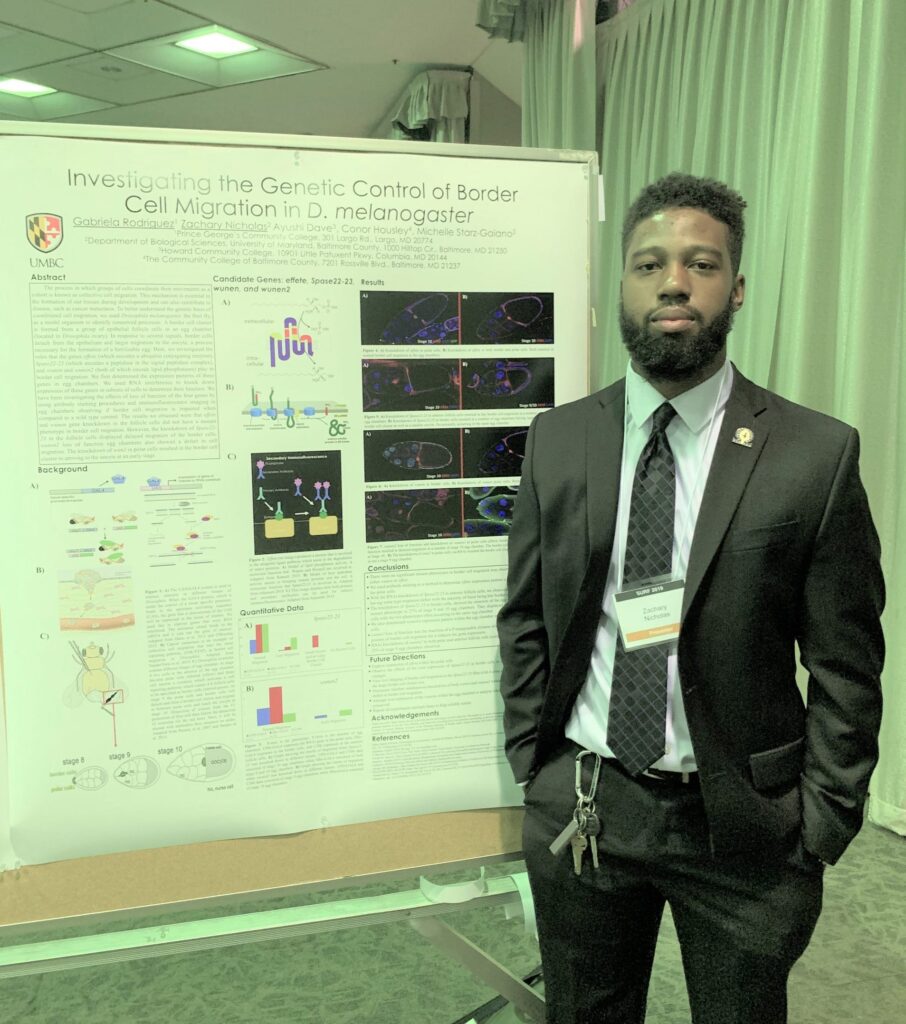 How has he been able to bridge these varied interests? "I work two jobs," Nicholas explains, "one as a physical therapy technician and another as a youth counselor at an organization helping young people with mental health needs." This work helps him gain a broader sense of the experiences of people facing physical and mental health challenges, which has shaped his perspective on scientific research.
Nicholas looks forward to pursuing a Ph.D. in human genetics. For students at the start of their UMBC careers, he shares, "This is a really tight-knit community. You have to take advantage of how much professors want to help you. It makes all the difference in what you get out of college and what your next right step is."
Academic rigor meets community impact
Shiona Wijesekara '19, economics, with a minor in statistics, chose UMBC for its rigor but fell in love with the university for the ways UMBC empowers students to impact communities. Wijesekara served as a mentor through the REACH initiative for two years, eventually taking on the roles of assistant director, fundraising chair, and assistant research chair.
Through REACH, she supported young women in high school who were interested in STEM careers. "Many of the young women were scared of the college-level STEM college classes," initially, she explains. When her team focused on demystifying college STEM, and explaining some of the major concepts in accessible ways, she says, "they became more confident in what they were capable of doing."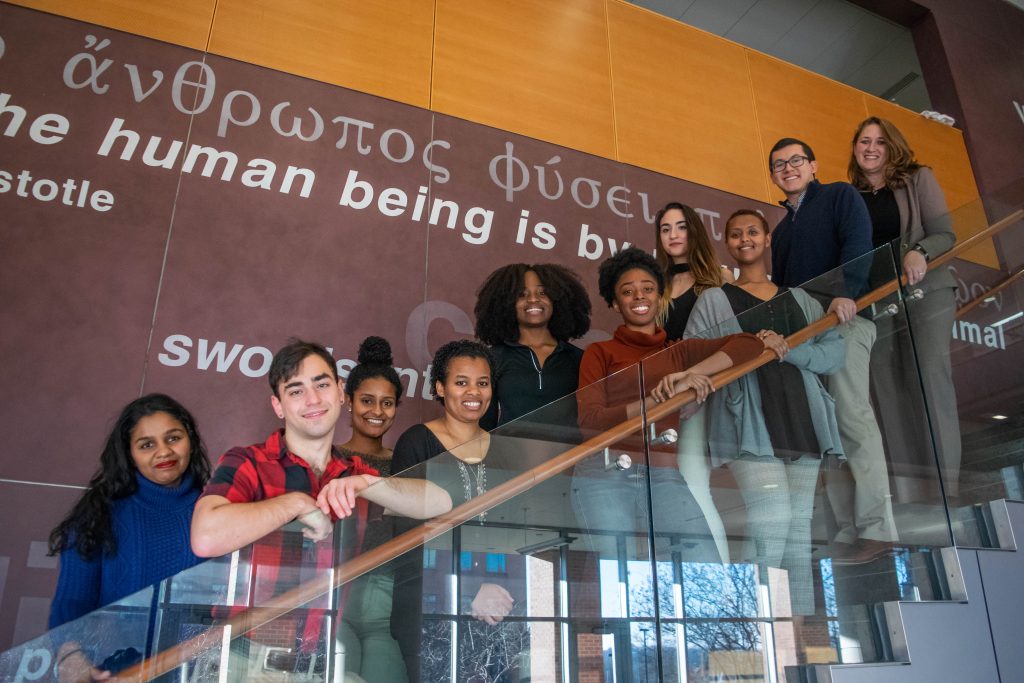 Wijesekara also completed internships running data for a financial intelligence start-up in Baltimore called Ortus Academy and helping with research in education psychology at AIR. Combined, these two experiences have inspired her to pursue a career that will continue to improve the gaps in education with her knowledge in data analysis. She looks forward to supporting future students on a larger scale through quantitative education research.
"Creating a community of doers"
Arif Abdul Kareem's path toward a career in education and tech has taken unique twists and turns. "After high school, I went to New York to work for five years. I wasn't ready to go on to college," shares Kareem. "I returned to Baltimore and enrolled in Baltimore City Community College and, eventually, at UMBC for its computer science engineering program."
Part-way through his UMBC degree, Kareem took two years off to launch his business, which focuses on K-12 STEM educational technology. He returned to UMBC as a Cyber Scholar, through a program of the Center for Women in Technology that focuses on increasing the participation of women and other underrepresented groups in the cybersecurity field.

"UMBC helped me strengthen the foundation I came with," says Kareem. It also "reflected my passion for a STEM-minded business whose intent, like UMBC's CWIT, is to create access in STEM fields for as many underrepresented students in the earliest stages of education," he shares. "This isn't just about me, it's about creating a community of doers."

Banner image: UMBC volleyball team. Photo courtesy of Dunn.
Tags: campus, CWIT, English, Philosophy, PoliticalScience, Psychology